A blind dog by the name of Arnold has been captivating the internet after a video of his sweet reaction to finding a ball was shared to social media.
It's a common misconception that blind dogs lead a less active life than their sighted counterparts. However, footage of this pitbull's adorable antics have gone some way to disproving that.
The video of Arnold in action was posted to TikTok by A Pawsitive Approach, a dog training business run by Erin Mahoney which is based in Kittery, Maine. At the time of writing it has been watched more than 20 million times.
According to Mahoney, Arnold or Arnold Ray to give him his full name is 6 years old and was born blind, a result of progressive cerebellar hypoplasia.
"This dysfunction also causes rapid oscillation of the eyes, tremors, lack of balance and coordination, a wide stance, and the exaggerated movements you see in his 'tippy taps,'" she said.
Though he is unable to see, Arnold still enjoys an active life full of all the fun things that dogs know and love.
The clip is a case in point, with Arnold discovering a ball in the park before delightedly marching it back towards his human companion. While Arnold's march is, in itself, adorable enough, it's his response to his trainer's praise that proves the main highlight of the clip, as the caption on the video explains.
"So this is Arnold. Arnold can't see," it begins. "Sometimes Arnold finds treasures in the park all by himself and is very proud of himself." As Arnold approaches his trainer on the footage, his human companion can be heard saying: "Good job Arnold! Did you find a ball? You find a ball? Did you find a ball? Yes you did."
Evidently buoyed by the praise being sent his way, Arnold lets out an excited bark while shaking his head from left to right. Several more barks follow, making sure there is no mistaking the fact this is one very happy boy.
The video can be watched here.
What is a simple enough action for a dog who is able to see is rendered magical when you consider Arnold's condition and the difficulties he has likely faced in his life up until this point.
Now safe and clearly happy, the footage, perhaps understandably, struck a chord with pet lovers online.
Caramuensterman branded Arnold's antics "precious" with weratedog calling him a "treasure" to be protected "at all costs." Bunkerbih declared: "I would literally die for Arnold" its.tiff.again confessed: "I have watched this 900 times."
Arnold's response to his trainer's praise had some users in stitches. "The sound killed me," faythegay wrote. tayler_94 commented: "I can't stop laughing."
For others, the dog's bark was strangely reminiscent of any number of things.
Fealios wrote: "This dog sounds like DMX" Adelaidedewey asked: "Why does his bark sound like a dad sneeze?!?" Beccabud23 added: "I had a substitute teacher in middle school that made the SAME sound when he sneezed. Kids used to cry."
Mahoney has been working with Arnold and his two siblings, Franny and Marley, for about a year. She said Arnold's owners reached out for help with training and looking after him and his two rescue pitbull siblings while they were away.
"I went over one evening with my own rescue girl Lucy for a meet and greet and the moment I met them all I was 100 percent in," she said. "There was something about all three of these dogs that was super special."
According to Mahoney, Arnold is "very good at seeking out treasures" like balls. "It's something he has gotten better at over the last few months as he has become more and more familiar with his surroundings, it's so impressive," she said. "He loves to play with toys, but they have to be durable!"
She said: "His family has always joked that he sounds like a pterodactyl! I kinda think he sounds like a human doing an impression of a dog barking or Christian Bale as Batman."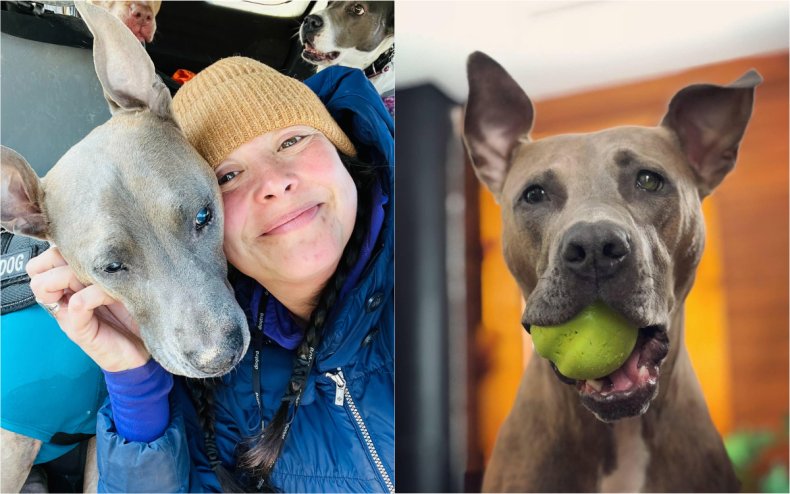 A Pawsitive Approach is "dedicated to achieving obedience, happiness, and health for dogs."
"When I first met Arnold it was clear he had a lot of anxiety and was pretty insecure around other dogs, not surprising at all considering his condition," she explained.
"My focus for him was confidence building and enrichment exercises with a lot of positive reinforcement. Over time he really started to come out of his shell and became more comfortable socializing, sometimes he even initiates play with other dogs! I am so proud of how far he has come and as you can see in the video, his confidence has gone up a few pegs!"
One couple recently went viral after showing how they play and interact with their dog, a 12-year-old toy poodle called Riley, who is also blind.
Another pet owner called Aiden Mann also scored a big hit on social media with a clip showing how he plays with his white Australian Shepherd dog, who is both blind and deaf.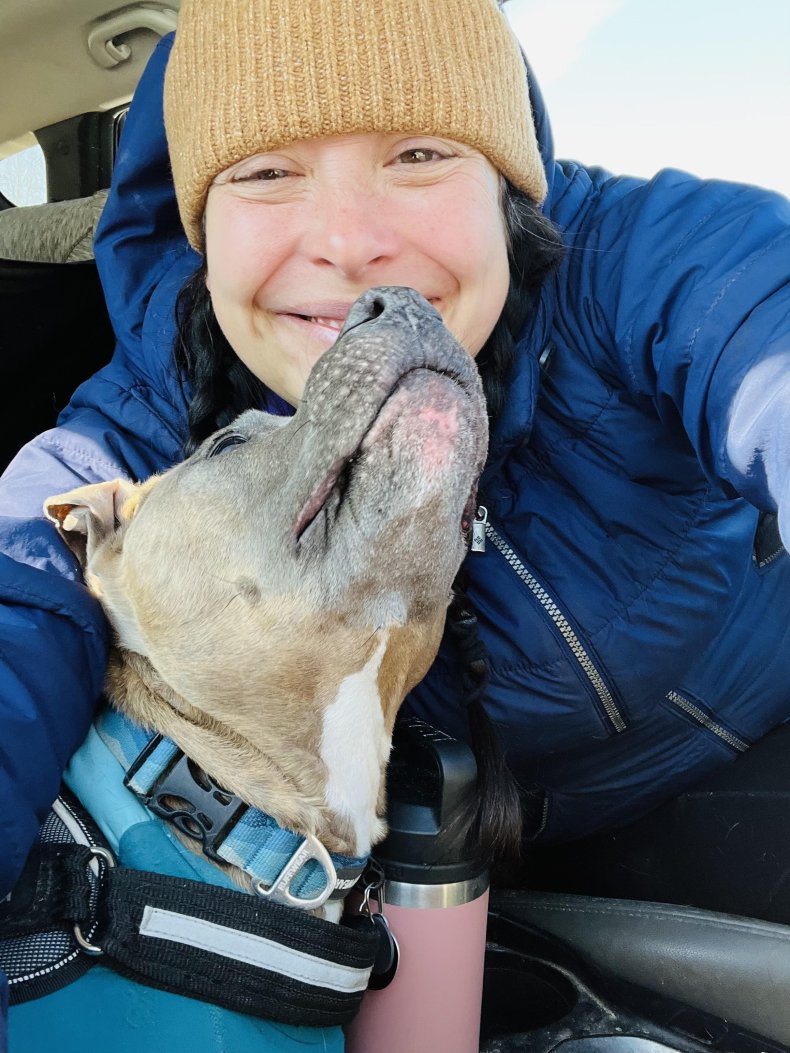 Update 02/02/22, 5:57 a.m. ET: This article was updated to include video, photos and comment from Erin Mahoney.