BLM Say George Floyd Policing Act Goes 'Nowhere Near Far Enough'
A prominent Black Lives Matter (BLM) activist has warned a new bill named after George Floyd goes "nowhere near far enough" in tackling institutional racism and brutality which critics say are rife within U.S. police forces.
The George Floyd Justice in Policing Act, which passed through the House on Wednesday, would ban chokeholds and create national standards for policing, as well as outlawing "qualified immunity" for law enforcement.
Gary McFarlane, a BLM activist, said that while banning chokeholds, ending qualified immunity and introducing national standards would all be "welcome reforms", they "go nowhere near far enough in uprooting racist practices in the police."
In an emailed statement to Newsweek, McFarlane said: "It is the mass movement of people - black and white - that has forced this change at the top and it will definitely require further mobilisations to end police deadly racist impunity.
"As we saw on Capitol Hill, the police are riddled with racism of the most extreme form and putting a Black commissioner in charge of them doesn't make any real difference.
"One-hundred-and-thirty-two civilians were fatally shot by police in the first two months of this year, 16 of whom were Black. Subjecting the police to democratic accountability will lift a huge oppressive weight off the shoulders of Black people, but it also makes for a more just society for everyone, for Black people and other minorities as well as white people—the so-called moderate Democrats seem to be incapable of grasping and advocating for this simple point."
Joe Biden has given his backing to the legislation, which was first approved last summer but stalled in the Senate. Democrats now say they are determined to see it pass.
"I hope to be able to sign into law a landmark police reform bill," the president said last month.
The bill passed the House more than nine months after the death of Floyd, who was pinned with a knee to the neck by a white Minneapolis officer. His death shocked the nation, galvanizing Black Lives Matter protests in places across the U.S. and abroad.
Floyd's family watched Wednesday's debate from an office building near to the House chamber.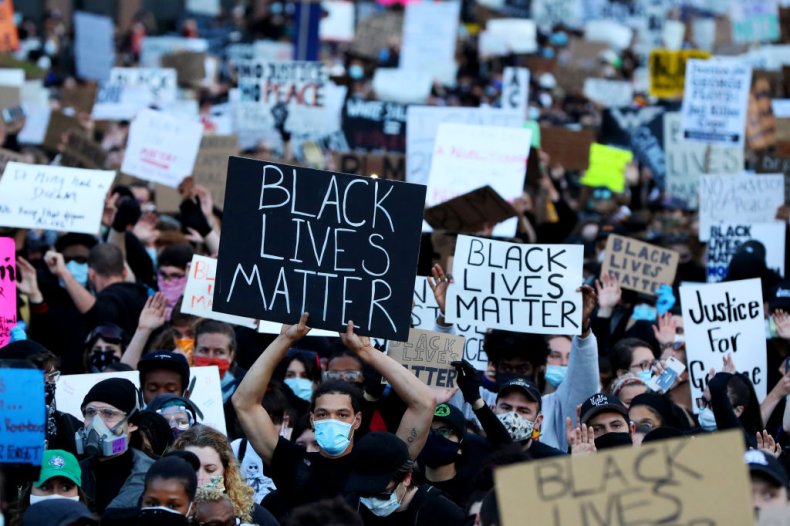 Responding afterwards, Benjamin Crump, a civil rights lawyer representing Floyd's family, said his clients were "deeply gratified and grateful" at the efforts of Representatives in passing the bill.
He said in a statement: "On behalf of the family of George Floyd, we are deeply gratified and grateful for the leadership of the US House of Representatives in passing the George Floyd Justice in Policing Act, responding to the mandate issued by thousands of Americans who took to the streets last summer to raise their voices for change.
"This represents a major step forward to reform the relationship between police officers and communities of color and impose accountability on law enforcement officers whose conscious decisions preserve the life or cause the death of Americans, including so many people of color.
"Now we urge the Senate to follow suit and send this important legislation to Joe Biden."