Congress was slated to accomplish historic legislation to revamp the country's police practices before July 4.
But now, while states and cities across the country have already taken action, in addition to President Donald Trump, it's questionable whether federal lawmakers will be able to get legislation to the president's desk at all this year.
One month has passed since George Floyd died after a Minneapolis police officer kneeled on his neck May 25. But as House Democrats on Thursday prepared to pass their own police reform bill, federal proposals in Congress to rein in cops' use of force were at a stalemate following Senate Democrats the day prior blocking a measure from their GOP colleagues.
"You know how the process is," Rep. Karen Bass, chair of the Congressional Black Caucus that has spearheaded Democrats' police reform effort, told reporters. "I don't view this situation as being over at all."
State and local leaders have taken matters into their own hands amid the national outcry for change, as members of Congress struggle to coalesce around a singular bill to curb police brutality and overhaul law enforcement practices.
And as of last week, 159 police reform proposals in 16 states had been introduced, amended or passed, according to an analysis by The Marshall Project of a database from the nonpartisan National Conference of State Legislatures.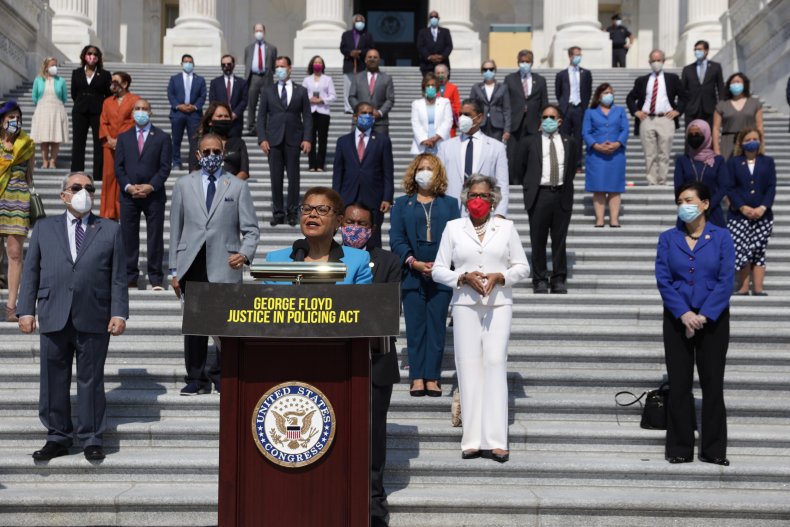 Iowa, for example, restricted chokeholds and prevented the rehiring of officers fired for misconduct. New York criminalized the use of chokeholds while removing the veil that was shrouding disciplinary records in secrecy. Colorado banned chokeholds and ended qualified immunity for officers that protects them against civil lawsuits over alleged civil rights violations.
New Jersey prohibited chokeholds but did so with an order from the state's attorney general. Connecticut's Democratic governor used an executive order to ban chokeholds, implement new requirements for dashboard and body cameras and place restrictions on receiving military equipment from the federal government.
City councils and mayors have been especially proactive.
Louisville banned no-knock warrants; Minneapolis disbanded its police force and approved a ban on chokeholds and restrictions on certain weapons, such as teargassing crowds; the District of Columbia banned neck restraints and the use of tear gas, rubber bullets, stun grenades and pepper spray against demonstrators, as well as required the swift release of body camera footage; and New York City banned chokeholds, enacted transparency measures and shifted funds from the police department to programs for the youth and people of color.
The Davis Police Department in Sacramento barred chokeholds; Denver police also barred the maneuver while mandating officers report when they aim their gun at a person; the Atlanta mayor issued an executive order that requires new de-escalation techniques; and the Houston mayor banned chokeholds while also implementing new de-escalation practices.
But at the federal level, the standoff between Republicans and Democrats on Capitol Hill hinges on disagreements over chokeholds, no-knock warrants and qualified immunity, among other minor provisions. Trump issued an executive order last week that has modest reform provisions on police training and misconduct tracking.
Democrats' bill, the George Floyd Justice in Policing Act, is expected to pass the House along a party-line vote Thursday evening. It would ban chokeholds by federal agents, prohibit no-knock warrants for drug cases, limit military-grade equipment given to departments, require body and dashboard cameras, establish new training practices, create a police misconduct database, eliminate qualified immunity and make lynching a federal crime.
Democrats contend that the JUSTICE Act by Senator Tim Scott (R-S.C.), the only black GOP senator, is far from enough. It stops short of banning chokeholds and eliminating immunity, instead threatening to withhold funds for departments that don't prohibit chokeholds or no-knock warrants. The bill also requires that localities to keep track of misconduct, provides grants for body cameras and makes lynching a federal crime.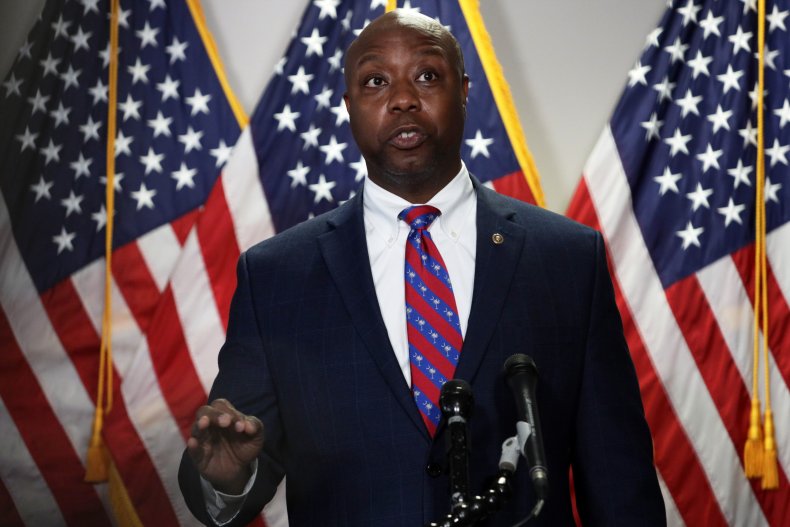 "This is not the time for half-measures. It's not the time for further study. It's not the time for sham, fake reform," House Judiciary Committee Chairman Jerrold Nadler (D-N.Y.) said Thursday. "Today, we see how little black lives matter in too many parts of this country."
Democrats have remained more optimistic than their colleagues across the aisle that the ability to achieve police reform is still alive and well in Congress.
Senator Roy Blunt (R-Mo.), the No. 4 Republican, said Wednesday: "There's probably no path forward within this Congress" if Democrats blocked a move to advance their bill, which Democrats did. Senator Lindsey Graham (R-S.C.) on Thursday said reform "seems to be" a dead issue. Scott, asked if reform was still alive, responded: "I don't know."
Republicans have accused Democrats of having an insincere drive to achieve reform, chalking up the move to a public relations stunt on a hot-button issue that only seeks to bolster their party's chances at the ballot boxes in November.
"The American people know you do not really want progress on an issue if you block the Senate from taking it up," Senate Majority Leader Mitch McConnell (R-Ky.) said Thursday.
Scott said momentum for change "is dissipating as we speak" and that Democrats "are playing a dangerous game of politics, that they can afford to wait until November or next year."
Democrats are looking to public pressure to help them get legislation across the finish line. They're confident that the racial justice movements playing out on city streets are on their side and will tear down Washington's gridlock that is expected to persist indefinitely for the near future.
"I think it's always public pressure that leads to transformative change," Bass said. "The pressure needs to keep up. I hope people protest every single day—peacefully."
"I don't think McConnell has any latitude right now to bury this, for the sake of his party," said Rep. Sheila Jackson Lee (D-Texas), also a member of the Congressional Black Caucus. "His inaction is probably going to be close to the death of the Republican Party."
House Speaker Nancy Pelosi had no quarrels with Democrats in the Senate blocking Republicans' proposal. She disagreed that it weakened lawmakers' overall effort to overhaul police practices in America.
"[Republicans] need to...write a bill that's real. Don't just take the words and defang it. That has no effect," the California Democrat said. "You all gave them so much credit for a bill that did nothing and then expected us to embrace it. No way. [Senate Democrats] did the right thing."