'Blonde' Abortion Scene Compared to 'SNL' Sketch
A scene about abortion in the newly-released Marilyn Monroe biopic Blonde has been widely mocked and compared to a Saturday Night Live sketch.
The highly anticipated Netflix film starring Ana de Armas as the iconic actress has attracted much controversy since it was released over the weekend, garnering a plethora of negative reviews and being widely criticized for being exploitative.
The Andrew Dominik-directed movie is based on Joyce Carol Oates' 2000 novel of the same name and both the book and the movie contain fictionalized versions of events from Monroe's life.
One particular scene in the movie has caused a huge stir on social media.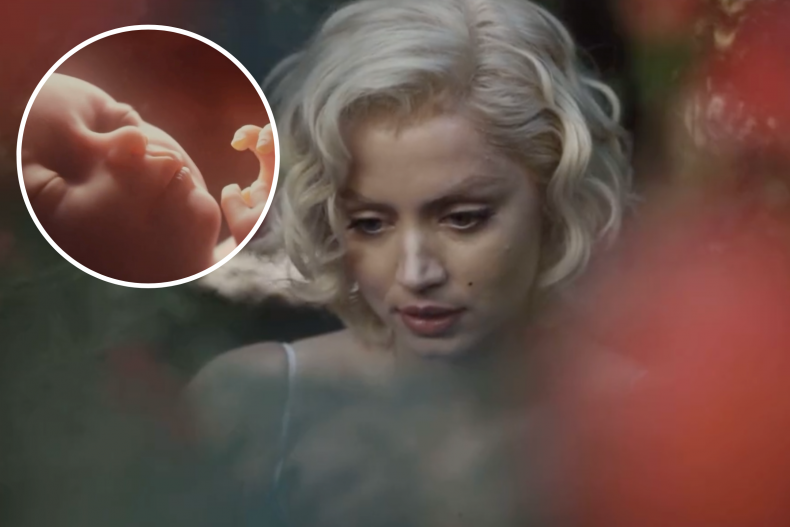 The fictionalized abortion scene, complete with a CGI talking fetus that looks like a fully formed baby, talks to Monroe and asks: "You won't hurt me this time, will you?"
Many viewers have taken to Twitter to express their distaste over the scene with one viral tweet comparing it to an absurdist comedy skit.
"The fact this is not an snl skit and someone put this in a real life movie and thought they did something is mind boggling," the tweet reads.
Meanwhile, Steph Herold, a research analyst specializing in abortion tweeted: "I had the extreme misfortune of watching Blonde on Netflix last night and let me tell you that movie is so anti-abortion, so sexist, so exploitative. CanNOT recommend it LESS. Do not watch. The abortion scenes in particular are terrible, but so is the whole entire movie."
There is no evidence that Monroe had an abortion in her life and Dominick previously said that the biopic is based on fiction.
Planned Parenthood has also criticized the Netflix movie for this scene labeling it "anti-abortion propaganda."
Caren Spruch, Planned Parenthood Federation of America's national director of arts and entertainment engagement, told The Hollywood Reporter:
"As film and TV shapes many people's understanding of sexual and reproductive health, it's critical these depictions accurately portray women's real decisions and experiences.
"While abortion is safe, essential healthcare, anti-abortion zealots have long contributed to abortion stigma by using medically inaccurate descriptions of fetuses and pregnancy. Andrew Dominik's new film, Blonde, bolsters their message with a CGI-talking fetus, depicted to look like a fully formed baby."
Spurch added that while Planned Parenthood "respects artistic license and freedom," these "false images only serve to reinforce misinformation and perpetuate stigma around sexual and reproductive health care."
She continued: "Every pregnancy outcome—especially abortion—should be portrayed sensitively, authentically and accurately in the media. We still have much work to do to ensure that everyone who has an abortion can see themselves onscreen.
"It is a shame that the creators of Blonde chose to contribute to anti-abortion propaganda and stigmatize people's healthcare decisions instead."
Newsweek has contacted Netflix and Andrew Dominick for comment.