Bloomberg Says Fellow Democratic Presidential Candidates 'Would Almost Guarantee' Trump's Reelection
Democratic presidential candidate Michael Bloomberg doesn't believe any of the other candidates in the primary have a chance of beating President Donald Trump in 2020.
"I looked and I didn't think any of them could beat Donald Trump," the billionaire businessman and former New York City mayor said in an interview with NBC's Today aired on Monday. "Some of them in fact would almost guarantee his reelection," he argued.
Pressed by journalist Craig Melvin in the interview over whether he felt that way about the Democratic frontrunner, former Vice President Joe Biden, as well, Bloomberg declined to "mention any names." But when pushed further he said: "Well, any of them I guess includes everybody. That's probably good English."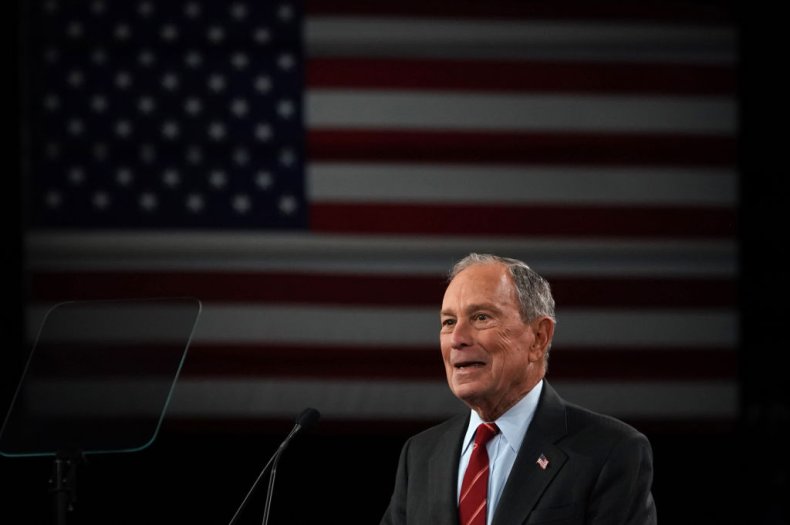 Despite entering the primary race in late November, nearly a year after many other candidates had announced their presidential ambitions, Bloomberg has surged in the polls. He has risen to in fifth place nationally in some polls, although he is still in the single digits and well behind the top three candidates, Biden, Senator Bernie Sanders of Vermont and Senator Elizabeth Warren of Massachusetts.
The billionaire, who has an estimated net worth of nearly $60 billion, has adopted an unusual campaign strategy. He has more or less skipped over the early voting states, essentially giving up on winning in Iowa or New Hampshire. Bloomberg has instead focused on larger states and those voting on Super Tuesday in hopes of shoring up delegates ahead of the Democratic National Convention, where the party's nominee will officially be determined.
Sanders, who has surged in national and state-level polls over the past month, strongly criticized Bloomberg for jumping into the race, arguing that a billionaire was trying to "buy" another election. His campaign has continued to lob criticism at Bloomberg as the candidate has spent tens of millions of his own money to buy television ads supporting his presidential bid.
But Bloomberg, who was previously a registered Republican, remains confident that he is the best person to take on Trump in 2020.
"I know him better than anybody else," he told Today after he was asked what he thinks makes him different than other candidates. "I would be more acceptable, I think to the middle of the road Republicans who don't like him, but do want somebody fiscally responsible," the former mayor said.
Recent polling by Morning Consult actually shows Biden, Sanders and Warren all have slightly better odds of beating Trump than Bloomberg. While the data shows that Bloomberg would beat Trump, 43 to 42 percent in a hypothetical general election match-up, Sanders leads Trump by 4 percent while Biden leads by 5 percent. Warren also beats Trump by 2 percent, as opposed to Bloomberg's 1 percent.