'Drag Race UK Vs The World' Winner Blu Hydrangea Spills on Saucy Texts sent to Pangina
Blu Hydrangea and Pangina Heals have buried the hatchet, so to speak, since their time on RuPaul's Drag Race UK Vs The World, the winner told Newsweek.
The two queens are so over the drama that took place between them on the show that they even share saucy messages with one another, and "love each other" regardless of how anyone interprets their final moment together on the program.
Spilling on their flirtations, Blu told Newsweek: "People are forgetting that it's been a year. We've gotten over it, we love each other, we send each other nudes it's great. I can't wait to give her a hug, and more and more if she lets me."
Blu garnered criticism from some viewers for choosing to eliminate Pangina in week four of the competition, thus taking out her strongest opponent in her race to the crown. The decision left the Thai queen distraught, and in the finale she asked Blu for an explanation.
"In the moment it was just a song on TV, it was just someone that was looking for closure that maybe have, I don't want to say a warped perspective, but maybe were a bit oblivious to how their game-playing was coming across to the other queens," Blu said as she reflected on her and Pangina's discussion in the finale.
"It blindsided her, but in reality the rest of us were like 'yea I'd do the same thing.' She just wanted that closure and I don't blame her for that. I absolutely would come in asking the same questions had I been eliminated, but I wasn't so."
Detailing their relationship since the show ended Blu admitted they both struggled with how to help support one another while getting hateful messages from people.
"We're really close, I think there was a little bit of an awkward —I'm gonna use the word awkward— week when everything was happening and we were both getting sent hate and it was just very intense.
"We were just a bit like, let's take a step back just from adding fuel to the fire. If I commented on one of her posts, it was like straight away [I'd get] hate.
"If she tried to defend me it was [people commenting] like 'why are you defending her?', or equally they're saying like 'why are you so bitter, karma came and bit you in the a**.' I hate that word karma, that's not what she got.
"She just got her spoonful of sugar, her just desserts? I don't know. It was just the way, it was TV."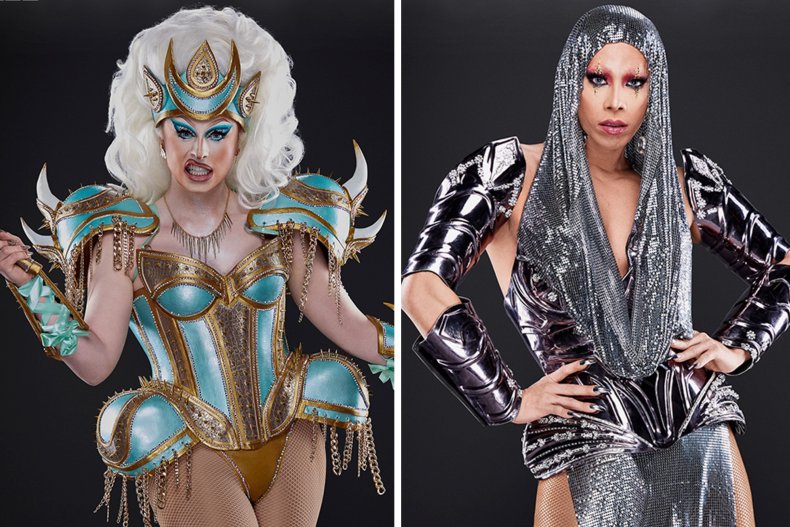 Blu on Jimbo's Negative Comments Towards Pangina
Blu's interaction with Pangina wasn't the only drama to come out of the finale, as Jimbo also called out the Thai queen for eliminating her in week 3.
The Canadian queen shared how upset the decision made her, and said she wanted to talk about how Pangina "looked dumb" in her "s***ty" outfit when she eliminated her, and how she was a "stupid b***h", but was "not going to say those things" despite saying exactly that.
Blu admitted that Jimbo's remarks made her seem "bitter" and that she could have sought closure in a different way, or thought up a "better punchline" if it was intended as a joke.
"See Jimbo invites you into the Jimbo world and you never know what's going on. You never know what's a character and what's not because Jimbo is a trained clown, and that's a real thing, that's not even a joke or a read, she's a trained clown," Blu said.
"So I'm sure that they are trained to keep up their character and trying to entertain, and I think that's what she was trying to do in that moment. It came off a little bit bitter and I do think that if that had been a queen of colour saying those things towards a white queen it absolutely would have caused uproar and the amount of hate that came back.
"So I hope that she sees what she said and maybe has some words. She just needs to clarify what she meant and where it was coming from, and whether it was a joke or not, how she really feels about Pangina, probably would be the best thing. But it was still good TV, wasn't it?"
Blu added: "Pangina came in she asked us the question, she had her closure and I feel like Jimbo could have probably done the same thing. And there was definitely a better punchline there, definitely a better joke that could have been made rather than calling her stupid, her dress is ugly and stuff, you know?"
Jimbo has since commented on the finale and has apologized to Pangina, saying she just wanted to give "a bit of spice" to the behind-the-scenes moments.
On Twitter Jimbo wrote: "I love you @PanginaHeals! I apologize for being such a shady bitch. I like untucked with a bit of spice. I'm sorry to anyone who is feeling upset."
In a second tweet, Jimbo added: "And for everyone worried that I'm not getting enough hate and backlash you can rest assured I am!"
Blu Calls Out "Toxic Fanbase" For Being "Disgusting"
While Blu has had a generally positive response to her success in RuPaul's Drag Race UK Vs The World, she has experienced some negative remarks.
"It's been a majority positive, filled with love, I think people are just excited for me," she said. "I mean I've definitely seen a little bit of negativity but the reality is that I got to witness my winning moment in a crowd full of people who are from my hometown, who love me, and were excited for me.
"And I think that just outweighs these people online, screaming into a bottomless pit, you know what I mean? A black hole that is social media. So if they wanted another winner too bad! That's all I've got to say."
Blu also called out the show's "toxic fanbase" for the hateful things they've sent to the queens while the show has been airing, particularly queens of color. Pangina, for example, was sent death threats after eliminating Lemon in week one.
Commenting on the hate they've gotten, Blu said: "It's mostly queens of colour, which shows that it's not just the toxic fanbase, it's a racist, toxic fanbase.
"And that's not all of the fanbase, just some of it. But yeah, Drag Race is supposed to be so much fun and people really try to ruin it. It's quite sad."
Calling out these toxic fans further, she went on: "If your personal lives [is about] sending hate to drag queens from Drag Race, then you're not a fan of Drag Race. You're not a fan of drag queens.
"You need to be amplifying voices of queer people, people of colour, of trans people, because you're trying to silence and stop us from succeeding by sending your hate and it's disgusting.
"I think people need to realise that this is not what the basis of what the queer community is and that it's about people speaking up, and yeah, as I said, it's about amplifying voices, especially people of colour, especially trans people.
"You know, trans black people of colour were the ones that started drag and were the first voices at Stonewall [like Marsha P. Johnson and Sylvia Rivera], and it's important to remember that and not get caught up in stupid, petty things.
"If you're more worried about what I'm doing with a lipstick on a TV show, then you've got your priorities mixed up."
Blu on Recording Her Track with RuPaul
As part of her win Blu was able to record a track with RuPaul, a remix of the drag icon's song "Champion" which was released as soon as the winner was revealed.
"Believe me Ru works fast, but World of Wonder works even faster and the song is out... it's very cute. I woke up with a sore throat on the day we went to record it but apparently it worked in my favor because it's the best I've ever sounded," Blu said.
"I honestly think I sound great, and I get to sing some of RuPaul's most iconic songs like "Cover Girl". It's amazing, I'm so just proud of that.
"People are like, 'they could have written you a new song', I don't want a new song, I want to sing iconic songs that I would sing at a karaoke bar. And it's even more fun that the proceeds go to charity."
Explaining what the experience was like recording the track, Blu went on: "Ru was there, we were in the booth together, it was very cute. And we recorded it with Leland, who produced the track, who helped me with the Frock Destroyers' record "Break Up, Bye Bye" and "UK Hun", very iconic.
"He's such a sweetheart, has so much patience for me, just allowed me to try things and to properly do things, he said 'no, actually, you should try and hold a note' and I think it came out quite well. I got a message from Gabe [Lopez, the song's producer] later on, he sprinkles the auto-tune, and he said 'of all the things we ever heard you on, this is the best vocal work you've ever done.'
"Oh, my goodness, if this song sounded like trash they absolutely would have picked Mo [Heart, who came in second place] over me."
Blu on Her Future as the 'Queen of The World'
Sharing her plans for the future as the winner of RuPaul's Drag Race UK Vs The World, Blu said she wanted to be "on TV more" and launch her own make-up line.
She explained: "I've got Stitch Please coming on BBC Three, which is a sewing competition I'm the host and judge of, it's basically Glow Up but I bring two seamstresses in, give them a challenge. £100, 12 hours to create an outfit.
"And it's people who've just been through so much, and sewing is their passion and their way to let out these emotions.
"There's also the Frockumentary coming out, which is the Frock Destroyers documentary about us [Blu, Baga Chipz, and Divina DeCampo] creating an album in lockdown, and it's fabulous, so camp.
"I also just want to use my platform for good, I want to just advocate for anyone who will let me amplify their voices. And if I can't do it myself, I would love to share the stage with incredible people who are inspiring and have the words I just can't speak for."