Blue Ivy Carter Cautions Dad Jay-Z in Viral Video
Jay-Z may be seen as a hip-hop legend to his legions of fans, but his 10-year-old daughter has no problems with telling him where he's going wrong—especially when it comes to potentially messing up her hair.
Blue Ivy Carter was seen looking achingly cool as she joined her musician and entrepreneur dad, 52, at the NBA playoff game between the Golden State Warriors and Boston Celtics at San Francisco's Chase Center on Monday.
As 24-time Grammy winner Jay-Z, real name Shawn Carter, was introduced on the sports venue's jumbotron, the smiling star reacted by flashing a peace sign at the courtside camera before proudly placing an arm around his daughter.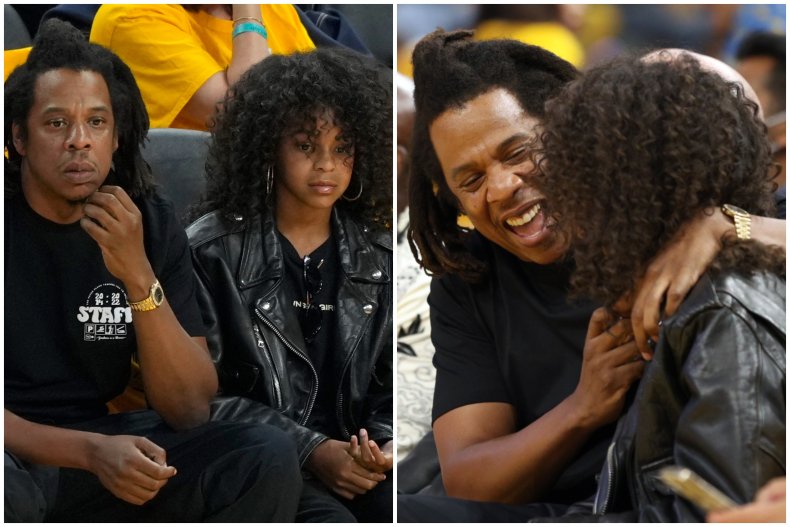 However, the adorable moment was met with initial resistance from his eldest offspring, who was seen grabbing his arm and cautioning: "Dad, my hair!"
Undeterred, doting dad Jay-Z paused only briefly before planting a huge kiss on his daughter's cheek as she smiled at the loving gesture before looking up at the screen—all while the immaculate curls she was concerned about remained intact.
The heartwarming moment became an instant viral hit on Twitter, where HuffPost's senior front page editor Philip Lewis shared the tongue-in-cheek caption: "To us: Jay Z, the all time rap legend. To Blue Ivy: embarrassing dad."
Reacting to the video, which has been viewed more than 4.5 million times, a host of Twitter users praised the clip as the display for an everyday moment for a growing Blue Ivy, whose mother is none other than singing superstar Beyoncé.
Kara Sewell, an anchor on Dallas TV network WFZZ, related the moment to her own memories, as she tweeted: "Kids keep you humble... My dad would pick up the phone *old school* if I stayed on after 9PM (my curfew @ 15) then say 'time for bed.' I was mortified especially if a boy was on the line."
Lewis Wiltshire, CEO of sports consultancy Seven League, shared a similar sentiment, writing: "Kids are the greatest leveller. You can be a random guy or the greatest rapper of all time and your kid is still going to be like f***'s sake Dad get off."
Wrestler Kenny King also joined the conversation, stating: "No matter how cool you are in real life, your kids are still gonna front on you in public. I feel you Hov."
The night proved to be celebratory for Warriors fans, with the hosts beating the visiting team 104-94.
Blue Ivy, herself a Grammy winner, is Jay-Z and Beyoncé's eldest child, arriving four years after the stars' 2008 wedding. Beyoncé and Jay-Z are also parents to 5-year-old twins Sir and Rumi.
In a 2021 interview with U.K. publication The Sunday Times, Roc Nation founder Jay-Z spoke about fatherhood and his efforts to ensure his children thrive.
"Feeling loved is the most important thing a child needs," he said. "Not, 'Here's this business that I'm going to hand over to you, that I'm creating for you.' What if my child doesn't want to be in music or sports? I have no idea, right? But as long as your child feels supported, and feels loved, I think anything is possible."
Jay-Z went on to state that the key to raising a successful child is to "provide a loving environment," adding: "Be very attentive to who they want to be. It's easy for us, as human beings, to want our children to do certain things, but we have no idea. We're just guides."
For her part, Texas native Beyoncé told British Vogue in 2020 how much motherhood had affected her approach to work.
"Something cracked open inside of me right after giving birth to my first daughter. From that point on, I truly understood my power, and motherhood has been my biggest inspiration," she explained. "It became my mission to make sure she lived in a world where she feels truly seen and valued.
"I was also deeply inspired by my trip to South Africa with my family. And, after having my son, Sir Carter, I felt it was important to uplift and praise our boys and to assure that they grow up with enough films, children's books and music that promote emotional intelligence, self-value and our rich history. That's why [musical film Black is King] is dedicated to him."