Blue States Mobilize to Counter Roe v. Wade Overturning
Officials from several Democrat-led states on Friday announced their commitment to protecting abortion rights in the wake of the U.S. Supreme Court's decision that overturns Roe v. Wade.
According to the Guttmacher Institute, 16 states and the District of Columbia have laws in place that protect abortion rights. Some leaders pointed out existing legislation in their states while reaffirming their support of abortion rights, while others said they would be working on new laws to keep the procedure legal and accessible.
The court's Friday decision strikes down the 1973 ruling on Roe, which protected women who seek an abortion "without undue restrictive interference from the government," guaranteed under the 14th Amendment.
The case that led to the ruling on Roe is Dobbs v. Jackson Women's Health Organization. The court took up arguments in the Mississippi case in December, centered around a state law that makes most abortions illegal after 15 weeks of pregnancy, or around two months earlier than Roe v. Wade.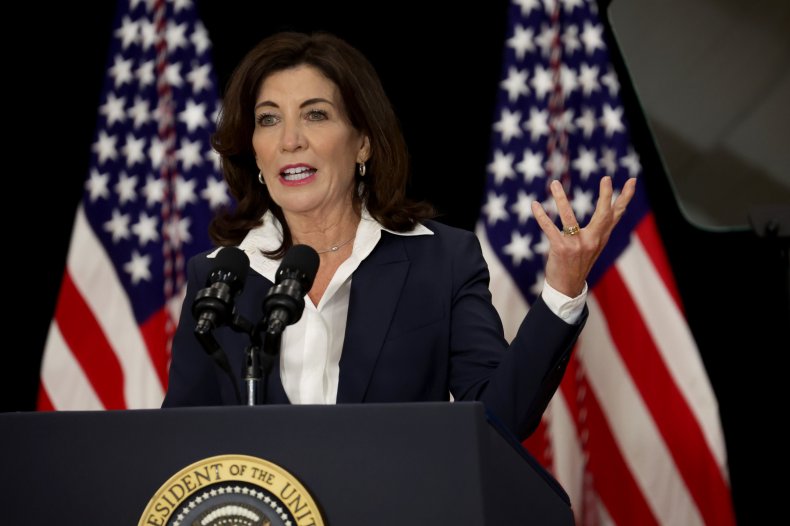 New York Governor Kathy Hochul was among the Democratic state leaders to comment on the Supreme Court's decision. She announced a multi-platform public education campaign on abortion care in New York while also touting her state's protections for abortion rights.
"Access to abortion is a fundamental human right, and it remains safe, accessible, and legal in New York," Hochul tweeted.
Some states like New Jersey and Colorado passed laws this year that codified abortion rights. Others—such as Vermont, Illinois, Rhode Island and Massachusetts—have long had state laws on the books that protect the legality of abortion.
Democratic Governor Gavin Newsom of California said his state was "creating the West Coast offensive" with Oregon and Washington to fight back against the ruling.
"The Supreme Court has stripped women of their liberty and let red states replace it with mandated birth," Newsom wrote on Twitter. "This is an attack on American freedom."
In Michigan, Democratic Governor Gretchen Whitmer on Friday filed a new motion in a lawsuit she originally filed in April that asked the state's Supreme Court to overturn an abortion ban.
"The urgency of the moment is clear—the Michigan court must act now," Whitmer said in a statement.
In a speech addressing the U.S. Supreme Court's decision, President Joe Biden called on Americans to elect officials on the federal and state levels who could help protect abortion rights.
"This fall, we must elect more senators and representatives who will codify a woman's right to choose into federal law once again [and] elect more state leaders to protect this right at the local level," Biden said.
The president added that "if a woman lives in a state that restricts abortion, the Supreme Court's decision does not prevent her from traveling from her home state to the state that allows it. It does not prevent a doctor in that state from treating her."