Ohio Rep. Bob Gibbs to Retire, Citing Redistricting Chaos in State
Representative Bob Gibbs of Ohio announced Wednesday that he is retiring, citing "the circus redistricting has become in Ohio" as a reason for his departure.
Gibbs, a Republican, has been a representative for the state since 2011. According to Cleveland.com, the district Gibbs represents was largely rural but was changed this year to include several western Cleveland suburbs, with only about 12 percent of his old district still part of the new one.
Gibbs is not the only U.S. lawmaker who has decided to retire amid dramatic redistricting changes resulting from the 2020 Census. Earlier this year, Representative Jim Cooper of Tennessee announced he would not seek reelection after Nashville was divided into three districts.
On Tuesday, Representative Fred Upton of Michigan also announced his retirement, saying it was "time to pass the torch." According to The Hill, Upton would have faced another incumbent in this year's Republican primary due to Michigan's redrawn map.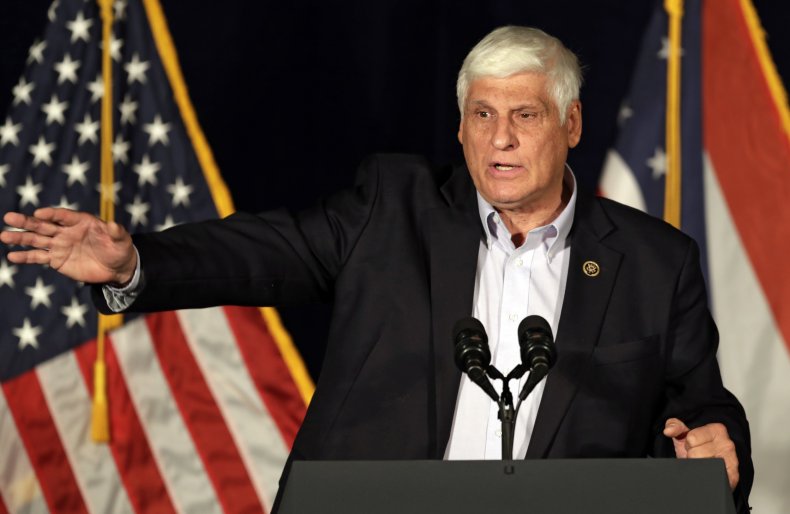 In a statement, Gibbs criticized the process the Ohio Supreme Court went through to confirm the new map.
"It is irresponsible to effectively confirm the congressional map for this election cycle seven days before voting begins, especially in the Seventh Congressional District where almost 90 percent of the electorate is new and nearly two-thirds is an area primarily from another district, foreign to any expectations or connection to the current Seventh District," he said.
He called the redistricting a "long, drawn-out processes," adding that the court would take weeks or even months to deliberate "while demanding responses and filings from litigants within days." He said this is "detrimental to the state and does not serve the people of Ohio."
Before Gibbs began his political career, he founded a hog farm called Hidden Hollow Farms, according to Ballotpedia. He continued to manage the business as his political career took off. In 2003, he was elected to the Ohio House of Representatives before becoming a state senator in 2009, a role that lasted until he began his time in the U.S. House of Representatives in 2011.
Max Miller, who worked as a senior adviser to former President Donald Trump and has received Trump's endorsement, will be running for Gibbs' seat in the upcoming Republican primary.
According to Gibbs' statement, during his time in office, he "helped reform federal water resources project policy, made clean water utilities more affordable for low-income communities, lowered taxes and red tape for millions of American families and businesses, and fought for a cleaner, safer Lake Erie."
"I am proud of this work and am grateful for the opportunity to do it on behalf of Ohioans," he added.
Update 04/06/22 12:40 p.m. ET: This story was updated to add more information and background.