Bob Saget's 9 Most Memorable Roles From 'Full House' to 'How I Met Your Mother'
The entertainment industry is mourning the loss of Bob Saget who died at the age of 65 on Sunday.
He was in the middle of a new stand-up tour when he was found unresponsive in his hotel room in Orange County, Florida. The cause of death is not known at this time.
Saget is a comedy icon who will be remembered for his stage performances as well as his many TV and movie roles. As we look back at his career, here are Bob Saget's nine most memorable onscreen roles.
1. Full House
There's no better place to start than the show that made Saget a household name. From 1987 until 1995 he played single father Danny Tanner in the ABC sitcom Full House, then once again in the Netflix reboot Fuller House which ran from 2016 to 2020.
Saget's Full House co-stars John Stamos, Dave Coulier and Mary-Kate and Ashley Olsen who were among the first to publicly pay tribute to the star after his death.
2. Farce of the Penguins
A forgotten gem of a movie, Farce of the Penguins was Saget's attempt to satirize the March of the Penguins documentary. The direct-to-video film was written and directed by Saget, and also featured his voice as Carl the penguin.
Saget recruited Samuel L. Jackson to narrate, as Morgan Freeman had done in March of the Penguins, while the likes of Tracy Morgan, Christina Applegate and Whoopi Goldberg all lent their voices too.
3. America's Funniest Home Videos
In a time before the internet, America's Funniest Home Videos was the only place to see an abundance of cat videos, hilarious falls and cute babies. Saget was the host of this institution from 1989 until 1997.
He recently reprised his role as the host of a home video clip show, but this time specifically with older viewers in mind, fronting the two-part special Videos After Dark on ABC in May 2019.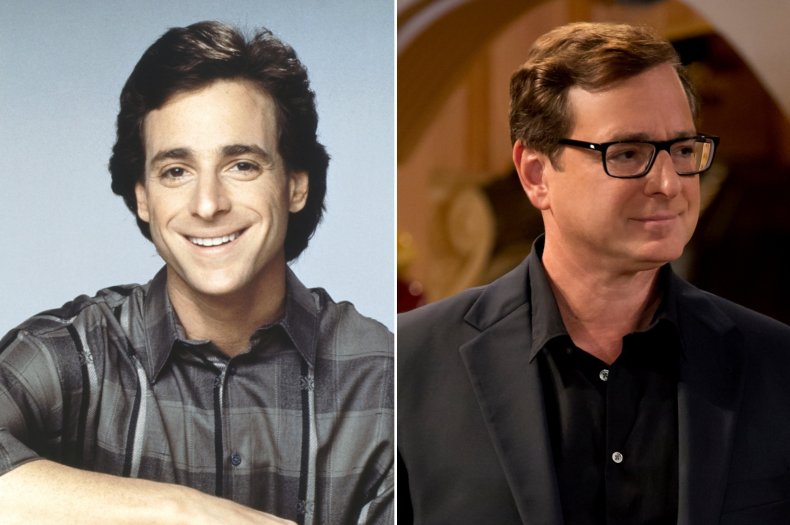 4. Raising Dad
Saget once again played a widowed father in the touching but short-lived sitcom Raising Dad from 2001-2002. Just like in Full House, Saget was the onscreen dad to two daughters who would go on to have huge careers away from the show. His daughters in Raising Dad were played by future Marvel stars Kat Dennings and Brie Larson.
Saget played Matt Stewart, an English teacher who can't keep out of his elder daughter's social life while simultaneously attempting to find his own.
5. Dumb and Dumberer: When Harry Met Lloyd
Saget was one of the highlights of this critically panned sequel to Dumb & Dumber. He played the protective father of a girl both Harry and Lloyd are trying to court. His character is part of a running gag involving toilet humor, a melted chocolate bar and mud.
6. Surviving Suburbia
Another sitcom that unfortunately lasted just one season, 2009's Surviving Suburbia was Saget's big return to ABC after finishing America's Funniest Home Videos in 1997.
Surviving Suburbia featured Saget as Steve Patterson, a father and husband whose uneventful life gets turned upside down with the arrival of some problematic neighbors.
7. Entourage
Saget played himself as you've never seen him before in a handful of Entourage episodes. Across its eight seasons, Saget turned up to play a foul-mouthed, drug taking, violent version of himself in the HBO comedy-drama.
8. How I Met Your Mother
"Kids…"
The long-running show How I Met Your Mother wouldn't have been complete without Saget's narration opening an episode.
Playing into the notion that he was referred to as "America's dad," Saget voiced an older Ted Mosby who was sitting down to tell his two children the story of how he met their mother. He was never seen on screen but at 208 episodes, HIMYM turned out to be Saget's longest-running TV show.
9. Benjamin
Saget directed and starred in the 2018 dark comedy movie Benjamin. The story was centered around drug addiction and Saget described his character Ed as an unhinged Danny Tanner.
Kevin Pollak, Cheri Oteri, Rob Corddry and Mary Lynn Rajskub co-starred alongside Saget in the movie which was released by Redbox. It turned out to be Saget's final directorial performance.