Following Representative Lauren Boebert's recent behavior at a theater in Denver and South Dakota Governor Kristi Noem's alleged affair with Corey Lewandowski, a longtime adviser to Donald Trump, some conservatives have taken to social media to criticize their actions.
Boebert and Noem, both Republicans, have been the main topic of discussion recently due to their recent alleged behavior. Last Sunday, Boebert was escorted out of a performance of Beetlejuice for causing a disturbance by vaping inside the Buell Theatre. Meanwhile, Noem has faced recent allegations, in which the Daily Mail first reported on Friday, that she has been engaged in a years-long affair with Lewandowski—something that the governor's spokesperson denied.
Since the alleged behaviors came to light, conservatives have taken to X, formerly Twitter, to condemn their actions as they continue to criticize both politicians for not acting in the best interest of their constituents.
For conservative talk radio host Erick Erickson, he took to Substack on Saturday to express his concerns surrounding Boebert and Noem.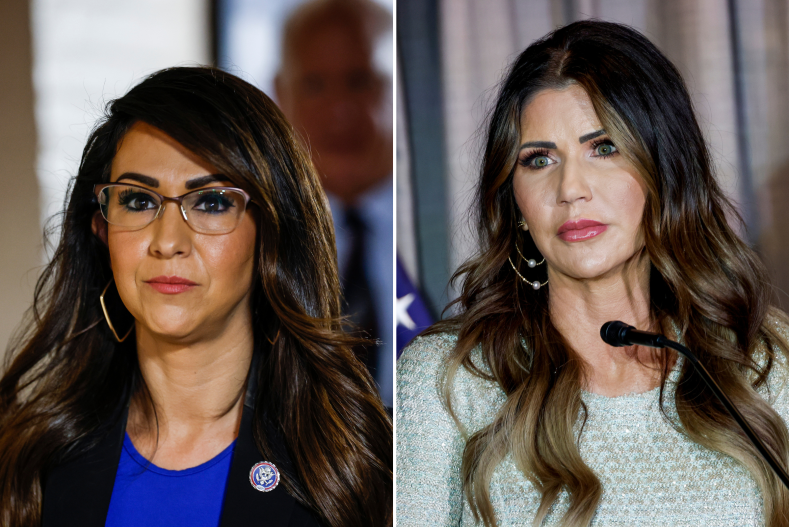 "Marjorie Taylor Green [sic], Kristi Noem, and Lauren Boebert are adultresses. America first should mean family first, which these political leaders have not done," Erickson wrote.
Meanwhile, conservative lawyer Jenna Ellis called out Boebert and Noem for their lack of "decency and truth."
"Between Noem, Boebert, Buck, and Jenner today and Trump's ridiculous wavering on the gender question... I have never been more proud to be an Independent right now. If I re-register, it would be for the sole purpose of voting for MORALS and Ron DeSantis in the primary. I'm so sick of Republican Party leadership being absolute morons and refusing to stand up for basic decency and truth," Ellis wrote.
Ellis, who served as Trump's lawyer during the 2020 presidential campaign, was recently charged alongside the former president and 17 others in Georgia's election-interference investigation. She has since plead not guilty to her charges.
Boebert has since issued a public apology in response to her behavior and said, "The past few days have been difficult and humbling, and I'm truly sorry for the unwanted attention my Sunday evening in Denver has brought to the community. While none of my actions or words as a private citizen that night were intended to be malicious or meant to cause harm, the reality is they did and I regret that."
However, some were unconvinced about Boebert's apology.
"Can't Colorado find some Republican not trashy and stupid to represent them in the 3rd congressional district?" conservative commentator Ann Coulter asked on X on Saturday in reference to Boebert, who in a separate post called the GOP lawmaker a "totally embarrassing bimbo."
According to the Daily Mail's report regarding Noem, it claimed it has a list of receipts of the governor's alleged affair with Lewandowski, including "stays at luxury resorts where their intimacy was observed and noted."
In a statement to the Daily Mail, Noem's spokesperson Ian Fury denied the affair allegations.
"'This is so predictable that you would attack Governor Noem less than a week after she endorsed Donald J. Trump as the 47th President of the United States," the statement said. "As Governor Noem said during that endorsement speech: 'Yes, I will be attacked for speaking the truth to all of you tonight. Yes, I expect Joe Biden, these candidates, their political operatives, and the media will perpetuate ugly, hateful misinformation in an attempt to destroy me and my family because of my opinions. It's nothing new. I'm getting used to it honestly.'"
Newsweek has reached out to Noem and Boebert for comment via email.
Meanwhile, conservative corporate lawyer Heath Mayo wrote on X that actions speak louder than words.
"Between Boebert, Paxton, & Noem, the 'culture warriors' are doing the most to destroy our cultural mores. They preach morality as they publicly degrade it. If you want to win some culture war, find better people whose example others want to follow. Actions are louder than words," he posted Saturday.