Rep. Lauren Boebert has issued an apology after video emerged of her vaping and taking photographs during a musical performance of Beetlejuice at a Colorado theater on Sunday, before she was asked to leave.
In a statement, the House Republican said she "fell short of my values" and "genuinely did not recall vaping that evening," adding: "That's unacceptable, and I'm sorry."
The CCTV footage, recorded at the Buell Theatre in Denver, also appears to show Boebert being groped by a male companion, and groping him in return, though this wasn't referenced explicitly in her apology.
Boebert's team had initially denied she was vaping in the theater at the Denver Center for Performing Arts complex, until surveillance footage showing that she had been was released.
In her statement, the Colorado politician said: "The past few days have been difficult and humbling, and I'm truly sorry for the unwanted attention my Sunday evening in Denver has brought to the community. While none of my actions or words as a private citizen that night were intended to be malicious or meant to cause harm, the reality is they did and I regret that."
Boebert added: "There's no perfect blueprint for going through a public and difficult divorce, which over the past few months has made for a challenging personal time for me and my entire family. I've tried to handle it with strength and grace as best I can, but I simply fell short of my values on Sunday. That's unacceptable, and I'm sorry."
Boebert added that she genuinely did not recall vaping during the performance, before the video was released: "Whether it was the excitement of seeing a much-anticipated production or the natural anxiety of being in a new environment, I genuinely did not recall vaping that evening when I discussed the night's events with my campaign team while confirming my enthusiasm for the musical.
"Regardless of my belief, it's clear now that was not accurate; it was not my or my campaign's intention to mislead, but we do understand the nature of how this looks. We know we will have to work to earn your trust back and it may not happen overnight, but we will do it," Boebert said.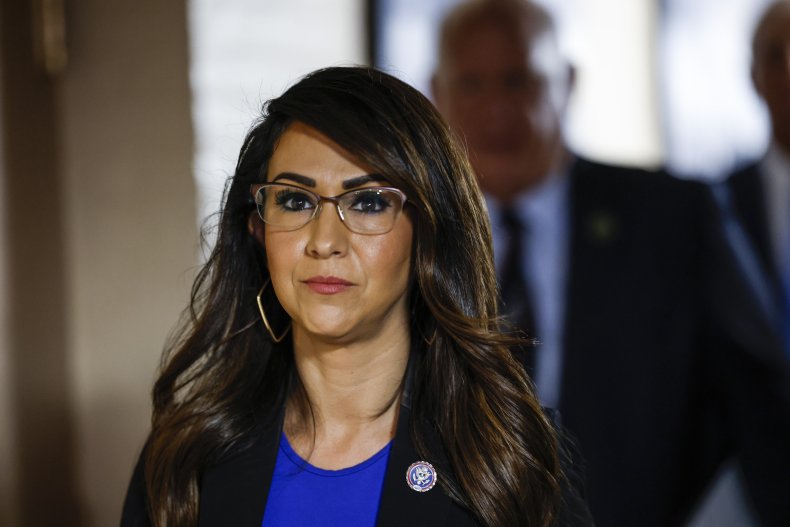 In the surveillance footage, Boebert can clearly be seen vaping and taking photographs, against the venue's rules, before being asked to leave. There was particular outrage on social media over video that appeared to show Boebert's breasts being groped by a male companion, with her reaching for the area around his groin in return. Newsweek has contacted Rep. Boebert for comment by email asking about this incident.
The official No Lie with Brian Tyler Cohen Twitter account, for the podcast hosted by the progressive commentator of that name, shared on X, formerly known as Twitter, a shortened clip focusing on the apparent sexual contact.
The post read: "Here is security footage of Lauren Boebert at a family-friendly musical performance before she was kicked out.
"These are the same Republicans claiming that drag queens are 'sexualizing' public spaces," the post added.
Huffington Post contributor Yashar Ali expressed a similar view, commenting: "I don't want to even imagine what would happen to an LGBTQ official who was caught doing the same thing.
"And don't tell me 'people are mad at her.' The outrage would be 1,000 times as much if Lauren Boebert were LGBTQ," Ali added.
However, House Republican Matt Gaetz came to the defense of both Boebert and South Dakota Gov. Kristi Noem, who The Mail Online reports has been having an affair with former Donald Trump campaign manager Corey Lewandowski. Neither denied the relationship when contacted by the U.K. news outlet.
Gaetz wrote: "I stand with Governor Kristi Noem & Lauren Boebert. They fight for the people and face relentless attacks from the media and the Left because they are effective. I remain honored to work with both to advance the America First Agenda!"
An incident report obtained by Newsweek says that two patrons, believed to be Boebert and her partner, were asked to leave the Beetlejuice musical performance on Sunday following multiple complaints that they were vaping, illegally recording and causing a disturbance.