Bolton Book Argues House 'Committed Impeachment Malpractice' By Not Focusing on Trump's Entire Foreign Policy
The publisher of John Bolton's soon-to-be-released book about his time serving as President Donald Trump's national security advisor did not mince words.
"This is the book Donald Trump doesn't want you to read," a press release from Simon & Schuster said.
Among the forthcoming revelations is that Bolton will lay out the case for why he believes the House "committed impeachment malpractice" by centering its case too "narrowly on Ukraine when Trump's Ukraine-like transgressions existed across the full range of his foreign policy," according to the publisher.
"I am hard-pressed to identify any significant Trump decision during my tenure that wasn't driven by reelection calculations," Bolton writes in his tell-all book, The Room Where It Happened.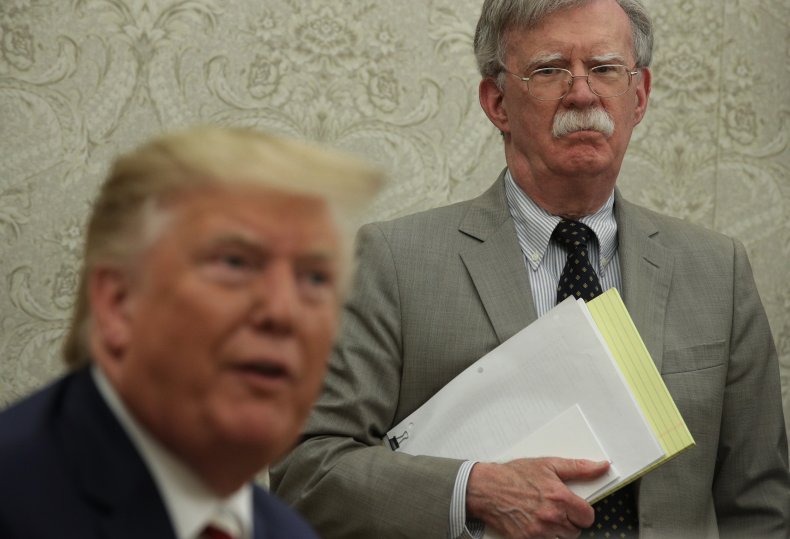 The impeachment of Trump by the House centered on two articles of impeachment for his dealings with Ukraine, which entailed pressuring his Ukrainian counterpart to investigate Democrats: abuse of power and obstruction of Congress. Bolton's book alleges Trump tied U.S. military aid that was withheld to a probe into former Vice President Joe Biden and his son, Hunter, and a Ukrainian company in a bid to help his re-election endeavor.
Trump has denied allegations of any wrongdoing.
The publication of Bolton's memoir, slated for June 23, is expected to offer a glimpse into extraordinary events that occurred within the White House and the administration during his tenure.
Bolton became a target by Democrats during Trump's impeachment trial in the Senate as they fought—but ultimately failed—to muster enough support to subpoena Bolton and his book manuscript.
If served a subpoena, Bolton said he was willing to testify before the GOP-led Senate. However, he declined to speak with House lawmakers voluntarily during the chamber's impeachment inquiry, and his attorneys threatened a lawsuit if Democrats issued a subpoena. House Democrats chose not to subpoena Bolton.
The White House also tried to block the memoir's publication, going as far as to seizing documents and locking Bolton's Twitter account.
"Trump directed the seizure of and withheld his personal and other unclassified documents, despite numerous requests for their return," Simon & Schuster said. "He also obstructed Bolton's Twitter account and made outright threats of censorship. Bolton's response? Game on."
Democrats did have some GOP support to subpoena Bolton and other witnesses: Susan Collins of Maine and Mitt Romney of Utah. Romney later went on to become the first lawmaker in U.S. history to cross party lines and vote for the ouster of a president from his own party.
Senator Ron Johnson (R-Wis.), chairman of the Senate Homeland Security Committee, has picked up the torch to investigate the presumptive Democratic presidential candidate's son. His panel is examining Hunter's role on the board of a Ukrainian energy company and is expected to release a report on the matter in the coming months ahead of the November election.