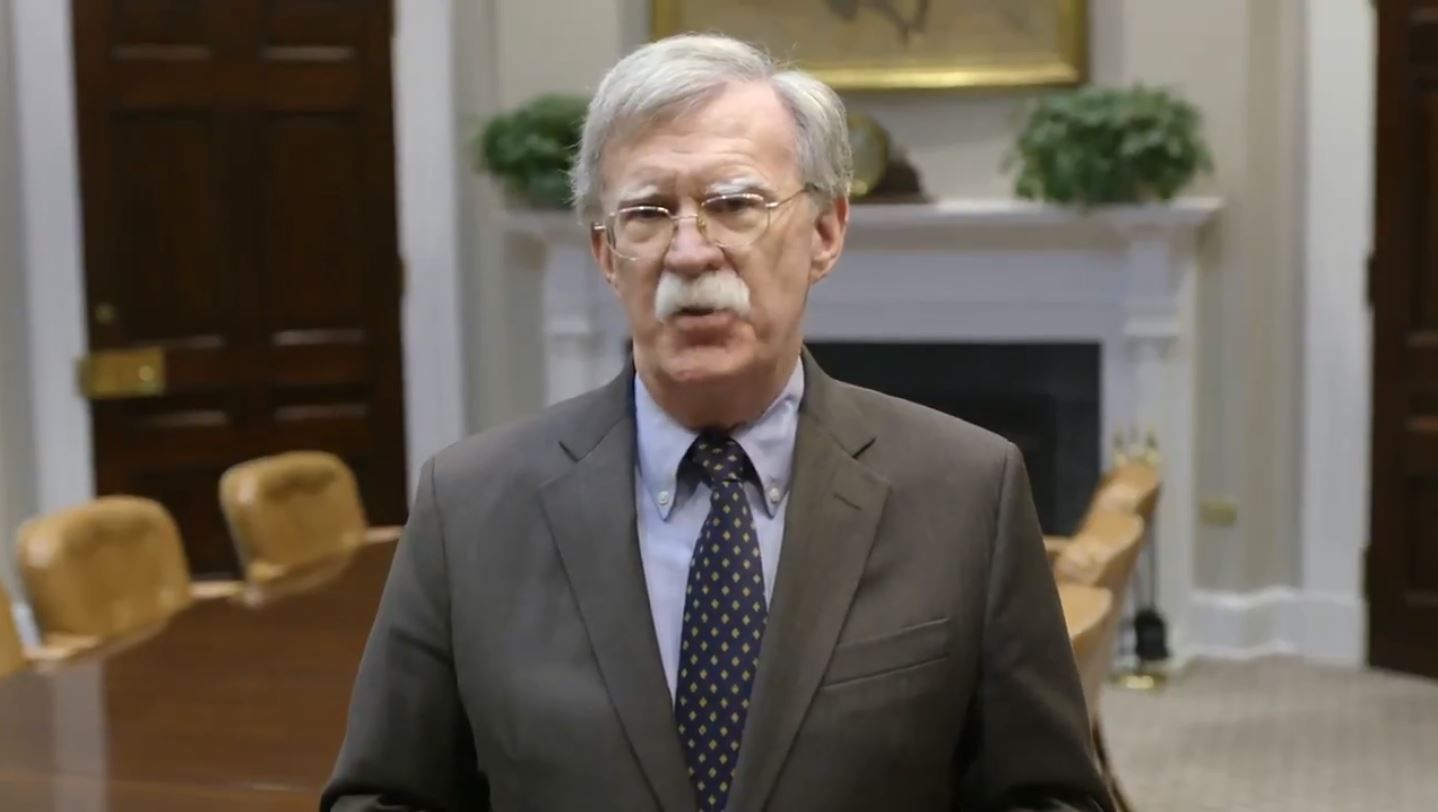 President Donald Trump's national security adviser has issued a direct threat to Iran's supreme leader on the 40th anniversary of his country's Islamic Revolution.
John Bolton was featured Monday in an ominous video posted to the White House's official Twitter account. The video was posted as a "message to the Ayatollah of Iran," Ali Khamenei, who the United States has targeted with a new social media campaign entitled "#40YearsofFailure" in reference to the decades of hostility between Washington and Tehran since the 1979 uprising that ousted a West-backed monarchy and installed a Shiite Muslim clerical leadership.
"What a 40 years its been, tyrannizing its own people and terrorizing the world, Iran continues to seek nuclear weapons to intimidate peaceful people all around the globe and ballistic missiles to use as delivery systems," Bolton said in the roughly one-minute clip. "Iran under the ayatollahs remains the central banker of international terrorism and its conventional military forces are all over the Middle East, in Yemen, Iraq and Syria.
"Perhaps worst of all the people of Iran have suffered grievously, right now unemployment is at record levels, inflation is at all-time highs, the Iranian currency has gone through the floor," he continued. "So Ayatollah Khamenei, for all your boasts, for all your threats to the life of the American president, you are responsible for terrorizing your own people and terrorizing the world as a whole, I don't think you'll have many more anniversaries left to enjoy."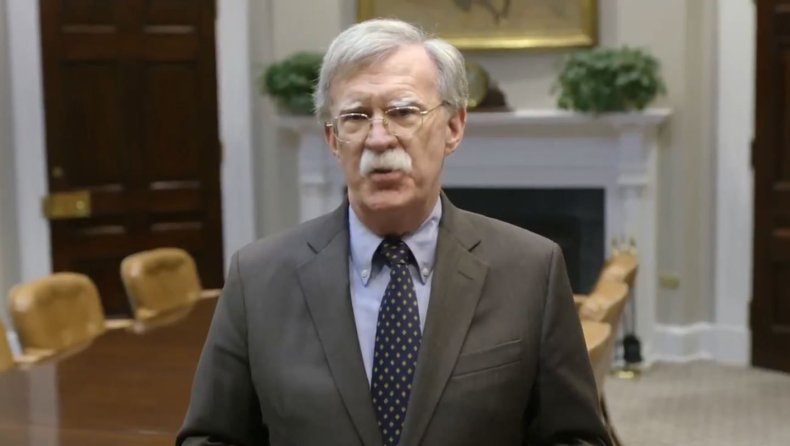 The video message came about a half hour after Trump tweeted an image of an Iranian protester during demonstrations early last year, alongside text reading, "40 years of corruption. 40 years of repression. 40 years of terror. The regime in Iran has produced only 40 years of failure. The long-suffering Iranian people deserve a much brighter future."
Iranian Foreign Minister Mohammad Javid Zarif was also active on Twitter earlier Monday, sharing photos of Iranians commemorating the 40th anniversary of the Islamic Revolution and criticizing U.S. attempts to oust the government, led spiritually by Khamenei and politically by Iranian President Hassan Rouhani.
"I bow in admiration to Iran's resilient people who—despite hardships & grievances—today poured into streets by the millions to mark 40th anniv of their Islamic Revolution, which some in the US wished would never come. US should take note: REAL Iranians never succumb to diktats," Zarif tweeted.
In response to Trump and Bolton's comments, he again tweeted: "#40YearsofFailure to accept that Iranians will never return to submission. #40YearsofFailure to adjust US policy to reality. #40YearsofFailure to destabilize Iran through blood & treasure. After 40 yrs of wrong choices, time for @realDonaldTrump to rethink failed US policy."
The Islamic Revolution ended the decades-long rule of Shah Mohammed Reza Pahlavi, who was once reinstalled in 1953 via a CIA-sponsored coup that foiled a political challenge from the country's democratically elected Prime Minister Mohammad Mossadegh. The 1979 uprising in Iran also saw dozens of U.S. diplomats and staff held hostage at Washington's embassy in Tehran for 444 days.
The two have stood largely opposed to one another's foreign agendas since, but came together for rare talks that ultimately established a 2015 nuclear deal between them, as well as China, France, Germany, Russia and the United Kingdom. Despite the International Atomic Energy Agency affirming Iran's compliance to the agreement, the Trump administration left it last year, accusing Tehran of using unfrozen assets to fund militant groups and ballistic missile technology.
U.S. sanctions imposed since then have further damaged an Iranian economy already beset by financial woes, though Iran has resisted attempts to completely cut its oil and gas exports. China and Russia have stood by Iran, and the three European Union signatories to the deal have developed a Special-Purpose Vehicle intended to bypass U.S. economic restrictions against Tehran.
Amid these rising tensions, Khamenei offered a clarification to a phrase heard widely across Iran since the Islamic Revolution. He claimed Friday that the oft-heard "Death to America" chant "means 'Death to Trump, Bolton and [Secretary of State Mike] Pompeo'" and that Iranians "have no fight to pick with the American people" themselves.
Bolton—who championed the 2003 Iraq War, which prompted a Sunni Muslim insurgency empowering Al-Qaeda and, later, the Islamic State militant group (ISIS) that both the U.S. and Iran have attempted to destroy—has long called for a more hard-line approach to the Iranian leadership, which he has threatened with military action.
On Wednesday, the U.S. and Poland will co-host a two-day summit in Warsaw intended to rally European and Middle Eastern opinions against Iran's activities.