Bookmakers Are Still Taking Bets on Donald Trump Winning the Election
Betting markets are still pricing Donald Trump as having a chance of holding onto the presidency, despite Joe Biden having already passed the 270 Electoral College votes needed to win the 2020 election.
UK bookmaker Betfair gave the incumbent odds of 11-1 to be the next president, with Biden on 1-18.
Betfair said in a statement on their website shortly after the election that it had not closed the market yet as it was waiting for "clarity around ongoing vote counts, recounts and any potential legal challenges to the results."
"Ordinarily in a US election, a result declaration from various news networks would be followed by a concession speech by the losing candidate," the bookmaker said. "This would trigger the settlement of the remaining Betfair markets. It's what happened in 2008, 2012 and 2016. 2020 is no ordinary election.
"We will only settle the markets when there is certainty around which candidate has the most projected Electoral College votes."
Leading polling expert Nate Silver, of the FiveThirtyEight website, shared a separate political map of the U.S. suggesting betting markets were still giving Trump a greater than 10 percent chance, including in states where the results had already been certified.
"As I've said before," he tweeted, "it's a bit alarming there are so many delusional people out there that the market equilibrium is this detached from reality."
Political pundits suggested this was due in part to some betting on a dramatic intervention that could upend the result.
Last week it was reported that President Trump was considering appealing to Republican state legislators to alter rules that govern the appointment of members to the Electoral College in order to retain the presidency.
According to Reuters, the Trump campaign's legal team has decided to take a "more targeted approach towards getting the legislators engaged" with a focus on Michigan. Biden was projected the winner in Michigan, garnering 16 electoral votes.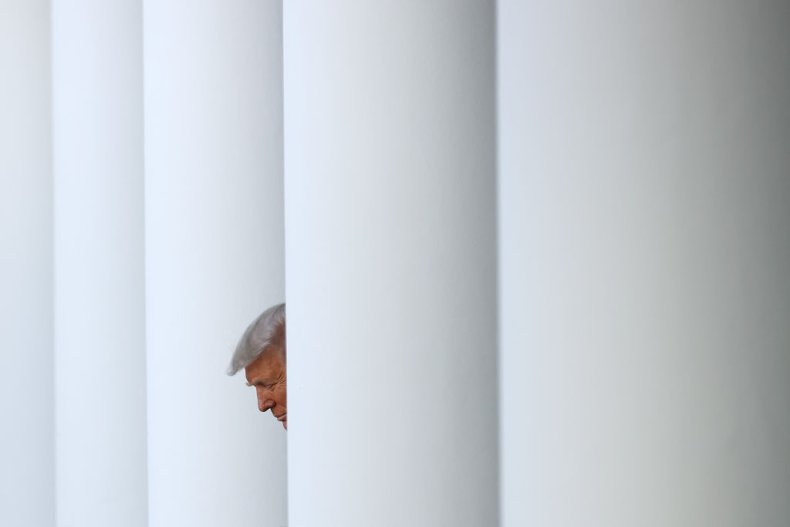 Electors are normally chosen by governors and the secretaries of state. Often, electors vote for the presidential candidate that won the popular vote in their state. However, Trump's legal team reportedly wants to shift the responsibility of appointing electors to GOP lawmakers.
Meanwhile, Trump's odds have been cut in half with some bookmakers to win in the 2024 presidential election.
Oddschecker said bettors were backing Trump to "bounce back from his 2020 election defeat to Joe Biden and reclaim the Presidency in 2024."
A spokesperson said: "Over the last week, 39.7 percent of all bets on the 2024 Election winner have backed Trump, despite the 74-year-old being priced as third favorite.
"Some bookies have cut odds on a Trump 2024 victory in half, from 12-1 into as short 6-1 with William Hill. The best price of 7-1 is available with one firm.
"That means the MAGA man only trails current favorite Kamala Harris (4-1) and soon to be inaugurated Joe Biden (9-2)."