Border Farmers Caught Between Migrant Surge Damage, Migrant Labor Shortage
Encounters between U.S. Customs and Border Protection (CBP) and migrant crossers reached a peak of over 178,000 last month, and Texas' farmers are in the middle of it.
Last Friday, Republican U.S. Rep. Tony Gonzales, who represents Texas' 23 district that spans one-third the length of the U.S.-Mexico border, brought a Congressional delegation to the border, where they listened to the stories of farmers in the district who said they've faced consistent damage to their properties.
The meeting comes as Gonzales, along with U.S. Representative Henry Cuellar (D-Texas-28) and U.S. Senators John Cornyn (R-TX) and Kyrsten Sinema (D-AZ), continue to rally support for the Bipartisan Border Solutions Act they introduced last month.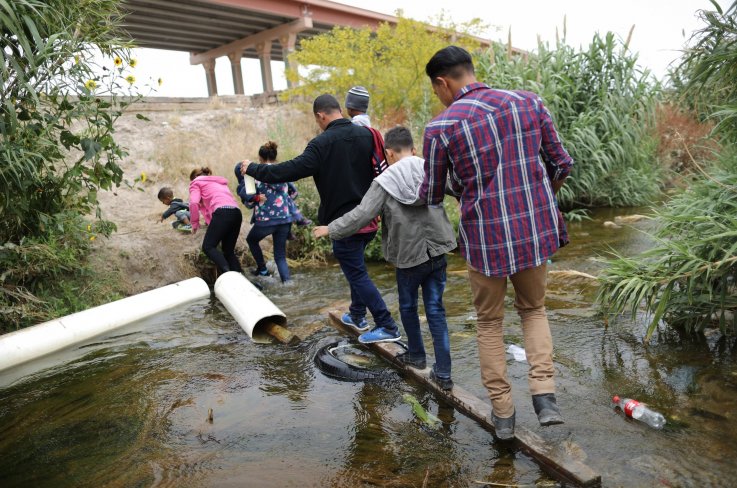 Migrants cross the border between the U.S. and Mexico at the Rio Grande, as they enter El Paso, Texas, on May 20. The location is in an area where migrants frequently turn themselves in and ask for asylum in the U.S. after crossing the border. About 1,000 migrants per day are being released by authorities in the El Paso sector of the U.S.-Mexico border.
Mario Tama/Getty Images
The act establishes at least four new regional border processing centers, expedites the asylum process, reprioritizes immigration court dockets during times of "irregular migration, "expands access to legal counsel for asylum seekers, crates new positions for border personnel, and creates new vetting standards for sponsors of unaccompanied children.
Gary Joiner, a spokesperson for the Texas Farm Bureau, the state's largest farm organization, told Newsweek the group welcomes changes that allow for enhanced security and improved channels for legal immigration.
Under the current circumstances, he said farmers face continuous damages to their property from illegal crossers, all the while remaining in need of legal crossers through federally sanctioned temporary work programs.
"Agricultural entities in the United States need labor," Joiner told Newsweek. "We're short on our workforce, and a lot of the interested able and willing workers to work in U.S. agriculture do come from foreign soils."
According to a 2018 report by the U.S. Department of Labor, 49% of the U.S. agricultural workforce is undocumented. While certain avenues, such as the H-2A program, allow farm workers to enter legally for temporary periods of time. Such programs are often cumbersome for employers and the enforcement of illegal hirings remains sparse.
Individuals entering the country often face gang violence, economic instability, and environmental devastation in their countries of origin. Some who make the journey from Central America face death threats and extortion in Mexico. With Title 42 resulting in the expulsion of asylum seekers back across the border, many individuals face fear and desperation as they enter the country illegally.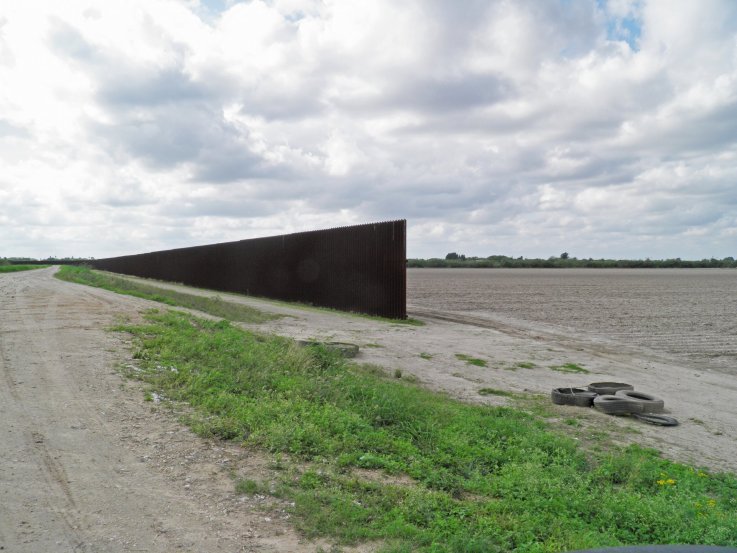 The eastern start of the U.S. border fence is seen in this photo taken at a family farm in Brownsville, Texas, November 17, 2016.
Jon Herskovitz/Reuters
Emily King, a rancher who farms cattle and miniature horses, has witnessed this level of desperation in the events that have unfolded near her Carrizo Springs, Texas ranch that sits near a major connecting point of three Texas highways. Though her farm lies about 45 minutes from the border itself, this location makes the farm a hot point for caravans moving north.
"Law enforcement will try to pull them over for a regular traffic stop or some traffic violation or whatever," she told Newsweek, "And they just go full speed right through the fence to try to get away, and all of those that are in the car or truck scatter."
King said this happens as often as two to three times a week, with it happening consistently since late January. When this happens, her fence often ends up the casualty. It's happened so often that she says the fence now needs replacement, likely costing the family a few thousand dollars.
Because she farms livestock and remains liable for any damages incurred by her livestock and lives near a highway, she said replacing the fence stands as her only option. As the phenomenon persists, she's dealt with hoses being left running and her garage being broken into. She accepts the reality, but hopes for change.
"This is part of border life, and I totally expect that," she told Newsweek. "But there are ranchers, farmers all over that are having so much more damage than we are. If it's happening to us, I say it's happening to everyone."