CBP Sector Chief Claims Migrant Children Arrive Dirty, Refuse to Shower and Don't Know How to Brush Their Teeth
Customs and Border Patrol (CBP) sector chief Aaron Hull claimed on Monday that detained migrant children were dirty when members of Congress, doctors and lawyers have visited detention centers because they arrived that way, refuse to shower and also do not know how to brush their teeth.
"Every two days, these children are getting offered shower facilities," Hull, who is in charge of CBP's El Paso sector, told CNN's New Day on Monday. "Now, we cannot make them shower. We can take them to the shower and we can put them there, but we can't physically make them shower."
Hull said that his agents have encountered "children who have never brushed their teeth." He claimed that CBP agents have had to "teach them basic hygiene."
"It's not true that people are being denied showers, that these children are being denied access to these facilities," the CBP chief continued. "We make these things available, we encourage them," he asserted.
CNN host Alisyn Camerota pushed back, pointing out that people who have toured the facilities have repeatedly pointed out how "filthy" the children they've seen have been.
"We encounter people from all over the world who are often very dirty and in soiled clothing when we encounter them," Hull argued. He then said that at certain stations, CBP keeps clean clothes on hand for children taken into custody, claiming that their clothes would also be laundered. "We can't control how they come into our custody. They're often dirty, but we make these facilities available to them and these clean clothes available to them," the chief insisted.
Democratic members of Congress, doctors, lawyers and even some current CBP agents have portrayed a very different picture of the conditions in migrant detention centers. They have pointed to severe overcrowding, a lack of basic hygiene essentials and children sometimes going weeks without showering. Migrants are routinely forced to sleep on the floors of crowded cells without beds and only given thin blankets. Democratic Representative Alexandria Ocasio-Cortez has also said that one cell she visited did not have a working sink, claiming that the women told her that CBP guards had instructed them to drink from the toilet.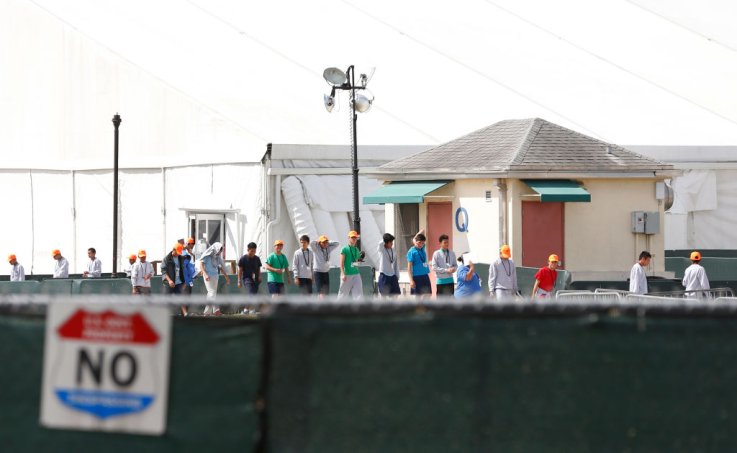 "I have never seen them cleaning counters, or cleaning toilets in the cells, or cleaning sinks in the cells," a CBP agent who spoke to CNN under the condition of anonymity said during an interview last week. The agent also explained that many migrants were forced to keep "wearing the same clothing for days."
Last month, Dr. Dolly Lucio Servier, a physician who visited two detention centers for migrant children in Texas, stated that they "could be compared to torture facilities," in an official medical declaration, ABC News reported. "Imagine your own children there. I can't imagine my child being there and not being broken," she said.
An attorney for President Donald Trump's Justice Department also argued in court in June that the government should not be required to provide detained migrant children with soap, toothbrushes and beds. Judge A. Wallace Tashima, who was one of the federal judges hearing the arguments, responded by saying that it should be "within everybody's common understanding that if you don't have a toothbrush, if you don't have soap, if you don't have a blanket, it's not safe and sanitary. Wouldn't everybody agree to that?" he asked the attorney, apparently taken aback by her line of defense.
Trump, like Hull, has argued that the criticisms of the facilities are inaccurate.
"What we're going to do is I'm going to start showing some of these detention centers ... to the press," the president said on Sunday, apparently confident that this would somehow curb the criticism. "I want the press to go in and see them," he added.
CBP Sector Chief Claims Migrant Children Arrive Dirty, Refuse to Shower and Don't Know How to Brush Their Teeth | U.S.