CBP Agent Tells CNN His Supervisor Joked About 'Running Over Illegals,' Slams 'Filthy' Detention Centers
An anonymous veteran Customs and Border Patrol (CBP) agent sat down for an interview with CNN to call out the agency he works for over its alleged mistreatment of migrants under its custody.
The unidentified man had his face obscured during the interview, which aired Wednesday morning on CNN's New Day, and declined to give his name publicly.
But his comments corroborated descriptions of some of the worst conditions members of Congress and others claimed to witness in the controversial detention facilities. He also called out a culture of discussing migrants in an inhumane manner, specifically highlighting comments made by an unidentified supervisor.
"'What difference does it make, it's just another life?'" he said his supervisor had quipped callously in regards to migrants. "He made a comment also regarding running over illegals. And I'm like you cannot run over people."
The agent said he was speaking to CNN because "America needs to know. They need to know the truth."
Describing the conditions in the detention centers, the veteran agent said they were "filthy." Although he explained that they have a maintenance cleaning crew, he said he'd never seen vital parts of the migrants' cells cleaned.
"I have never seen them cleaning counters, or cleaning toilets in the cells, or cleaning sinks in the cells," he explained. The agent also said that many migrants were forced to keep "wearing the same clothing for days."
Images and videos of the overcrowded and unsanitary conditions in migrant detention centers have emerged in recent days. Although the controversial facilities have been criticized for years, facing lawsuits under former President Barack Obama as well, they have become increasingly overcrowded in recent weeks as the Trump administration has detained many migrants beyond the legal time limit.
Additionally, the southern border of the U.S. with Mexico has seen a significant increase in Central American migrants entering the country as they flee violence and economic crises in their home countries.
This week, Democratic Representative Alexandria Ocasio-Cortez of New York toured a detention center, describing in detail what she witnessed on Twitter. "Officers were keeping women in cells w/ no water & had told them to drink out of the toilets," she wrote.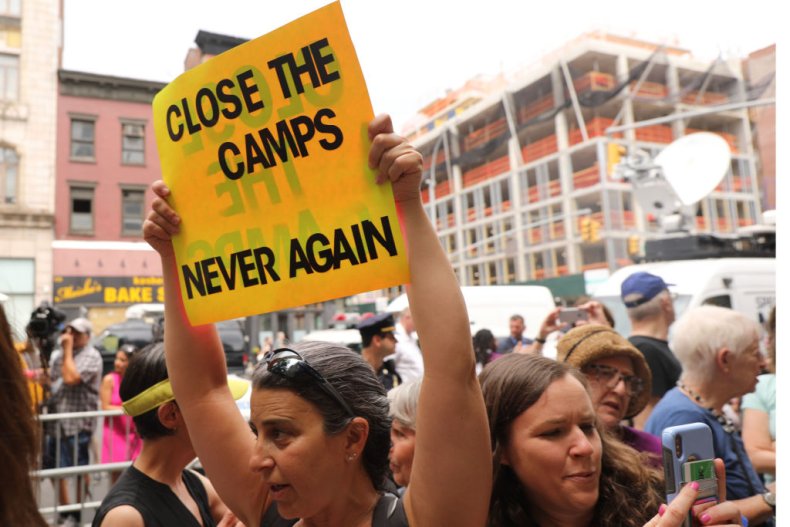 "It is inhumane," Democratic Representative Norma Torres of California, who recently toured migrant detention facilities after doing so last year as well, told CNN yesterday. "We need to send every single one of these border agents back to training,"
The Office of the Inspector General for the Department of Homeland Security, which oversees CBP, also released a report on the conditions in detention centers on Tuesday.
Calling out "dangerous overcrowding," the report highlighted that migrants had been detained without proper food, hygiene or laundry facilities. In some cases, this has continued for over a month.
"Specifically, when detainees observed us, they banged on the cell windows, shouted, pressed notes to the window with their time in custody, and gestured to evidence of their time in custody (e.g., beards)," the report explained.