Are Migrant Detention Centers Worse Under Donald Trump Than Under Barack Obama?
Democratic lawmakers have strongly criticized the administration of President Donald Trump, the Department of Homeland Security (DHS) and Customs and Border Protection (CBP) over the poor conditions endured by migrants in U.S. detention centers.
"It is inhumane," Democratic Representative Norma Torres of California, who recently toured migrant detention facilities after doing so last year as well, told CNN's New Day on Tuesday. "We need to send every single one of these border agents back to training," she argued
"I want to make sure that you understand," Torres added, "that the conditions have not changed a single bit from the last time I was at one of these locations eight months ago."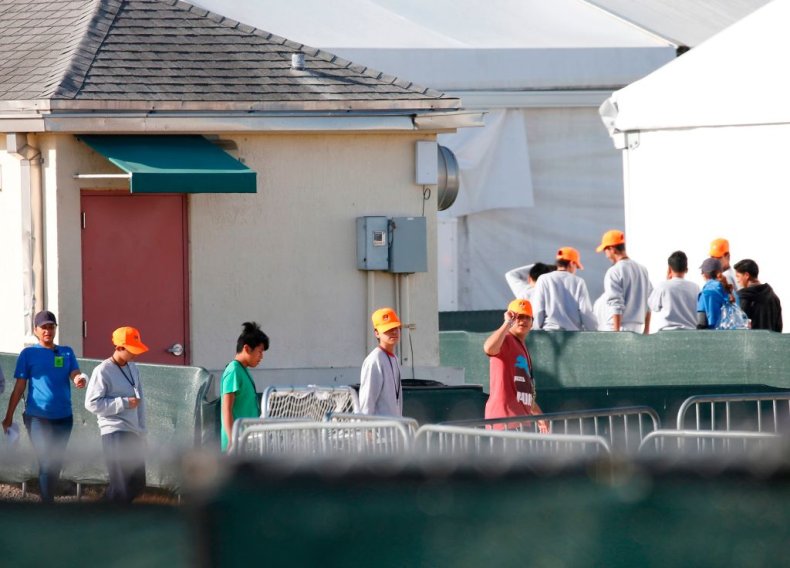 Representative Alexandria Ocasio-Cortez, a Democrat from New York, has also highlighted the conditions she witnessed when touring a detention center, which she and some others have referred to as "concentration camps."
"Officers were keeping women in cells w/ no water & had told them to drink out of the toilets," Ocasio-Cortez wrote on Twitter Tuesday.
Some Republicans and right-wing critics of Democrats have pushed back against such criticism, arguing that the conditions in migrant detention centers have long been poor, even under the administration of former President Barack Obama. Although it's difficult to compare precisely whether living conditions were worse or better under the former commander-in-chief, Obama's administration was accused of treating migrants in remarkably similar ways to that of the current White House.
Back in 2015, during Obama's tenure, a lawsuit filed by the ACLU referred to detention facilities as "hieleras" or "iceboxes," as Salon reported. The lawsuit accused CBP of maintaining "appalling conditions" that left people in "freezing, overcrowded, and filthy cells for extended periods of time, no access to beds, soap, showers, adequate meals and water, medical care, and lawyers in violation of constitutional standards and Border Patrol's own policies."
Those allegations sound almost identical to current conditions that have faced harsh criticism in recent weeks. Last month, a lawyer for Trump's Justice Department drew significant backlash after she attempted to argue in court that the government should not be required to provide migrants with basics necessities such as blankets, toothbrushes and soap. The judges hearing the arguments were taken aback when the attorney argued these things were not necessarily required to create a "safe and sanitary" environment.
While conditions were poor under Obama's administration, some things appear to have grown worse during Trump's tenure. A report by The Marshall Project found that the average daily population of migrants in detention centers has risen under Trump. During Obama's time in office, the number of detained migrants was generally between 30,000 and 40,000 on any given day. As of last year, the average under Trump was nearly 46,000—and that number has been on the rise. This has led to even more overcrowding and less resources, while conditions were already considered inhumane by many.
Hundred of migrant minors have also reportedly been held by CBP longer than the 72 hours legally allowed in recent months, according to data reported by The Washington Post at the end of May. In some cases, the children were kept in CBP custody for more than a week. Most of those children arrived in the country without a parent or legal guardian, but the Trump administration previously implemented a "zero tolerance" policy that resulted in thousands of family separations.
Under that decision, migrant children were separated from their parents. Although that controversial policy was ordered halted by a federal judge last year, DHS has struggled to account for all the children impacted and also to reunite all the separated families. Although family separations did occur under Obama and previous administrations, such decisions were relatively rare and not used to deter migrants from coming to the country.
There were also no migrant children who died while in CBP custody during the final six years of the Obama administration. Former DHS Secretary Kirstjen Nielsen previously admitted that it had been more than a decade since a child had died in CBP detention until December of last year, when an eight-year-old Guatemalan national passed away on Christmas eve. Since then, at least four other children have died while detained.
Ocasio-Cortez, who has become one of the most vocal critics of the detention centers, insisted it doesn't matter whether a Democrat or Republican is in charge. She considers the facilities to be unacceptable.
"I absolutely was outspoken against Obama's immigration policies and the detention of families then," the congresswoman said last week during an interview with CNN. "I think it's a remarkably consistent position, and I'm not here to defend wrong actions just because they happened under a Democratic administration. I'm here to speak truth to power. And if it's wrong, it's wrong."
She added: "I frankly don't care what president does it."