Border Agents Fire Tear Gas Into Mexico to Stop Migrants From Breaching Fence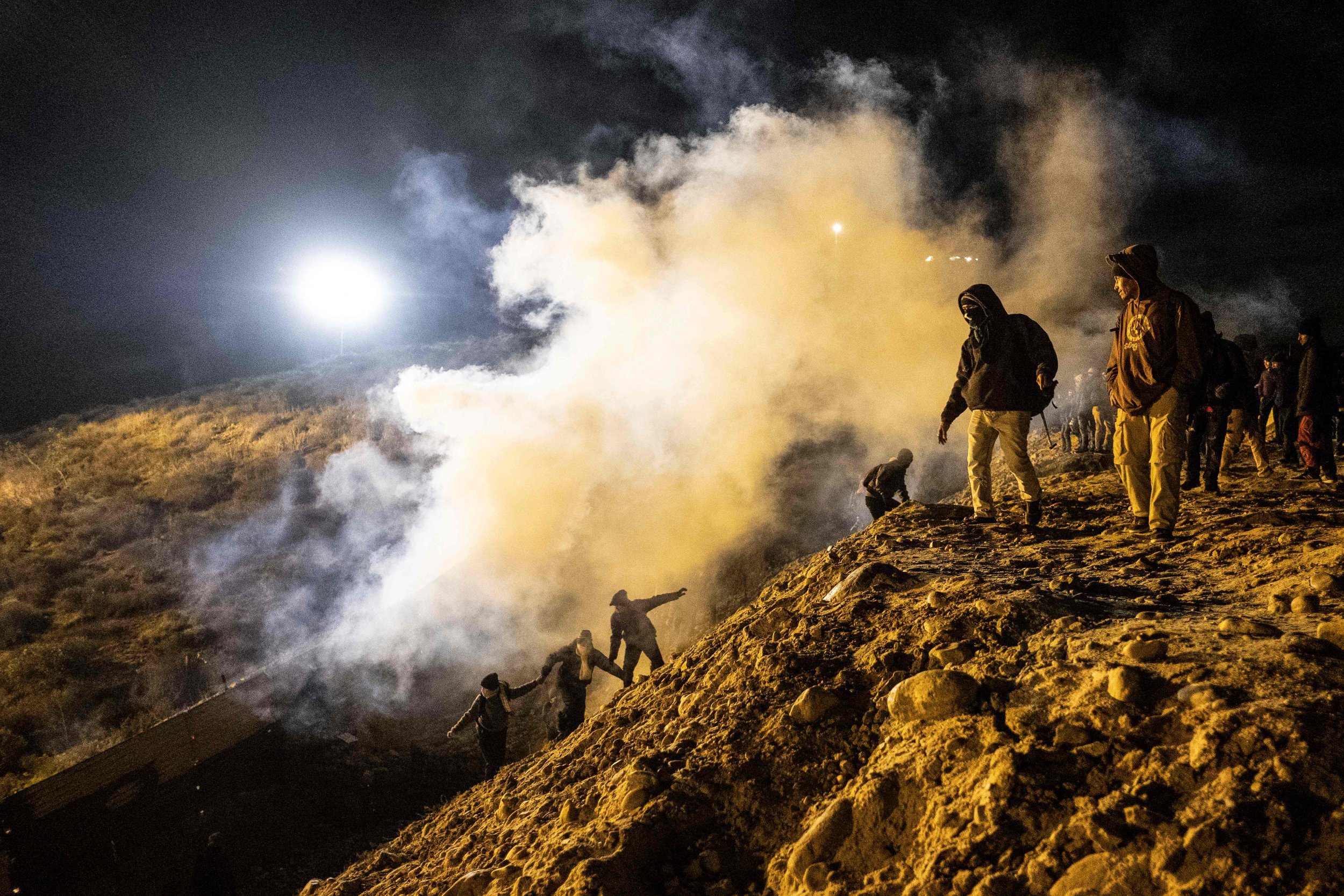 U.S. Border Patrol agents fired tear gas into Mexico to disperse more than 100 migrants who were attempting to breach the border fence near Tijuana in the early morning hours of New Year's Day, according to authorities.
In a statement issued later Tuesday, Customs and Border Protection (CBP) said border agents used the gas to target rock throwers, who were separate from the group of migrants attempting to cross illegally.
"No agents witnessed any of the migrants at the fence line, including children, experiencing effects of the chemical agents, which were targeted at the rock throwers further away," CBP said, according to the Associated Press.
According to an AP photographer at the scene, at least three volleys of tear gas were launched onto the Mexican side that affected migrants, including women and children, and journalists in the area.
CBP officials said responding Border Patrol agents saw migrants trying to pass "toddler-sized children" over concertina wire. Agents were unable to assist the children because of flying rocks, so they responded to the rock throwers with smoke, pepper spray and tear gas, the agency said.
Department of Homeland Security spokesperson Katie Waldman said border patrol agents responded with appropriate force to defend themselves from a "violent mob."
"The agents involved should be applauded for handling the situation with no reported injuries to the attackers," she said in a statement. "Initial reporting indicates that once the attempted illegal entry was thwarted by agents, the mob began pushing women and minors to the front, forcing minors to climb dangerous concertina wire, and encouraged conveniently invited media to begin filming their illegal acts."
The migrants attempting to cross the border early Tuesday were reportedly part of a caravan of more than 6,000 Central Americans who have arrived in Tijuana since November. As U.S. immigration authorities have slowed admissions for asylum seekers, thousands of caravan migrants have lingered in Tijuana waiting for a chance to present themselves at ports of entry or, in some cases, cross the border illegally.
Tuesday's use of tear gas comes a little more than a month after a similar incident along the border near Tijuana.
On Nov. 26, Border Patrol agents also launched tear gas into Mexico to repel migrants that had broken away from a peaceful protest and attempted to cross the border illegally. Hundreds of people downwind of the gas were affected.
The Trump administration has defended its use of tear gas against migrants attempting to cross the border, saying it is necessary to stop certain migrants who throw rocks and other projectiles at border agents. According to CBP, its personnel have used tear gas 126 times since fiscal year 2012, including more than 60 times under the Obama administration.
Still, the Trump administration faced intense criticism from Democratic lawmakers and immigration activists over the November tear gas incident. Many said images of women and children fleeing the gas were evidence of the administration's inhumane immigration enforcement policies.
In Tuesday's incident, 25 migrants were arrested while the others crawled under a hole in the fence back into Mexico, according to CBP. The deployment of tear gas will be reviewed by CBP's Office of Professional Responsibility, the agency said.
Jan 1, 2019, 10 p.m.: This story was updated to include a statement from a Department of Homeland Security spokesperson.
Border Agents Fire Tear Gas Into Mexico to Stop Migrants From Breaching Fence | U.S.