Boris Johnson to Resign as U.K. Leader After Allies Turn on Him: Report
U.K. Prime Minister Boris Johnson will resign on Thursday following days of pressure due to his handling of allegations against a former senior member of his ruling Conservative Party.
Johnson had resisted calls for him to go late on Wednesday and vowed to fight on, but a slew of resignations from his government over the past 48 hours continued into early Thursday morning and have apparently convinced him to resign.
"Boris Johnson will resign as Conservative Party leader today," BBC Political Editor Chris Mason reported on Twitter on Thursday. Johnson's decision to resign has now been widely reported in U.K. media reports.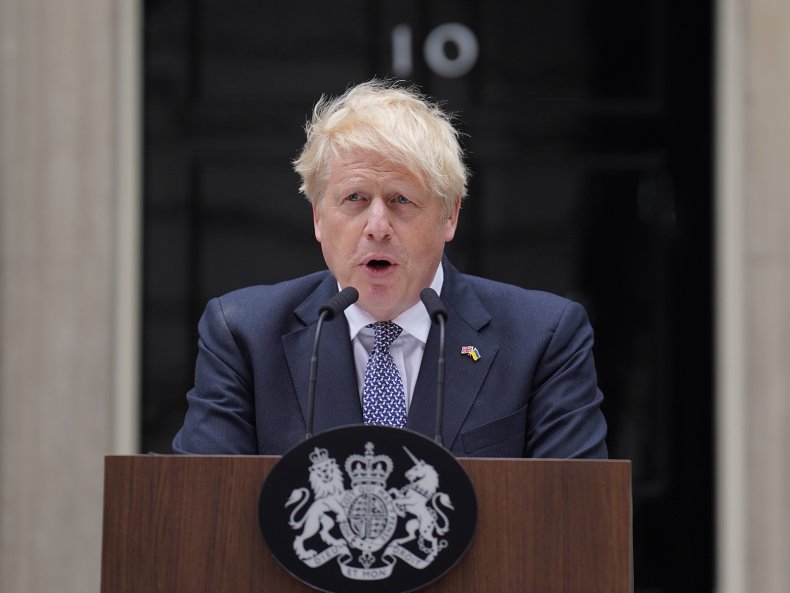 It remains to be seen if Johnson will try to remain as caretaker prime minister while the Conservatives elect a new leader or whether he will be pressured into leaving 10 Downing Street immediately.
More than 50 members of Johnson's government, including senior figures and key allies, have resigned over the past 48 hours. Newly appointed Chancellor of the Exchequer Nadhim Zahawi called for Johnson to go on Twitter on Thursday morning.
Zahawi has been in his role for less than two days. Johnson appointed him to succeed Rishi Sunak, who resigned on Tuesday and called for Johnson to go.
Johnson has been under pressure to resign following allegations of sexual misconduct against Chris Pincher, a Conservative member of parliament who served as the party's deputy chief whip.
Pincher resigned on June 30 amid allegations that he had groped two men but it later emerged that in 2019, Johnson had been made aware of allegations against Pincher. The prime minister said it "was the wrong thing to do" to appoint Pincher as deputy chief whip in February this year and that he regretted not preventing the appointment.
However, Sunak and Health Secretary Sajid Javid both resigned from office on Tuesday and called on Johnson to do likewise. He resisted calls for his resignation even as dozens of his party colleagues left their government posts and urged him to quit.
The opposition Labour Party also urged Johnson to resign during tense exchanges in parliament on Wednesday, while a parliamentary committee sought to clarify that Johnson would resign rather than call a snap general election during his appearance before them on Wednesday.
Johnson will make a statement to the nation on Thursday about his decision. The question now is whether his party will allow him to remain as prime minister while they select a new leader.
That could potentially see Johnson remain in Downing Street until the fall but some Conservatives were already arguing that Johnson should go immediately following the news of his resignation on Thursday.