Borrowers With Paid-Off Debt Feel Punished by Biden for Doing 'Right Thing'
While President Joe Biden's announcement on student debt relief was praised by Democratic lawmakers, others have criticized a decision they say is unfair to those who did the "right thing" by fully paying off their own loans.
Senate Minority Leader Mitch McConnell, a Kentucky Republican, took to Twitter Wednesday to call what he described as "Democrats' student loan socialism" a "slap in the face to working Americans who sacrificed to pay their debt or made different career choices to avoid debt."
Responding to a Reuters article on Biden's debt relief plan, user @JPatrk1 wrote: "My roommate in college went to medical school and had student loan debt close to 300k. He paid it all off by doing the right thing, living within his means and not running off to [buy] the latest iPhone or BMW."
After a long period of pressure and anticipation, Biden announced that his administration would cancel some federal student loan debt for borrowers earning less than $125,000 a year. In an outline of his plan shared on Twitter ahead of his scheduled remarks Wednesday afternoon, Biden explained that $10,000 in debt would be forgiven for those who did not receive Pell Grants, but those who went to college on Pell Grants could have $20,000 forgiven.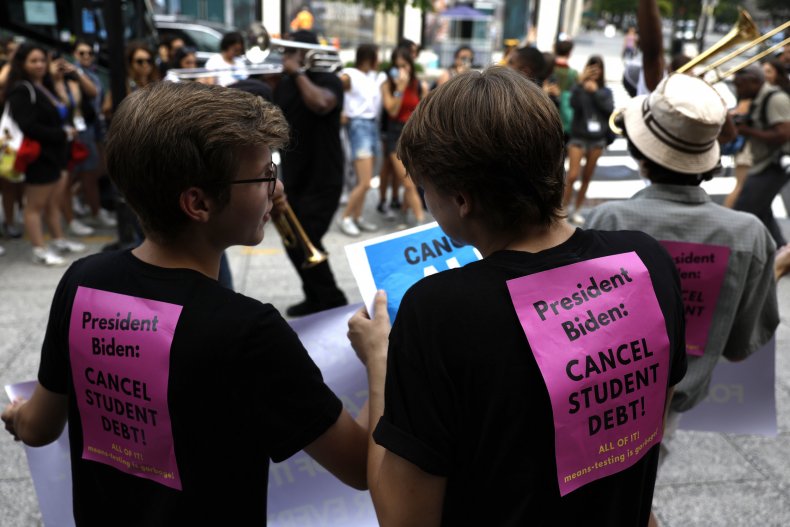 Some of his Democratic colleagues have hailed the decision. Democratic Senators Elizabeth Warren and Chuck Schumer released a joint statement calling the move a "giant step forward in addressing the student debt crisis." Democratic House Speaker Nancy Pelosi said that the debt relief would further Democrats' work to expand higher education access and help American families as they recovered from the COVID-19 pandemic.
But the reaction from Republicans and others was a stark contrast.
Senator Ron Johnson, a Wisconsin Republican, tweeted that the debt cancellation was "grossly unfair" to families that paid off their debt or didn't send their kids to college at all.
The Senate Republicans Twitter account alleged that the decision "benefits coastal elites with Ivy League degrees and punishes working class Americans." A White House fact sheet on the debt relief said that "no high-income individual or high-income household—in the top 5% of incomes—will benefit" from the cancellation.
Some Twitter users were also pushing back against the prospect of debt cancellation on Tuesday, when Biden was expected to announce his plan but hadn't officially done so yet.
Responding to a video that showed Democratic Senator Elizabeth Warren speaking about potential student debt cancellation in 2020, @mfl_normal wrote: "This is exactly, exactly, exactly my issue! What about people who put money away for their kids' college?? My friends took out a home equity line of credit to pay for their kid's college. Do they get THEIR loan forgiven? They're punishing [people] to do the right thing."
Newsweek reached out to the White House for comment.