Boss Slammed for Telling Employee It's 'Unethical' to Make Plans After Work
Commenters criticized a boss for allegedly telling an employee that it is "unethical" to make plans the hour after work, even on a Friday.
The employee, known as u/Porongas1993, posted about the incident in Reddit's popular "Am I The A**hole" forum where it received more than 11,000 upvotes and 600 comments. The post can be found here.
The anonymous employee told Newsweek he is based in the United States and alerted his manager's boss about the incident.
Toxic Workplaces
The U.S. Bureau of Labor Statistics reported that more than 47 million Americans quit their jobs since October 2021 in what has been coined The Great Resignation.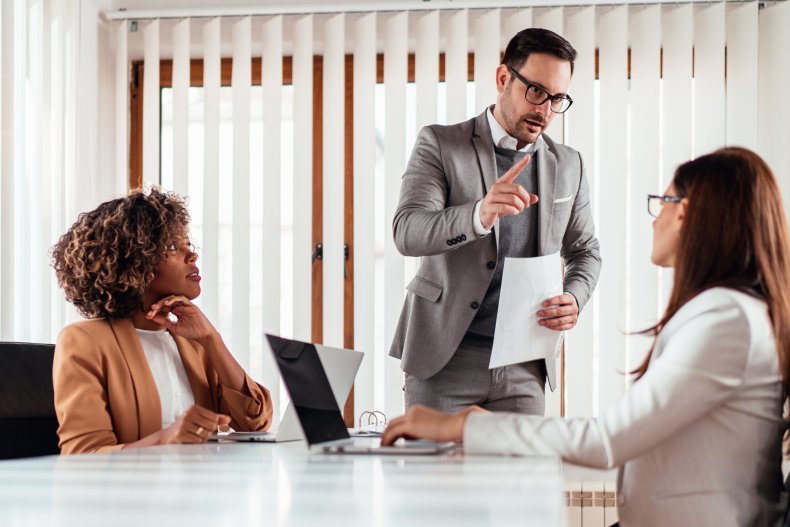 According to a survey conducted by Pew Research, more than half of American workers who quit their jobs in 2021 blamed feeling disrespected at work. About 63 percent blamed low wages and a lack of opportunities.
The 2022 World Happiness Report found that Americans are unhappier than their Northern European counterparts, with Finland, Denmark, and Iceland taking the top three spots for happiest citizens.
The United States and the United Kingdom came in 16th and 17th, respectively.
'Always Leave the Hour After Work Free'
In the post titled "I was told that having plans 20 minutes after my work hours was 'unethical,'" the man said his direct manager recently scheduled a Friday meeting for 4:15 p.m.
After the meeting continued past 5 p.m., the man apologized to his manager, saying he had to leave because he made plans after work.
"She decided to go on a rant about how we should always leave the hour after work free in case we are needed and how even though our work hours are 9-5," the post read. "it is really more like 8-6 in case we need to do extra stuff."
The employee said he muted himself before laughing and telling her he had to leave since his schedule says he ends at 5 p.m. and that he is "entitled" to do what he pleases in his free time.
During the meeting, which resumed on Monday morning, the employee said his director—his manager's boss—jumped on the call. He added that his director is "really chill" and says that he doesn't care what hours they work if they finish everything.
"When the meeting was almost over I said 'by the way, I would like some clarification on something," the post read. "I was informed on Friday that my hours should be 8-6 rather than 9-5. I just want to make sure that this was stipulated in writing and that I will be properly compensated for it."
The employee said his director was "shook" and their manager said they could set up a meeting to discuss later.
"So at least my director is aware of the situation," the post read. "Now we just wait."
Redditor Reactions
More than 600 users commented on the post, many sharing similar experiences and others criticizing the man's boss.
"Lol in my old job I got told you should never make plans after work," one user commented.
"Anyone who schedules a meeting at 4:15p on a Friday is a moron," another user commented.
"Meanwhile, my boss straight up told me 'it's alright if you wanna stay late to finish something, but I'm not gonna make you, and definitely don't come in on weekends. You need time to yourself, this is not all there is,'" another commented. "Wish more bosses thought like that."
"My boss told the intern they ought to work 20 hour days until we get caught up," another wrote. "I told them to go home at 6 because 'nothing we do here is that important.'"
Other Viral Bosses
In another viral r/Antiwork forum, a European employee criticized their American boss for creating a toxic work environment.
Another boss was recently slammed for firing an employee of seven years for "being late," and one employee said they "gaslit" their boss to receive more paid time off.