Boulder Shooting Suspect's Arrest Sparks Comparisons to Elijah McClain's Death
Comparisons are being made between the arrest of the suspect in the mass shooting at a supermarket in Boulder, Colorado, and the death of Elijah McClain.
At a news conference on Tuesday, authorities identified the suspect in the shooting that killed 10 people as 21-year-old Ahmad Alissa.
Prior to that, officials only said that a suspect was in custody and did not confirm if it was the shirtless, light-skinned man with a bloodied leg who was seen being escorted out of the King Soopers store in handcuffs.
The video prompted widespread speculation that the suspect was white, and led many on Twitter to discuss the disparate treatment of Black people by police.
Many noted that McClain, a 23-year-old unarmed Black man, died after he was detained by police in Aurora, a Denver suburb around a 30-minute drive from where Monday's massacre occurred.
"Today a white man walked into a grocery store in #Boulder and killed 10 people. He was apprehended by police and taken unharmed," writer Francis Maxwell tweeted. "Meanwhile, not far from this very store, police killed Elijah McClain as he begged them not to hurt him & apologized for not doing nothing wrong. Smh."
Twitter user Shem made the same observation, writing: "This Boulder, Colorado terrorist allegedly killed 10 people and was apprehended and taken into custody.
"In the SAME state, Elijah McClain was stopped because he "looked sketchy", and was killed by police. He did not walk into a grocery store and kill anyone, he just existed."
Dylan Park shared a tweet he posted in June 2020 that quoted some of McClain's final words, writing alongside it: "A white man walked into a grocery store in Boulder, killed 10 people, and was apprehended by the police and walked out of the building completely unharmed. Right down the road, police killed Elijah McClain while he apologized for not doing anything wrong. Two different Americas."
Others pointed out the pattern of heavily armed white male suspects being captured alive, while unarmed Black men and women have been killed during encounters with police.
Just last week, a 21-year-old white man was taken into custody without incident shortly after he allegedly gunned down eight people, including six Asian women, at three Atlanta-area spas.
Daniel Newman shared a photo that showed several white suspects who were arrested, including the man responsible for the shooting at an Aurora movie theater in 2012 and Dylann Roof, a white supremacist who was taken into custody after killing nine people in the Charleston church shooting. Newman's photo contrasted them with the unarmed Black people who have been killed by police in recent years, including Breonna Taylor, George Floyd and McClain.
"Why are innocent UNARMED BLACK Americans like Elijah McClain walking home being KILLED by Cops," Newman wrote.
"While daily, armed WHITE MASS SHOOTERS, caught IN THE ACT of MURDERING people, are being Politely arrested without any Choke Holds, No MACE, not a scratch on them??"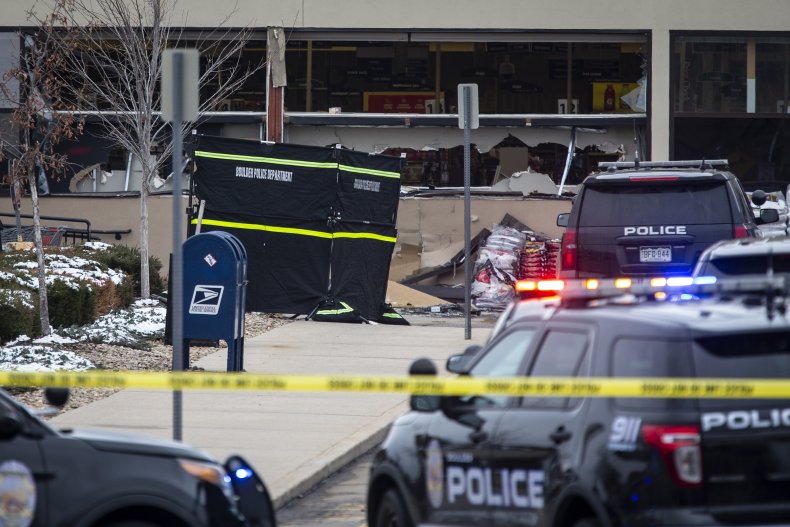 McClain died in August 2019, days after he was stopped by three Aurora police officers who were responding to a report of a suspicious man.
Body camera footage showed McClain telling the officers: "Let go of me. I am an introvert. Please respect the boundaries that I am speaking."
Police placed him in a chokehold and he was injected with ketamine by paramedics. McClain suffered a cardiac arrest on his way to the hospital and was taken off life support days later.
His death attracted renewed attention amid the widespread protests against police brutality and racial injustice triggered by the killing of George Floyd in Minneapolis police custody in May last year.
No charges were brought against the officers involved because prosecutors did not have sufficient evidence to prove the officers caused McClain's death or that their use of force was not justified, District Attorney Dave Young wrote in a letter in June last year.
Also last year, three Aurora police officers were fired and one resigned over a photo taken near a memorial for McClain in which officers reenacted the chokehold used on him.
An independent investigative report released last month said the officers involved in McClain's death did not have the legal basis to stop, frisk or restrain him, CNN reported.
The graphic below, provided by Statista, shows the number of mass shootings in the U.S. since 2013.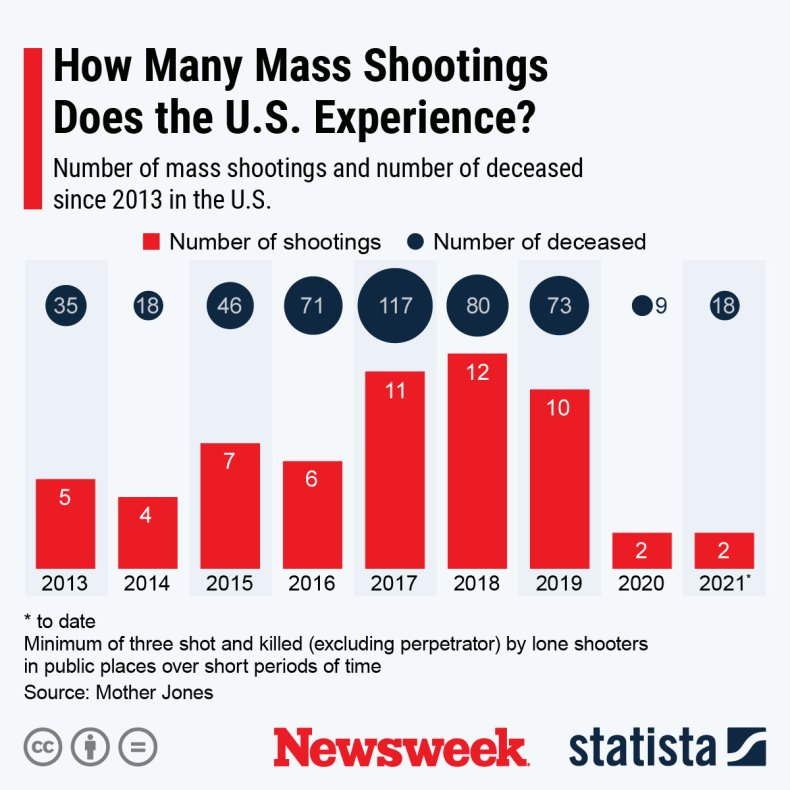 Update 3/23/21, 11:55 a.m. ET: This article has been updated to include the identity of the suspect.