Boulder Shooting Victims GoFundMe Pages Amass $500,000 In Donations
Online fundraisers for the victims of the mass shooting at a grocery store in Boulder, Colorado, have amassed more than $500,000 in donations.
Ten people were killed when a gunman opened fire inside the King Soopers supermarket on Monday afternoon, authorities said.
The suspect, identified on Tuesday as 21-year-old Ahmad Ali Aliwi Alissa, has been booked into jail on first-degree murder charges.
Among the dead was Officer Eric Talley, 51, who Boulder Police Chief Maris Herold praised as a hero, saying he was fatally shot after being the first to arrive at the store in response to a call about shots fired.
"Officer Talley was so helpful to me and I was having a hard time with his killing yesterday, so I took action," Suzi Zebelman wrote on a GoFundMe page set up to support Talley's family on Tuesday.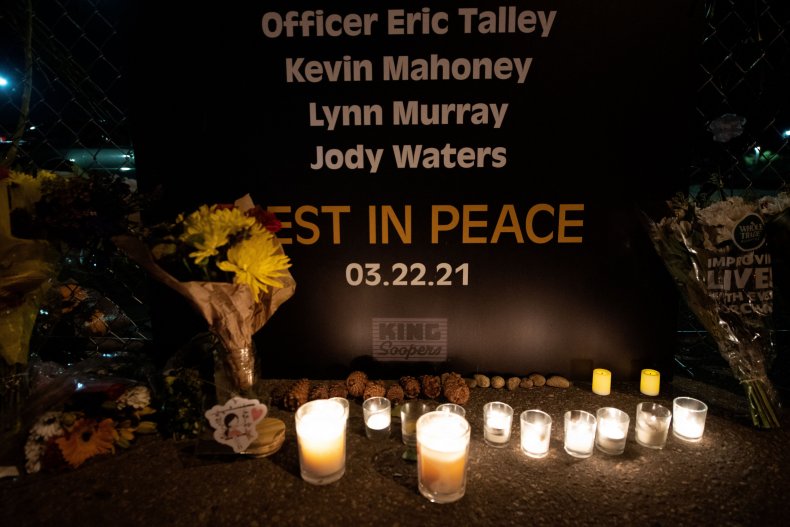 In less than 24 hours, the page has collected more than $290,000 in donations.
"Thank you all so much for the outpouring of support. I am working with the GoFundMe team and Boulder PD to ensure all funds are distributed to Officer Talley's family," Zebelman added in an update.
The 11-year veteran of the Boulder Police Department left behind seven children, aged between 7 and 20. His father Homer Talley told a local news outlet that it didn't surprise him that his son was the first on the scene, and said he "loved his kids and his family more than anything."
The other nine victims of the shooting were identified Tuesday as Denny Stong, 20; Neven Stanisic, 23; Rikki Olds, 25; Tralona Bartkowiak, 49; Suzanne Fountain, 59; Teri Leiker, 51; Kevin Mahoney, 61; Lynn Murray, 62; and Jodi Waters, 65.
A separate GoFundMe page to raise money for all the victims of the shooting has amassed more than $220,000 since it was set up Tuesday.
"Put together by lifelong Boulder residents Ryan Van Duzer and the instagram.com/BoulderColorado admin, who lives near and shops at the Table Mesa King Soopers, the site of the shooting," a post on the page said.
"100% of funds will go to families of the victims via the Colorado Healing Fund, which has expertise in equitably distributing funds like these. #BoulderStrong," Van Duzer wrote on the page. The Colorado Healing Fund has been contacted for comment.
The Boulder Instagram page shared a post on Tuesday night, thanking supporters for the donations.
"It's heartwarming to see the financial support that the families will receive from the GoFundMe," the caption said. "Thank you to the generous donors. We're just so sorry that this happened."