News of another mass shooting in Colorado was triggering for Heather Martin, a survivor of the Columbine massacre.
Martin was a senior when two students gunned down 12 of their classmates and a teacher at the high school in Littleton on April 20, 1999—just two days shy of her 18th birthday. Along with 59 other students, Martin barricaded herself in a teacher's choir room office for hours as the sound of gunfire rang outside the door.
Now a 39-year-old teacher in Denver, Martin struggled in the years that followed, she told Newsweek in a phone interview.
The September 11 terror attacks prompted a debilitating anxiety attack, she said. The same happened in April 2007 after the Virginia Tech shooting.
She has figured out ways to cope when another mass shooting hits the headlines so, when a friend warned her that a shooting at a King Soopers store in Boulder on Monday had been live-streamed, she avoided looking up the details.
"I definitely didn't want to accidentally come across that," she said. "So I didn't really do much looking into the specifics of what was happening."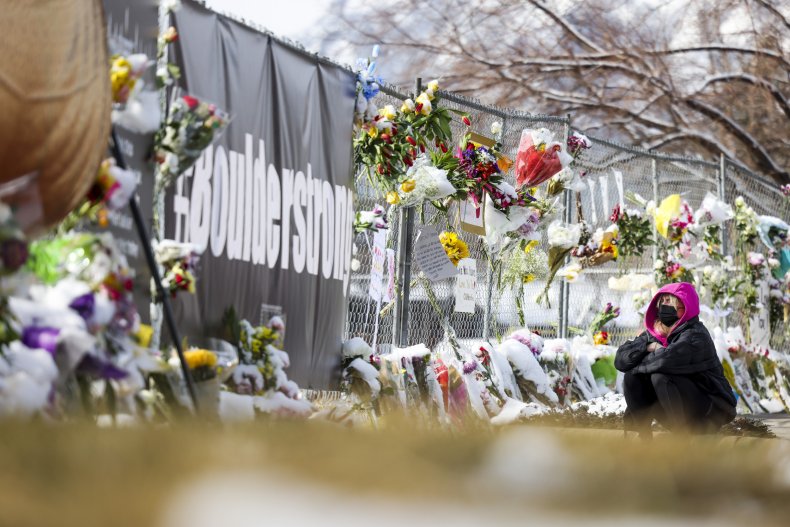 What Martin did instead was check in with an online support group for survivors of mass shootings and other traumatic events—part of the Rebels Project, a nonprofit she co-founded with other Columbine survivors.
"It was very triggering for a lot of people and not just in Colorado. This was across the nation," she said.
Pointing to the mass shootings in and around Atlanta on March 16, she added: "Especially considering it's so close to another high-profile event, essentially in the same week." Eight people died in the shootings at three spas in Georgia.
"When another event happens, like ours at Columbine, whether it be in a school, or a supermarket, or a movie theater, or a dance club, it's always triggering. It's always going to bring up some painful memories from 1999.
"In this case, it's a little bit more triggering for a lot of survivors in Colorado, because it happened in Colorado."
Two other students who survived Columbine—sisters Laura Hall and Sarah Bush—told Newsweek their emotions were "raw" after the mass shooting in Boulder. Ten people died, including a police officer who was the first to arrive on the scene and three of the store's employees.
"Not only has Colorado suffered yet another enormous loss, the healing and work that each member of that community and especially the victims and their families will have to endure can be a long and painful journey. We know that part well," they said.
Hall, a 14-year-old freshman in 1999, was having lunch in the cafeteria when the gunmen opened fire. Bush, then 16, was in math class. Bush fled, but had to wait hours before she knew her sister, who was in the choir room office, was alive.
Martin said therapy had "helped a lot" with her trauma, as did returning to the school on the 10th anniversary of the massacre, which has made active shooter drills commonplace at schools across the nation.
"As the years go on, things are still happening. It's still triggering," she said.
After a gunman opened fire in a movie theater in Aurora, Colorado, in 2012, she said the feeling of helplessness was "almost too much," prompting her and other survivors to launch the Rebels Project.
Since then, the group has grown to include around 1,500 survivors from more than 100 traumatic incidents.
"These survivors have no idea what they're in for," she remembered thinking after the Aurora mass shooting, in which 12 people died.
"We wanted to offer them a resource that we didn't have access to in 1999. We didn't have people to talk to about our experience because nobody really got it.
"What we realised for us was 13 years later, we were still struggling, and we were still having problems and so we wanted to be there for other communities in the long run."
She added: "The people that are going to understand that the best are the people that have the closest scenario to what you experienced."
Martin said that for a long time after Columbine, she felt her story didn't matter.
"I thought, nobody wants to hear what I have to say because I wasn't physically injured, but I was struggling and I was suffering," she said.
She expressed concerns that some affected by the Boulder shooting might be minimizing their experience.
"That can lead to really, really dangerous places," she said. "Trauma is not a competition. It's not about who saw the worst thing or who is suffering the most. Your experience is your own."
She went on: "People are going to be in recovery long after the cameras go away, and long after society has quote unquote moved on. We need support…so we wanted to be the people to help offer that."
Hall and Bush, who now live in Eagle Mountain, Utah, urged those suffering mentally and emotionally, or who have post-traumatic stress disorder or mental illness, to "be patient with yourselves and those around you."
They added: "Everyone heals and grieves in their own time and way. But healing does come, as does a return to normalcy and happy and fulfilling life.
"Please ask for help when you need it. There are so many waiting and willing to lend a hand to hold or a shoulder to lean on."