Boxer Dog Being Carried by His Human Dad Delights Viewers: 'Take a Bite'
A now-viral TikTok video of a boxer dog being carried by its owner has delighted internet users. The pup can be seen gazing lovingly into its owner's eyes during their dance.
In the social-media post, the boxer is enjoying cuddles in their human dad's arms while "Can't Take My Eyes off You" by Frankie Valli plays in the background. A caption reads: "Sometimes you have to take a bite."
The TikTok clip, uploaded by @LounaTheBoxer on February 12, has been viewed more than 230,000 times and liked by over 17,000 users.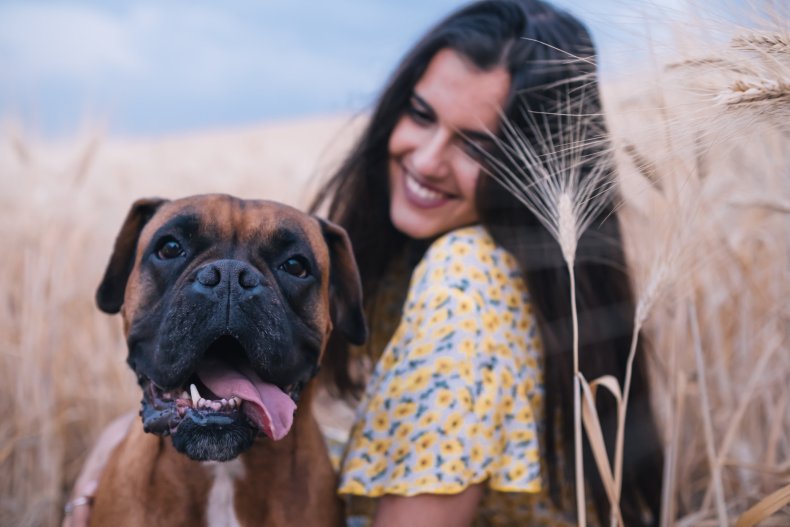 Why Should You Adopt a Boxer Dog?
According to the American Kennel Club, boxers are one of the most popular dog breeds in the U.S., and they have been for quite some time. The large and courageous animals are known to be bright and alert, while also affectionate, as seen in the TikTok video.
"In spite of their heritage as powerful and courageous hunters, one of the modern breed's most appealing traits is a tremendous love for their humans and a need to be loved in return. A Boxer is happiest when he's with his family, especially children. He's protective and patient with kids and makes an ideal family dog," the AKC says.
Because of the boxers' attachment to their human counterparts, their intelligence and compassionate nature, these animals also double up as great service dogs and make up a large chunk of the police force.
While boxers have an average lifespan of up to 12 years, the breed is predisposed to a few health conditions, including cancer, heart disease and joint problems.
The animal-health website PetMD advises that spaying, prior to a female boxer's first heat cycle, can substantially decrease the risk of her developing mammary cancer in adulthood.
What Do the Comments Say?
The video has received hundreds of comments from TikTok users who have had their heartstrings tugged at by the video.
"The sweetest boxer," one user commented, while another added: "I just love Boxers they are the best."
A third poster wrote: "This is an approved way to carry a Boxer."
"I love boxers so much their just big baby's," another user commented underneath the post.
Newsweek reached out to @LounaTheBoxer for comment.
Do you have funny and adorable videos or pictures of your pet you want to share? Send them to life@newsweek.com with some details about your best friend, and they could appear in our Pet of the Week lineup.