Boy's Sassy Note About Why He Didn't Do Homework Resurfaces: 'Case Closed'
A boy's sassy response to his teacher over why he didn't do his homework is going viral again, due to the sheer hilarity of his answer.
Lydia Cortez posted the letter her cousin's son wrote online back in 2019, which is currently blowing up on Reddit. In it, the student fiercely defends his failure to do his homework.
"So my cousin and his wife got an email from their son's teacher. He didn't do his hw so she asked him to write a paper saying why he didn't do his hw and this is what she got," she wrote.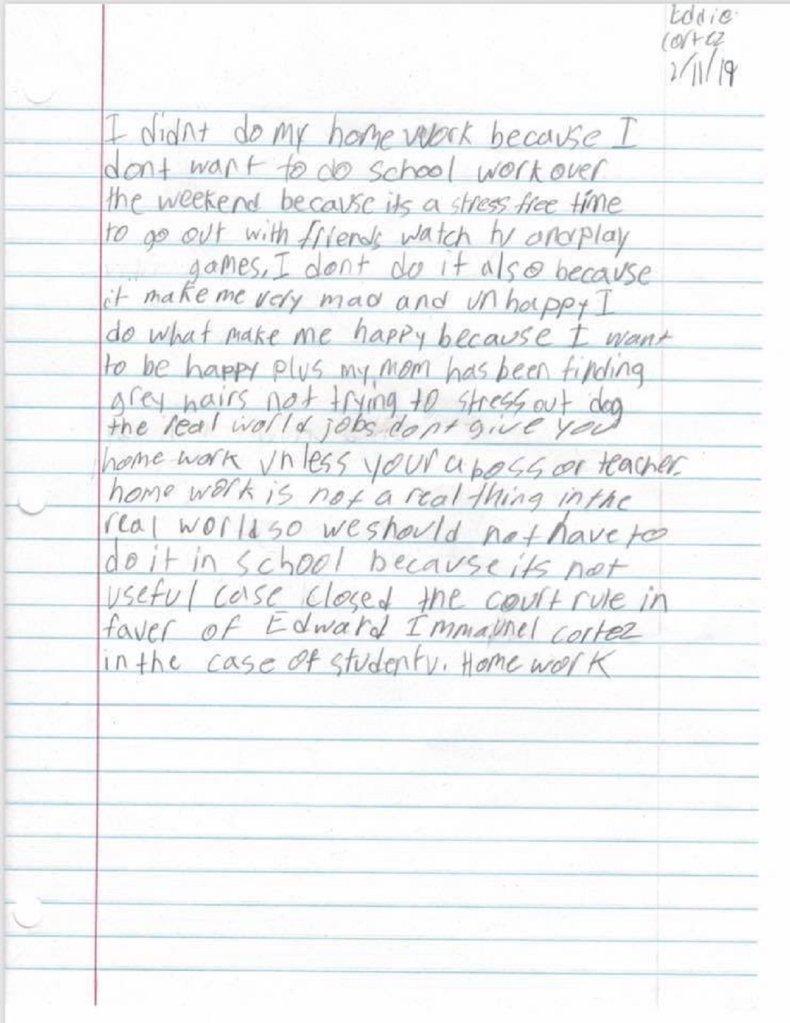 The letter read: "I didn't do my homework because I don't want to do school work over the weekend because it's a stress free time to go out with friends, watch T.V. and play games.
"I don't do it also because it makes me very mad and unhappy I do what makes me happy because I want to be happy plus my mom has been finding gray hairs not trying to stress out...
"The real world jobs don't give you homework unless you're a boss or teacher, homework is not a real thing in the real world so we should not have to do it in school because it's not useful.
"Case closed the court rule in favor of Edward Immanuel Cortez in the case of student vs. homework."
Cortez, from California, added in follow-up comments she was "cracking up," adding: "Why couldn't I be this smart that young??"
The original tweet amassed 315,000 likes, and can be seen here, but it went viral again after being shared across Twitter.
The post was uploaded to the site's Made Me Smile forum on Thursday, captioned "case closed," where it racked up more than 50,000 upvotes.
People were in awe at his reasoning, as Hunnyroastedcashews wrote: "That is the smartest most clever kid I've never met."
Fooozzii commented: "My man just wants to be happy. Let him be happy."
Fanburn admitted: "I'm a science teacher in middle school and I never give students any homework. We do everything during the lesson."
Nasanu pointed out: "Are you kidding? You get paid for overtime. Kids are forced to do homework just out of cruelty."
Rare-Counter stated: "If the man says case closed, it's case closed. And I heard the court ruled in his favor."
Cturtl808 joked: "Whole lotta words to say 'I don't wanna'."
Goodbyekitty83 thought: "It's been know for decades now that homework is BS. Dunno why teachers still do it."
DaDiva64 raved: "Great reasons kiddo, now go outside and play with your friends."
Eryth78 said: "He isn't wrong though..."
While Uuuuuuuuuusername added: "Preach kid. Homework should be outlawed."
The California State PTA website explains the benefits of homework, saying teachers use it to "help students understand and review the work that has been covered in class," and "help students learn how to find and use more information on a subject."
The site claims it also allows educators to assess whether pupils understand the lessons and instils responsibility and routine.
They estimated 20 minutes of homework a day is most effective for students in K-2, while those in grades three to six "can handle 30-60 minutes a day."
Middle and high school students can be assigned up to 2 hours extra work each day, although they acknowledged: "homework time and strategies can vary from teacher to teacher and school to school."
Update 6/28/22, 4:14 a.m. ET: This article was updated with photos from Cortez.