Boycott Nike: Trump Refuses to Join in Because Nike Is a Tenant and Pays 'a Lot of Rent'
Those who expected to see President Donald Trump at the forefront of the campaign against Nike were left disappointed as the president delivered a surprisingly mellow rebuke of the sporting apparel giant.
Nike unveiled Colin Kaepernick as one of the faces of its 30th anniversary "Just Do It" campaign, prompting harsh criticism from a number of political commentators and Nike customers, who have accused the former San Francisco 49ers quarterback of showing disrespect to the flag when he chose to kneel during the national anthem in 2016.
While Trump criticized the campaign, he also said the company was one of his main tenants. "I think it's a terrible message and a message that shouldn't be sent," he told The Daily Caller when asked about the campaign. "There's no reason for it." But, the president explained, Nike was a tenant of his, and "they pay a lot of rent."
Nike's flagship store was located on a site owned by Trump next to Trump Tower in New York City. But the location has since closed, and in 2017 Nike, which is based in Oregon, announced it would open a new shop on Fifth Avenue by the end of this year.
The advertising campaign—which features a picture of Kaepernick with a message reading "Believe in something, even if it means sacrificing everything"—sparked a furious backlash, which even saw people burning their Nike sneakers in protest.
Calls for a boycott of the company quickly spread on social media, but Trump defended Nike, suggesting the company was perfectly within its rights to choose Kaepernick—who has been a Nike athlete since 2011—to promote its campaign.
"As much as I disagree with the Colin Kaepernick endorsement, in another way—I mean, I wouldn't have done it. In another way, it is what this country is all about, that you have certain freedoms to do things that other people think you shouldn't do, but I personally am on a different side of it."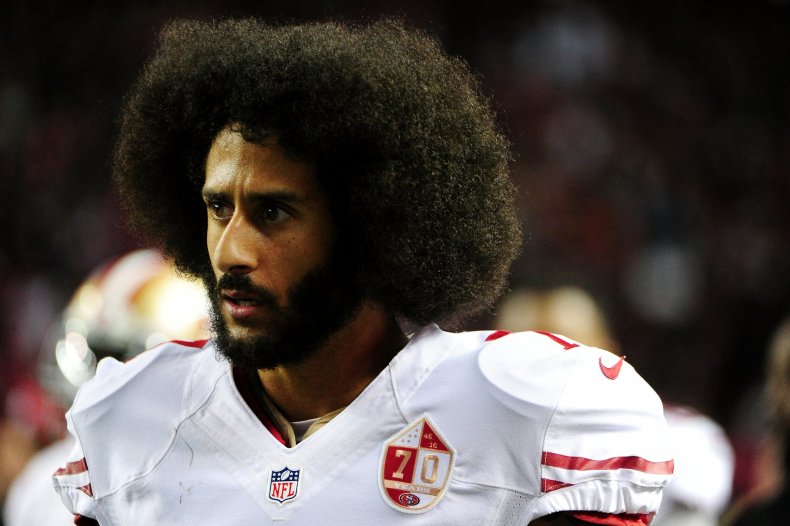 Trump's relatively relaxed stance was at odds with his previous forays into the world of NFL, which included urging team owners to fire players who refused to stand during the national anthem.
Following the unveiling of the campaign, Nike shares dropped by just over 3 percent to close at $79.60. While it was impossible to determine whether the dip was entirely related to the advertisement—Adidas shares, for example, fell 2 percent—the furor surrounding it certainly played a part.
According to a research conducted by YouGov, whose findings were compiled by Statista, almost half of recent Nike customers have a positive view of Colin Kaepernick, a percentage which falls to 34 among the general public.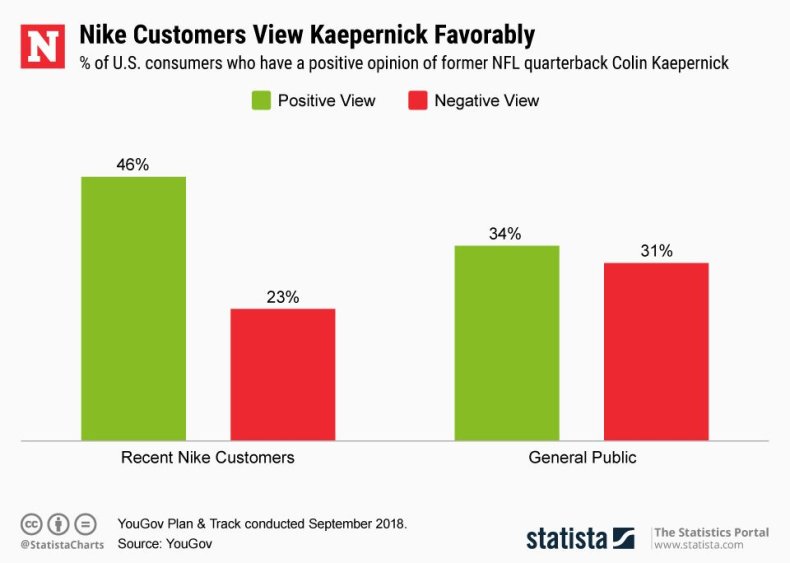 The prospect of a boycott is unlikely to do significant damage to a commercial behemoth like Nike, which, among other things, remains the NFL's main apparel supplier. Some, however, warned that the impact of the protests could not be underestimated.
"Nike enters the vicious fray of tribal politics and risks losing near 50 percent of its American clients," Eric Schiffer, the chairman of Reputation Management Consultants, a business management services provider, told Newsweek.
"This will prove to be one of the single worst business decisions since the dawn of the athletic shoe industry. Conservatives will want to amputate Nike's financial limbs and sales will be hit materially in America."
This article was updated to include an infographic.