Brandon Bernard Attorney Calls His Execution 'Stain on America's Criminal Justice System'
Brandon Bernard's attorneys have called his execution "a stain on the America's criminal justice system."
Bernard, 40, died by lethal injection at the federal penitentiary in Terre Haute, Indiana, on Thursday evening after the Supreme Court denied a stay, in a rare execution of a person for a crime committed as a teenager.
Bernard was sentenced to death for his role in the 1999 kidnapping and killing of youth ministers Todd and Stacie Bagley. His co-defendant, Christopher Vialva, was executed on September 22.
"I'm sorry. That's the only words that I can say that completely capture how I feel now and how I felt that day," he said, according to the Associated Press. Speaking about his part in the killing, he said: "I wish I could take it all back, but I can't."
He was pronounced dead at 9.27 p.m. ET.
Advocates and Bernard's attorneys had fought for his execution to be stayed, arguing expert evidence that likely would have led to Bernard avoiding a death sentence was not presented at his trial.
In a statement to Newsweek, Bernard's attorney Robert Owen said: "Tonight, those of us who love Brandon Bernard—and we are many—are full of righteous anger and deep sadness at the actions of the federal government in taking his life. Brandon's life mattered.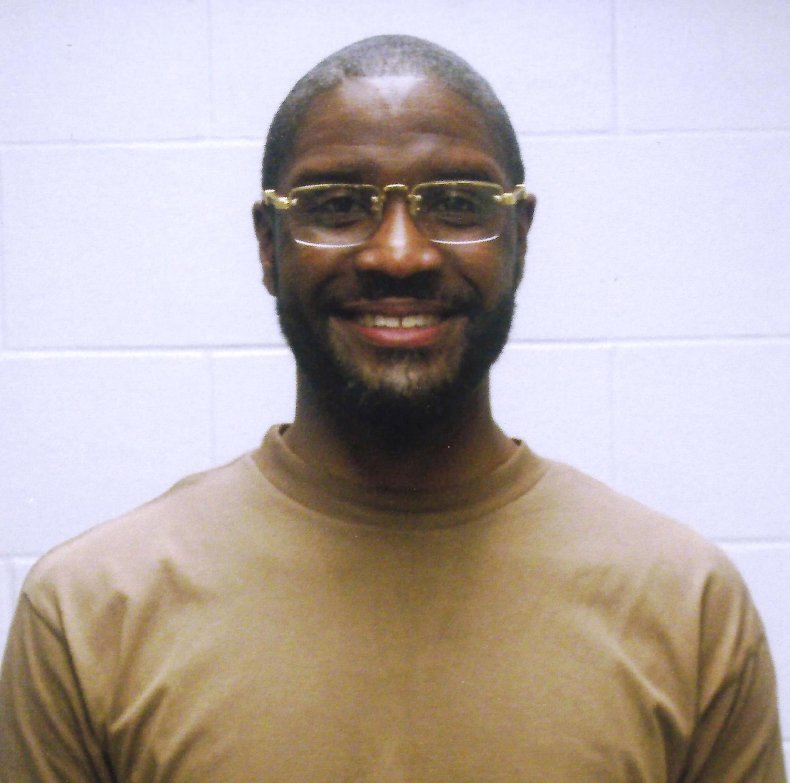 "To us, his legal team; to his two beautiful and talented daughters; to his mother, brother, and sister; and to the countless people around the country who came to know him and his story in recent weeks."
Owen added: "Brandon made one terrible mistake at age 18. But he did not kill anyone, and he never stopped feeling shame and profound remorse for his actions in the crime that took the lives of Todd and Stacie Bagley. And he spent the rest of his life sincerely trying to show, as he put it, that he 'was not that person.' Brandon showed us that and so much more, carrying himself with grace and generosity, and always treating everyone around him with kindness and respect. He worked to help other troubled kids avoid similar devastating mistakes, and he lived every day his commitment to serving both God and humanity."
Owen added that "many things went wrong" to put Bernard on death row, including "egregious government misconduct in concealing evidence and misleading the jury, which the courts refused to remedy."
He noted that before Bernard's execution, five of the jurors who sentenced him to death said they no longer stood by that verdict and joined the lead appellate prosecutor on his case in urging Trump to commute his death sentence to life without parole.
"Those pleas for clemency were joined by hundreds of thousands of supporters, including celebrities, faith leaders, and members of the United States Congress," he said.
Those calling for Bernard's life to be spared included Kim Kardashian West, who posted a series of appeals on Twitter urging Trump to grant him clemency.
Owen added: "Brandon's execution is a stain on America's criminal justice system. But I pray that even in his death, Brandon will advance his commitment to helping others by moving us closer to a time when this country does not pointlessly and maliciously kill young Black men who pose no threat to anyone, when we hold prosecutors to the highest standards of integrity in every case, and when our leaders exercise their moral authority where it is needed."
He added: "We were proud to call Brandon our client and our friend, and we will miss him greatly."
Bernard was the ninth inmate put to death since the Trump administration resumed federal executions in July, ending a 17-year moratorium. He was also the second inmate executed since Trump became a lame-duck president, following Orlando Hall's November 19 execution.
Trump has already executed more federal inmates in a single year than any other president in more than a century, but four more federal executions remain scheduled before Biden, a death penalty opponent, is inaugurated in January.
Alfred Bourgeois is set to be executed on Friday, followed by Lisa Montgomery—the only woman on federal death row—on January 12, Cory Johnson on January 15 and Dustin Higgs on January 15.