Trump Admin Set to Execute 10 Federal Inmates in 2020—More Than Any President in a Single Year
By the end of 2020, President Donald Trump's administration is expected to have put 10 federal inmates to death—more than any other president has ever done in a single year.
The U.S. government has already executed seven inmates since the summer, even as a pandemic that has claimed almost 240,000 lives continues to ravage the country.
With Trump now a lame-duck president, three more executions remain scheduled—Orlando Hall on November 19, Lisa Montgomery on December 8 and Brandon Bernard two days later.
Robert Dunham, the executive director of the Death Penalty Information Center (DPIC), told Newsweek that even if those don't go ahead, the U.S. government has already carried out the highest number of federal executions ever in a single year, with records dating back almost 100 years.
Since the federal death penalty was reinstated in 1988, only three executions had been carried out before 2020—all under George W. Bush.
Between 1927 and 1988, a total of 34 federal executions took place, according to the data compiled by the nonpartisan DPIC. The most in a single year took place on the same day in August 1942, when six people were electrocuted after being tried by a military commission appointed by President Franklin D. Roosevelt.
But the Trump administration executed seven inmates in quick succession after it resumed federal executions this year, ending a 17-year informal moratorium by putting Daniel Lewis Lee to death in July.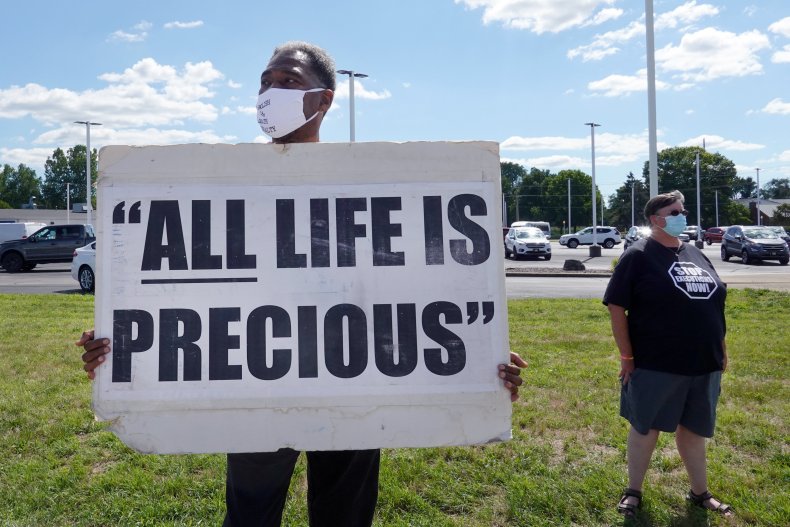 Dunham described the Trump administration's execution spree as "out of step with federal practices for more than a century."
"No-one has ever attempted to carry out so many executions at the federal level," he said. "No-one in modern American history has attempted to carry out so many executions in such a short period of time… and no-one has done so in a manner that so closely disregards the rule of law." He also said that no president has ever attempted to carry out an execution during a lame-duck period.
Dunham also noted that the inmates who have been targeted for execution are "some of the most extreme examples of why we shouldn't be using the death penalty."
Lee, Dunham said, had been "less culpable" than his co-defendants, yet was put to death despite his trial prosecutor and some family members of his victims saying he should not be executed.
The list also included the only Native American ever executed by the federal government, for a crime that was committed on tribal land, and people who were sentenced to death for crimes committed as teenagers.
Dunham said the federal executions were also out of step with the views of Americans. He said support for the death penalty has been waning—citing a recent Gallup poll that found 56 percent of Americans are in favor of the death penalty, down from 80 percent in 1994.
The 2019 Gallup survey also showed that 60 percent of Americans think life imprisonment without the possibility of parole is a more appropriate punishment for murder than the death penalty.
Meanwhile, critics have decried the U.S. government for carrying out federal executions amid a pandemic, with some lawyers arguing they were unable to do the work required in a clemency case due to COVID-19 restrictions.
Others said the executions were being carried out for political gain in an election year—an assessment Dunham agreed with.
But Trump's support for harsh punishments also dates back decades—he infamously took out full-page newspaper advertisements calling for New York state to "bring back the death penalty" after the arrest of the Central Park Five, and has yet to apologize even after they were all exonerated after spending years behind bars.
During his re-election campaign, he touted himself as the "law and order" candidate and threatened protesters who vandalized statues and monuments with up to 10 years in prison—but Dunham said the president's administration would not have carried out a single execution this year if it had followed the rule of law.
"An administration that cares about the rule of law would not schedule executions while litigation was still underway on the legality and constitutionality of the government's method of execution," he said.
"This is an administration that both touts and flouts the rule of law… one of the prisoners [was] strapped to a gurney for four hours while the federal government was seeking to lift the stay of execution, another [was] executed without a hearing on his mental state, despite serious evidence that he was mentally incompetent.
"Those are instances in which the government's actions are not just legally questionable, but ghoulish."
Anti-death penalty activists are hopeful that federal executions will come to a stop once President-elect Joe Biden is inaugurated in January. A spokesperson for Biden did not respond to requests for comment in time for publication.
But Biden campaigned on a platform that included eliminating the death penalty. His campaign website said that once in office, he would work to pass legislation to eliminate the death penalty at the federal level, and incentivize death penalty states to follow suit.
The Justice Department has been contacted for comment.