Brandon Bernard to Be Executed Despite Five Jurors Urging Trump to Commute Sentence
Brandon Bernard is set to become the latest federal inmate executed by President Donald Trump's administration—even though five of the surviving nine jurors who condemned him to death have changed their minds.
The 40-year-old is scheduled to die by lethal injection at the U.S. Penitentiary in Terre Haute, Indiana on Thursday.
Bernard, who is Black, was 18 when he was convicted over the 1999 kidnapping and murder of youth ministers Todd and Stacie Bagley at Fort Hood in Texas.
Bernard's co-defendant, Christopher Vialva, was executed for his role in the Bagleys' murder on September 22. Vialva was the first Black inmate put to death after the federal government resumed the death penalty earlier this year.
Bernard's attorneys have asked for his execution to be stayed, arguing that it will otherwise allow the federal government to evade review of its suppression of expert evidence that likely would have led the jury to spare his life.
"Expert evidence that Bernard occupied the gang's lowest rung would almost certainly have persuaded at least one juror to vote for life," the motion said.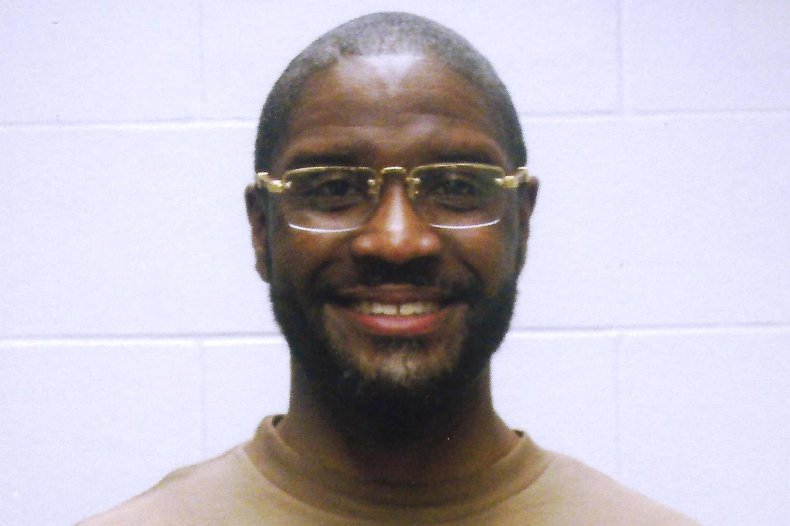 The motion also noted that several of the jurors who sentenced Bernard to death now oppose his execution due to the lesser role he played in the crime, and that at least two "equally culpable" participants received more lenient sentences and are now out of prison.
"The government plans to execute Brandon Bernard on December 10, despite two startling facts: a majority of the surviving trial jurors no longer want that death verdict carried out, and the government is now known to have concealed from those jurors vital information that likely would have persuaded them to spare Mr. Bernard's life in the first place," Bernard's attorney Robert Owen said.
"Mr. Bernard, just 18 at the time of the crime, was sentenced to death in a trial marred by the government's concealment of critically important expert opinion and the jury's consideration of 'junk science' testimony deeming Mr. Bernard a 'continuing threat to society' despite his lack of any previous record of violence."
In declarations shared on a website campaigning to save Bernard's life, five jurors urged Trump to commute Bernard's sentence to life imprisonment without the possibility of parole.
"While the evidence proved that Brandon Bernard is guilty beyond any doubt, it also clearly showed that Brandon Bernard was the not the ringleader behind these offenses, but a follower," the juror foreperson wrote in a declaration. "I am praying the President commutes Brandon Bernard's death sentence."
Another said they had long regretted the decision to condemn Bernard to death.
"I thought about writing a letter to the court expressing my belief that a life sentence was the appropriate punishment and that Mr. Bernard did not deserve to be put to death," the juror wrote.
"I had no idea where to start, so I never did. I am grateful to have this opportunity to clear my conscience by speaking what has always been in my heart. I hope that my speaking up can help Mr. Bernard have his death sentence commuted to a life sentence. I never thought this opportunity would come. I pray that President Trump rights this wrong and commutes Mr. Bernard's sentence to life imprisonment."
Bernard's plight has also caught the attention of advocates for criminal justice reform, including Kim Kardashian West.
"A terrible case has been brought to my attention and I need your help," West wrote in a lengthy Twitter thread posted in late November.
"While Brandon did participate in this crime, his role was minor compared to that of the other teens involved, two of whom are home from prison now," she explained.
"In fact, Brandon was not a part of the initial carjacking that took place and was stunned when the robbery turned into a homicide with one of the other teens shooting both Todd and Stacie in the head," she added.
"The gunman then turned to Brandon, gun still in hand, and told him to light the car Todd and Stacie lay in on fire to destroy the evidence. Brandon believed both were dead, though Stacie was not, and was fearful for his own life, so he made the terrible decision to comply."
Meanwhile Angela Moore, who said she was the federal prosecutor who defended Bernard's death verdict on appeal, also called for Bernard's life to be spared in an op-ed titled "I helped put Brandon Bernard on federal death row. I now think he should live."
In the piece, she noted that since Bernard's conviction, science has "made dramatic strides in understanding the youthful brain" and it is now established that the structures of the brain are not fully developed in young men until they reach their mid-20s.
"That's why Brandon, even though legally an adult at age 18, lacked an adult's capacity to control his impulses, consider alternative courses of action or anticipate the consequences of his behavior," she wrote. "This scientific truth played a decisive role in the Supreme Court's recent decisions holding that juveniles should be treated differently in the criminal justice system."
Moore also highlighted the role that race played in the case. "Black teens like Brandon are systematically denied the 'benefit' of their youth, which is outweighed by their race in the eyes of police, prosecutors, judges and jurors," she argued.
If it goes ahead, Bernard will be the second inmate executed during Trump's lame duck period. Orlando Hall, a Black man convicted by an all-white jury, was executed on November 19, after Joe Biden won the 2020 presidential election.
Trump has already put more federal inmates to death than any other president in a single year, but another four federal executions remain scheduled before Biden's inauguration, including one for Lisa Montgomery—the only woman on federal death row.