ACLU Files Lawsuit to End Death Row Inmate Lisa Montgomery's 'Torturous' Jail Conditions
The American Civil Liberties Union on Monday filed for a preliminary injunction to end the "torturous" death row conditions Lisa Montgomery is being held in, because they parallel the years of sexual abuse she endured.
Montgomery, the only woman on federal death row, is scheduled to die by lethal injection at the federal penitentiary in Terre Haute, Indiana on December 8.
She was convicted of federal kidnapping resulting in death in 2007 after fatally strangling Bobbi Jo Stinnett, who was pregnant, and cutting the fetus from her abdomen then attempting to pass the baby off as her own.
Announcing her execution date last month, the Department of Justice said Montgomery confessed to the crime and lost all bids to appeal her conviction or sentence.
The ACLU is asking the U.S. District Court in Washington D.C. to find the conditions of Montgomery's incarceration a violation of her Eighth Amendment rights and provide immediate relief, including by halting her planned transfer to the Terre Haute prison.
Immediately after Montgomery's execution date was set on October 16, she was moved to "uniquely harsh" conditions at the Federal Medical Center Carswell in Fort Worth, Texas, according to the complaint in the ACLU's lawsuit against Attorney General Bill Barr, the Federal Bureau of Prisons, and the wardens of both prison, which was obtained by Newsweek.
Montgomery was deprived of all her belongings and transferred to a "cold, single cell with constant bright lights," where male guards observe her around the clock, including when she uses the toilet, the complaint says.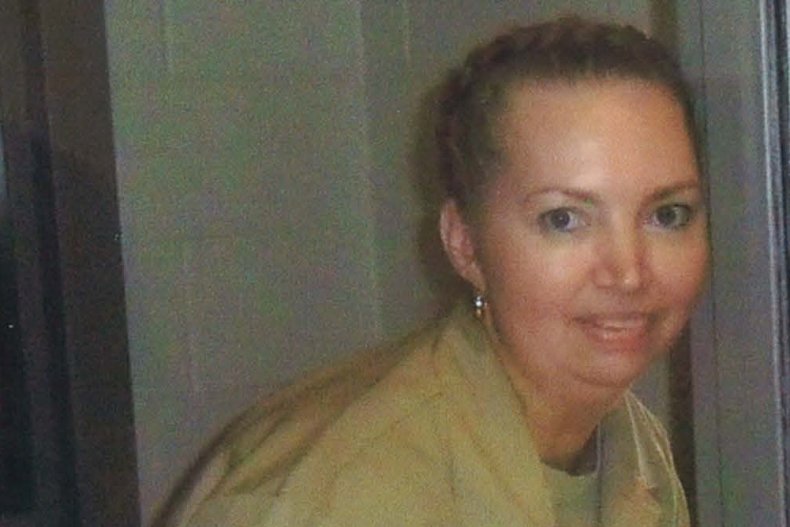 Instead of permitting her to retain her usual clothing, Montgomery was "forced" to wear a loose-fitting gown with Velcro straps and her underwear, bra and socks were taken away.
The complaint adds that after numerous requests over days, Montgomery was eventually provided with socks, a crayon and a single sheet of paper at a time and told to "be a good girl, now."
According to the complaint, the conditions Montgomery is being held is are "far harsher" than those for men with pending execution dates and worse than suicide watch conditions at FMC Carswell.
They "would be cruel for any prisoner," the complaint notes, "but for Mrs. Montgomery, the conditions amount to torture."
Montgomery was raped by her stepfather for the first time when she was 11 and he eventually build a special room to isolate and rape her, the complaint says. As a teenager, Montgomery's mother prostituted her to older men, and she was repeatedly raped, sometimes by multiple men.
The complaint adds that at the age of 17, she was coerced into marrying the son of her mother's boyfriend, who also raped her.
"As Defendants know, these conditions reinforce her sexual trauma and significantly aggravate her severe mental illness," the complaint says.
"Defendants have taken no steps to avoid these consequences and have provided no modifications or accommodations to account for the particular harm caused by their policies and practices in light of Mrs. Montgomery's disabilities and gender."
It adds that transfer to the all-male federal penitentiary in Terre Haute ahead of her looming execution date "will likely trigger a catastrophic psychiatric breakdown."
Montgomery's harrowing experiences, combined with congenital brain damage and traumatic brain injuries, have resulted in "incurable and significant" psychiatric disabilities, according to the complaint.
As well as being diagnosed with bipolar disorder and complex post-traumatic stress disorder, Montgomery "disassociates regularly, involuntarily detaching from her circumstances, and struggles to know what is real."
She takes several medications to manage her mental health, but still breaks out in hives when in the presence of men, particularly strangers. She also needs to be accompanied by woman when seeing male prison staff.
"For someone who has suffered the kind of sexual terror and trauma that Lisa has, this treatment isn't just cruel and unusual—it is torture," Cassandra Stubbs, director of the ACLU's Capital Punishment Project, said in a statement.
"Lisa is the first woman to be executed by the federal government in nearly 70 years, but the conditions she is held under are far harsher than any man on death row, or anyone on suicide watch.
"The depravity and cruelty of the treatment are seemingly the point. The Constitution does not give our government permission to torture people before putting them to death—these conditions must be alleviated immediately."
The Justice Department and the Federal Bureau of Prisons have been contacted for comment.
The ACLU's complaint comes after another lawsuit was filed on Montgomery's behalf, seeking to delay her execution because her lawyers contracted coronavirus while working on her case.
Last week, more than 1,000 advocates—including current and former prosecutors, anti-trafficking organizations and mental health groups—sent letters, urging President Donald Trump to commute Montgomery's sentence.
The U.S. government has already put seven inmates to death in 2020—the highest number of federal executions ever in a single year, with records dating back almost 100 years.
Three more executions remain scheduled—Orlando Hall on Thursday, followed by Montgomery on December 8 and Brandon Bernard on December 10.