Lisa Montgomery's lawyers are seeking a delay in her execution because they are suffering from debilitating COVID-19 symptoms after contracting coronavirus while working on her case.
Montgomery, the only woman on federal death row, is set to die by lethal injection at the federal penitentiary in Terre Haute, Indiana on December 8. She was convicted of federal kidnapping resulting in death in 2007 after strangling pregnant Bobbie Jo Stinnett and cutting her baby out of her womb, then trying to pass the infant off as her own.
But Montgomery's longtime attorneys, Kelley Henry and Amy Harwell, have now contracted coronavirus as a result of traveling to see their client after Attorney General Bill Barr "recklessly scheduled" her execution in the middle of a pandemic, a lawsuit filed for Montgomery by Cornell Law School's International Human Rights Policy Advocacy Clinic said.
"Mrs. Montgomery's lawyers cannot represent her because they are seriously ill, through no fault of their own," said the lawsuit. "On the contrary, they are sick because Defendant Barr recklessly scheduled Mrs. Montgomery's execution in the middle of the Covid-19 pandemic. But for Barr's action, counsel would not have been stricken with the disease that is ravaging the country."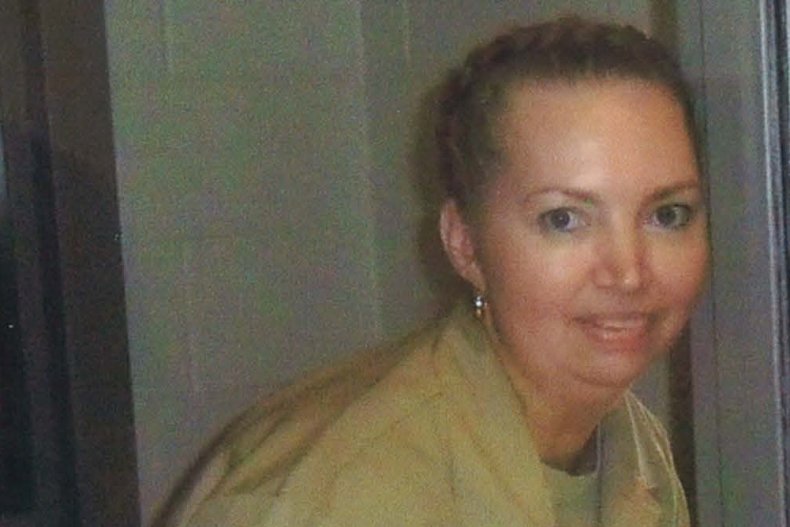 Both Henry and Harwell tested positive for the virus after one or both of them traveled to visit Montgomery on two occasions in October and in early November.
Barr set Montgomery's execution date on October 16 "with no notice" to her attorneys, the court documents said. Until then, Harwell and Henry—Montgomery's longtime post-conviction attorneys—had been working remotely, as was the policy of the federal public defenders' office.
On October 19, both traveled to Carswell, Texas, to meet with Montgomery, who they noted has "severe metal disabilities that frequently case her to lose touch with reality." Her lawyers noted her mental health had already deteriorated when they visited her.
She had been placed in a "suicide cell" and had had her underwear taken from her, which the court documents say was "particularly traumatic" as Montgomery is a victim of rape and child sex trafficking.
Harwell visited Montgomery again on October 26 and both she and Henry visited Montgomery a third time on November 2. "Each round trip involved two plane flights, transit through two airports, hotel stays, and interaction with dozens of people including airline attendants, car rental employees, passengers, and prison guards," the lawsuit said.
Henry tested positive for the virus on November 10, and Harwell tested positive a day later.
Both are now "virtually bedridden" in quarantine, and unable to work on Montgomery's clemency application—which was due Sunday, just 30 days after the execution date was set.
"They both have debilitating fatigue that prevents them from working on Mrs. Montgomery's clemency application," the lawsuit said. "They have a range of other symptoms as well, including headaches, chills, sweats, gastrointestinal distress, inability to focus, and impaired thinking and judgment."
The lawsuit also said that Barr's decision to schedule Montgomery's execution "during the height of the pandemic" interfered with her right to counsel, especially in the filing of clemency appeals.
"Neither her attorneys nor the mental health experts who are familiar with her mental state are able to visit her to ascertain her mental status," the filing states.
"As a person with a profound mental illness, Mrs. Montgomery requires the assistance and advice of counsel. And as a person with a history of extreme trauma induced by overwhelming sexual violence, she requires careful and compassionate legal representation by the lawyers who have spent many years earning her trust."
Montgomery's execution should be delayed, the filing argues, as otherwise she "will be deprived of any meaningful opportunity for review of her clemency request."
A hearing is scheduled for Monday afternoon in the United States District Court in Washington D.C. The Department of Justice has been contacted for comment.
The lawsuit comes days after more than 1,000 advocates signed letters urging President Donald Trump to commute Montgomery's sentence.
The U.S. government has already executed seven federal inmates since July, the highest number of federal executions ever in a single year, with records dating back almost 100 years.
Two other federal executions remain scheduled in 2020.