Brandon Bernard Execution Protesters to Tape off DOJ Offices As Crime Scene
Protesters are planning to gather in Washington and Indiana this week to demonstrate against President Donald Trump's administration continuing federal executions.
Brandon Bernard, 40, is set to die by lethal injection at the federal penitentiary in Terre Haute, Indiana at 6 p.m. ET on Thursday.
If it goes ahead, he will become the ninth federal inmate executed this year. Another inmate, Alfred Bourgeois, is to be executed on Friday.
Death Penalty Action (DPA) and other anti-death penalty groups have planned a series of protests for Thursday and Friday in a bid to stop the executions.
A spokesperson for the group said its members "overwhelmed the White House switchboard yesterday with polite requests for the president to show mercy to Brandon Bernard and the remaining federal prisoners with pending execution dates. Calls will continue today."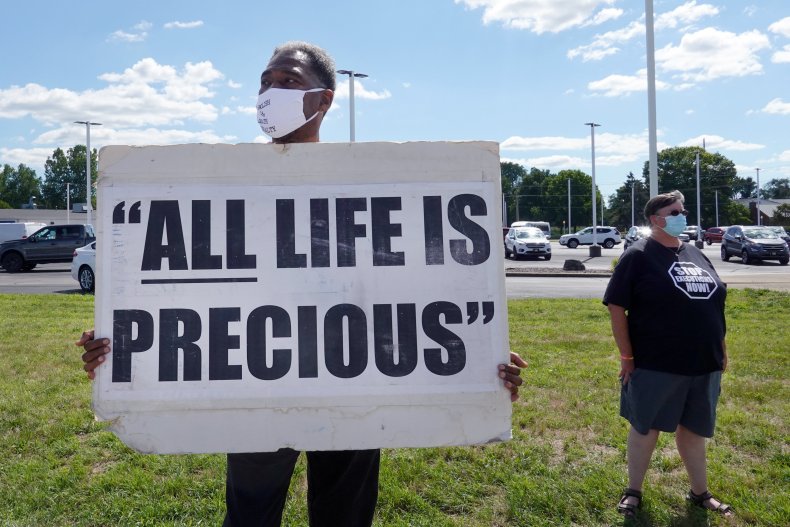 The group is planning "peaceful, masked socially distant" protests in Washington D.C. and Terre Haute on Thursday and Friday.
At midday on Thursday, protesters are planning to "symbolically" cordon off the Department of Justice's office building, located on Pennsylvania Avenue, as a crime scene using yellow tape.
Abraham Bonowitz, the director of DPA, told Newsweek that the protest will be small due to the need to avoid gathering in large numbers amid the coronavirus pandemic.
"We will be standing apart from each other, holding yellow crime scene tape like that used to cordon off a crime scene," he said. "Without blocking the sidewalk or the entrance, we'll line up and stretch out this crime scene tape some 50 meters along one side of the building."
If Bernard's execution is still set to go ahead by 5 p.m. on Thursday, the group is planning for protesters to gather at Black Lives Matter Plaza in the capital and across from the main entrance to the Terre Haute prison.
The two events will be featured in the "Human Rights in Crisis: The U.S. Federal Execution Spree" virtual conference.
The conference, taking place between December 6 and 12, was convened by Death Penalty Action and other human rights organizations in response to the "unprecedented bacchanal of federal executions" to explore the failure of the death penalty in the U.S. the DPA said in a news release.
The group notes that five federal executions are planned to take place between December 10 (which is International Human Rights Day) and January 15 (Martin Luther King Jr.'s birthday) and that more could be scheduled.
Bonowitz told Newsweek: "It is an outrage that the Trump administration is resuming this unnecessary federal execution spree on International Human Rights Day.
"If it continues as scheduled, the last execution will be of a Black man who was not the actual killer, on Martin Luther King's birthday. It's hard to believe they didn't look at a calendar when they scripted this."
He also said the virtual conference is a direct response to the Trump administration's continued lame-duck execution spree and the recently announced changes to federal regulations governing execution methods.
"In some ways, the current death penalty system is the perfect analogy for President Trump as a person," Bonowitz said in a previous statement. "It's racist, ineffective, and it's taking way too long to get rid of it."
Advocates are also calling for Bernard's life to be spared on social media. Among them is Kim Kardashian West, who has appealed to Trump to grant Bernard clemency in a series of posts on Twitter.