Trump Has Made Firing Squad, Poison Gas Executions Possible—But Will They Actually Happen?
One of the "midnight regulations" finalized by President Donald Trump's administration allows federal executions to be carried out by methods including firing squad, electrocution and poison gas.
The recently finished rule is scheduled to go into effect in late December, CNN reported. However, it's not clear if any of the execution methods outlined in the updated protocols will actually be used.
All eight federal executions carried out this year at the U.S. Penitentiary in Terre Haute, Indiana have been by lethal injection. Five more remain scheduled to take place in the final weeks of Trump's presidency, starting with Brandon Bernard on Thursday.
Three, including Lisa Montgomery, who is the only woman on federal death row, are set to die just days before President-elect Joe Biden's inauguration.
The Department of Justice has listed lethal injection as the method for all but one of those executions. No method was given when the department announced the date for Dustin Higgs's execution, scheduled for January 15. The department has been contacted for comment.
Abraham Bonowitz, the director of Death Penalty Action, says he expects the lethal injection will be used for all five. "Assuming their supply of drugs is sufficient, I don't expect anything other than lethal injection to be used in this execution spree," he told Newsweek.
"But who knows? Even though he hasn't said a word about these executions publicly, I think the president is privately getting a thrill with each one. There really is no other reason to be doing this.
"He's always talked 'big' about the death penalty, and now he is the most-executing president since the 1950s. What more does he have to prove?"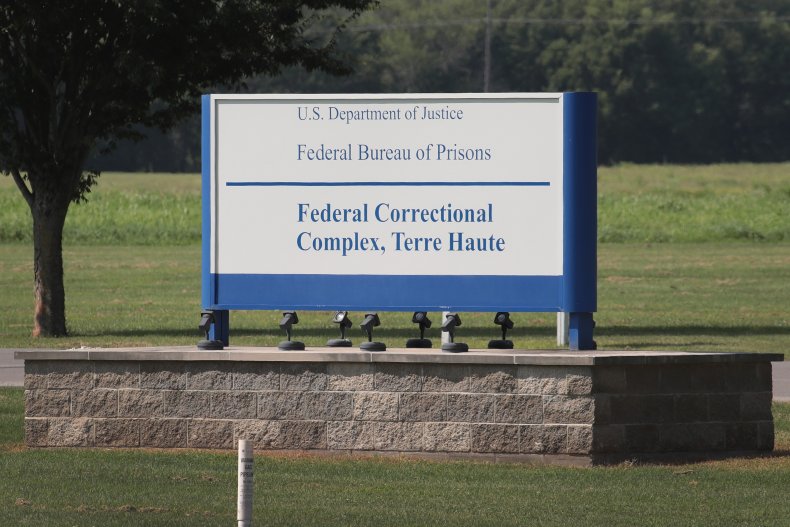 Among those who have called out the Trump administration's new rule is Randy Gardner, whose brother Ronnie Lee Gardner was the last prisoner executed by firing squad in the U.S. in Utah a decade ago.
"That's just ridiculous," Gardner in a statement when the new federal regulation was proposed last month. "It's just torture what this does to a body. I've got pictures of what it did to my brothers' body."
He added: "Perhaps they don't care about the family of the executed, but I am certain this is also more traumatic for the prison workers who have to carry out the execution, and the workers who get to clean it up. I can tell you for sure, it still affects me and our family."
But the rule could also be vulnerable to legal challenges, according to Susan Dudley, the director of the George Washington University Regulatory Studies Center. "If they're poorly done, they'll be more susceptible to being overturned," she told CNN.
Seven federal death row inmates were put to death between July and September after the U.S. government resumed the death penalty this year, ending a 17-year moratorium. Orlando Hall became the eighth in November.
Even if the remaining scheduled executions don't go ahead, it's the highest number of federal executions to take place in a single year, with records dating back almost 100 years.
And the executions taking place during Trump's lame-duck period are the first to occur during a presidential transition since the end of Grover Cleveland's presidency more than a century ago. Thousands recently signed a petition calling for the remaining scheduled federal executions to be canceled.
But Bonowitz says he expects federal executions will stop once Biden takes office. "It seems unlikely that we'll ever see a federal execution after January 20th, using any method, because the Biden Administration has pledged to abolish the federal death penalty," he said.
But he added: "Frankly, it's not about how we kill our prisoners. The issue for us is that we kill prisoners under a criminal legal system that is as racist and unequally applied as it is.
"We know that we can be safe from dangerous offenders and hold them accountable without executions. That is what we do the vast majority of the time."
The Biden transition team did not immediately respond to a request for comment. However, a spokesman for the incoming commander-in-chief told The Associated Press that he would work to end the death penalty when he is in office.