Brazil to Continue Using Hydroxychloroquine to Treat Coronavirus Patients, Despite WHO's Safety Fears
Brazil's health guidelines will continue advising hydroxychloroquine as a treatment for coronavirus patients despite the World Health Organization (WHO) pausing a trial of the drug due to safety concerns.
The WHO announced a "temporary pause" on Monday of its trial as safety data is reviewed, its Director General Tedros Adhanom Ghebreyesus said, though he reiterated it was "generally safe for use in patients with autoimmune diseases or malaria."
Hydroxychloroquine is used to prevent malaria as well as in some cases to treat arthritis and lupus.
Tests are being carried out to determine its ability to treat COVID-19. Questions have been raised over the risks of side effects, with suggestions it might even increase mortality rates in the treatment of coronavirus.
However, Brazil health ministry official Mayra Pinheiro said the nation would continue to follow guidance instructing its use, AFP reports.
Commenting on prior guidance advocating this, she told a news conference: "We're remaining calm and there will be no change."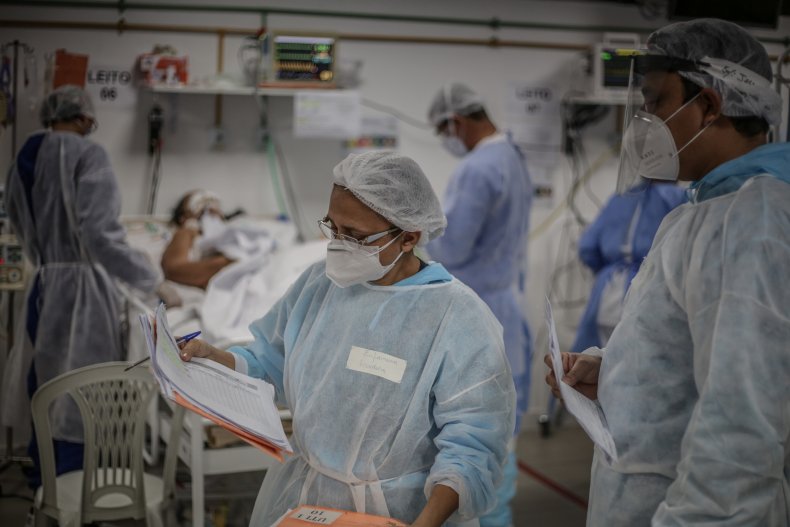 Guidelines issues last week suggested that hydroxychloroquine and chloroquine be used in patients hospitalized with COVID-19, in both mild and severe cases.
Brazil's president Jair Bolsonaro has been an advocate for wider use of hydroxychloroquine, which has caused clashes with prior health ministers. Nelson Teich resigned earlier this month, after he resisted expansion of the drug because of a lack of scientific evidence.
Prior to Teich, Luiz Henrique Mandetta was dismissed earlier last month after disagreeing with the president over the use of hydroxychloroquine and social distancing measures.
Newsweek has contacted Brazil's Health Ministry for comment.
President Donald Trump previously took a course of the drug hydroxychloroquine, stating that he had heard positive things about its efficacy, though recently said he had stopped using it.
In an interviewed aired Sunday, for Full Measure with Sharyl Attkisson, he added: "And by the way, I'm still here.
"I've heard tremendous reports about it... Many people think it saved their lives."
Trump took the medicine despite the Food and Drug Administration warning that this should not be done except for in measured settings, such as trials.
In a letter released to the press earlier this month, Trump's personal physician said in regards to the president taking the drug "we concluded the potential benefit from treatment outweighed the relevant risks."
Brazil's use of the drug comes as the nation deals with one of the worst outbreaks of coronavirus across the globe, with its cases quadrupling in May.
According to Johns Hopkins University data the nation has suffered more than 370,000 infections, making it the country with the second most confirmed cases in the world, behind the United States.
The graphic below from Statista shows the worst-hit nations across the globe as of May 25.