Bread, Beer, Meat Prices Could Skyrocket as Ukraine Conflict Continues
Russia's internationally condemned invasion of Ukraine threatens to increase global prices of bread, meat, beer and other food staples as inflation remains a major problem around the world.
Prices of wheat shot up some 55 percent since the week before President Vladimir Putin sent troops to invade Russia's Eastern European neighbor on February 24, according to the U.N. Food and Agriculture Organization. As Russia and Ukraine collectively produce about a third of the wheat supply to global markets, a surge in prices would be expected.
With Ukraine on Wednesday banning the export of wheat, millet, buckwheat, sugar, live cattle, meat and other "byproducts" from cattle in an effort to preserve supplies within the country, prices are expected to surge further.
"Whether or not there was an official ban, these supplies would be interrupted because of sanctions [on Russia], because farmers [in Ukraine] left their farm to fight, because farmers need inputs like machine parts and fertilizer that they will have trouble accessing," Laura Veldkamp, a professor of finance and economics at Columbia University's business school, told Newsweek.
"Wheat will be in short supply this year," she said.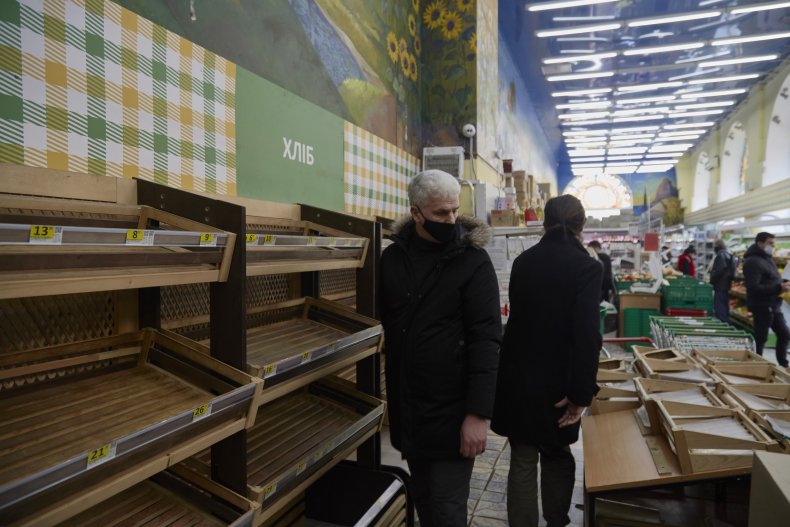 While the U.S. is less reliant than Europe and some Middle East nations on Eastern European wheat, the impact of the war and Ukraine's subsequent ban on exports will have a ripple effect on the global economy and supply chains. In addition to bread prices rising, some of the food staples are used by farmers in the U.S. as feed for animals or in the production of other goods.
Additionally, products like beer and a range of goods are reliant on wheat and grains to be produced. With less supply, farmers and producers will have to find alternatives, which will likely come with a higher price tag.
Some organic chicken producers in the U.S. are reliant on grain coming from Ukraine, Forbes reported. As a result, the war and the ban on exports will have a direct impact on their business.
"An extended closure of Ukrainian grain processing and exporting capacity has had, and will continue to have, an impact on world grain and oilseed prices as well as input prices for farmers," a spokesperson for Perdue told Forbes earlier this month. The company is the fourth-biggest U.S. poultry producer and one of the main sellers of organic meat.
Veldkamp said she expects a noticeable increase in the price of baked goods. "Once firms start to adjust prices, they rarely adjust by just a tiny amount. So I'd guess a 10 to 15 price increase in the price of baked goods," she said.
"A few consumers will substitute other ingredients. I'd expect prices of oats, flax, spelt, et cetera to rise mildly as well," Veldkamp added. She noted that this fallout could benefit U.S. grain farmers: "The shortage boosts the prices of the goods they produce."
While the impact will be seen in the U.S. and Western Europe, poorer nations in the Middle East—particularly Egypt, Lebanon and Yemen—could see a more devastating impact. Arnaud Petit, executive director of the International Grains Council, told the Associated Press that some of these nations could face food insecurity by summer, as they depend on Ukrainian wheat. In Lebanon, Ukraine currently provides 60 percent of the nation's wheat supply.
The price increases come as the world already faces substantial inflation resulting from the economic fallout of the coronavirus pandemic. Supply chain disruptions have wreaked havoc on the global economy, as demand has outpaced the ability of producers to provide their goods to consumers. In the U.S., inflation stands at a four-decade high.
The U.S. Bureau of Labor Statistics' Consumer Price Index rose a whopping 7.9 percent in February. That was an increase from January, when the index first broke a 40-year record, reaching 7.5 percent.
"The Russian invasion of Ukraine has added fuel to the inflationary fire, where supply chain issues and commodity constraints will surely exacerbate pricing pressures in the near term," Peter Essele, head of portfolio management for Commonwealth Financial Network, told Newsweek.
He said year-over-year inflation could reach 10 percent "by midsummer, causing a breakdown in confidence and hindrance to growth, particularly in more price-sensitive developing markets."
The latest U.S. government data shows that "food at home" has already surged by 8.6 percent. Meanwhile, "food away from home" has gone up by about 6.8 percent.
In a Thursday statement sent to Newsweek by the White House, President Joe Biden blamed Putin for the surging prices. However, inflation was already a significant problem before the invasion of Ukraine.
"A large contributor to inflation this month was an increase in gas and energy prices as markets reacted to Putin's aggressive actions," the president said.
"As I have said from the start, there will be costs at home as we impose crippling sanctions in response to Putin's unprovoked war," Biden continued. "But Americans can know this: The costs we are imposing on Putin and his cronies are far more devastating than the costs we are facing."