Breonna Taylor Protesters Yell at Florida Restaurant Customers, Take Over Couple's Table
Protesters marching in anger over a grand jury's verdict in the case of Breonna Taylor have clashed with customers at a restaurant in Florida.
In one scene captured on video, demonstrators took over the table of a man and woman dining alongside a rally in St. Petersburg.
The clip, viewed on social media nearly two millions times, shows three protesters run over and sit at their table as both sides exchange words.
The woman stands up and pulls out her phone, prompting the protestor to say: "Let me guess, you're calling the cops?" Another is heard shouting: "Oh my God, Karen."
The table is quickly surrounded by demonstrators holding signs saying "We are all human" and "Say her name, Breonna Taylor."
Josh Fiallo, a reporter with the Tampa Bay Times who tweeted the video, said the incident was one of "multiple confrontations" on Wednesday evening as protesters demonstrated against a grand jury's decision not to charge three officers involved in the killing of Breonna Taylor directly over her death.
He said: "Protestors are now going restaurant by restaurant to chant at diners on Beach Dr. in St. Pete. A lot of diners yelled back, starting multiple confrontations.
"This one was the most significant. Protestors took over a couple's table. Not sure why they were targeted specifically."
Newsweek contacted the St. Petersburg Police Department for comment.
Rick Kriseman, the city's mayor, said: "In St. Pete, we support peaceful protests. We will never support or tolerate lawbreakers who wish to dishonor the life of Breonna Taylor or anyone else. We will never support those who set out to hurt the cause and prevent progress."
St. Petersburg, like many cities across the U.S., has seen regular protests against police brutality since the death of George Floyd in May.
But those demonstrations were given new impetus on Wednesday by the verdict in the case of Taylor, a 26-year-old emergency medical technician who was fatally shot by police inside her Kentucky apartment during a no-knock drugs raid on March 13. No drugs were found inside.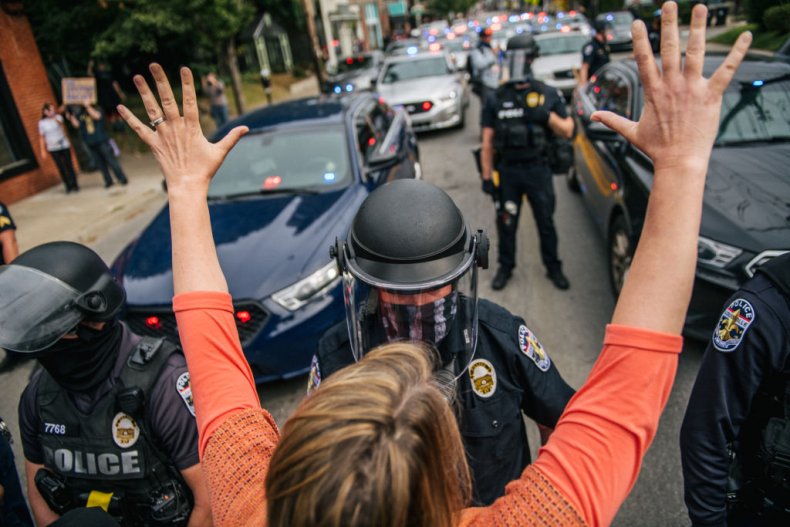 Hundreds of demonstrators chanted her name in cities like New York, Washington, D.C., Philadelphia and Las Vegas after the verdict was announced.
Police officer Brett Hankison was indicted on three charges of wanton endangerment.
However, those charges related to bullets that went into other apartments and the two other officers who fired their weapons, Jonathan Mattingly and Myles Cosgrove, will not face charges.
An FBI investigation into potential violations of federal law in connection with Taylor's death remains open.