Breonna Taylor Received No Medical Attention After She Was Shot By Police
Breonna Taylor—the 26-year-old emergency medical technician shot to death by Louisville Metro Police Department officers on March 13—was alive for five minutes after officers shot her, according to her boyfriend, Kenneth Walker. Police officers at the scene made no efforts to save her, according to police records.
Police shot Taylor five times after knocking down her apartment door with a battering ram after midnight on a no-knock search warrant in pursuit of two suspected drug dealers who weren't in her apartment.
While a Jefferson County coroner told The New York Times that Taylor had likely died within a minute of being shot and couldn't have been saved, Walker claims that Taylor continued to cough and sputter as he talked on the phone with her parents shortly after her shooting.
"Breonna, who was unarmed in her hallway, was struck by several rounds of gunfire. She was not killed immediately," wrote Sam Aguiar and Lonita Baker, two attorneys representing Taylor's family in a revised lawsuit filing. "Rather, she lived for another five to six minutes before ultimately succumbing to her injuries on the floor of her home."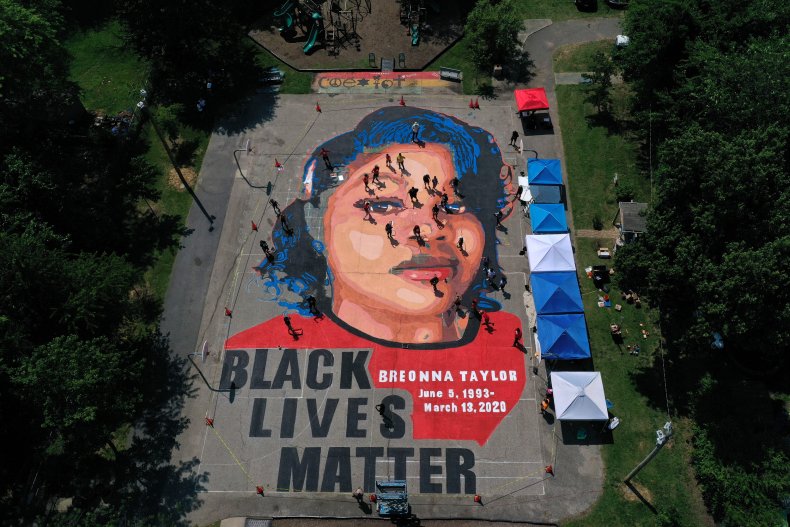 Police dispatch logs show that officers neither rendered nor called for medical attention, according to The Courier-Journal.
Rather, they waited for Walker to exit and treated Sargeant Jonathan Mattingly, an officer injured when Walker shot at the intruders, not realizing that the plainclothes officers were police.
Jefferson County Coroner Barbara Weakley-Jones told The New York Times that the deputy who filled out Taylor's death certificate was untrained in reading autopsies. Weakley-Jones also said had medics rendered aid, it would've killed Taylor even more quickly.
The state attorney general, Daniel Cameron, and the Federal Bureau of Investigation (FBI) are both investigating Taylor's shooting. Neither has pressed criminal charges against the three officers involved: Mattingly and Detectives Myles Cosgrove and Brett Hankison.
On June 19, the Louisville Metro Police Department (LMPD) delivered a letter firing Hankison. In it, Police Chief Robert Schroeder wrote that Hankison's actions were "a shock to the conscience" and represented "extreme violations" of LMPD's operating regulations and departmental rules regarding the use of deadly force.
Hankison had been disciplined for "reckless misconduct" once before, about 14 months before Taylor's death. Hankison was officially fired on June 23. Mattingly and Cosgrove, remain on administrative reassignment.
Taylor's killing and the May 25 murder of Black Minneapolis resident George Floyd have propelled nationwide protests against anti-Black policing and systemic racism.
On June 11, the Louisville Metro Council voted unanimously to pass "Breonna's Law," a ban on no-knock search warrants that would require police to wear active body cameras when serving search warrants.
A Democratic police reform bill in the U.S. House would also ban all no-knock warrants in drug cases, but Republican legislators oppose the bill.