Brexit Countdown: With 6 Months to Go, Is Britain Ready for the Worst?
Sunday marks six months to Brexit Day—March 29, 2019. As things stand, that will be the day the U.K. leaves the European Union (EU), whether with a newly-negotiated relationship or with nothing at all.
It may be six months until Brexit Day, but any divorce agreement between the two sides realistically needs to be reached by October 18, when leaders leave an EU summit in Brussels.
Though there have been rumours that a deal has almost been reached, the question of what Brexit will look like is tearing the British political scene apart. While EU negotiators and nation states at least appear united, Prime Minister Theresa May and her Conservative Party are struggling to agree on a way out.
Currently, the U.K. is trundling towards a "no-deal" scenario in which the nation leaves Europe with no agreement and no time to smooth the transition. Rather than the two-year adjustment period initially proposed, Britain would face a "cliff-edge" exit.
Opponents claim this scenario would spark chaos, grounding flights, shutting down border crossings, collapsing the pound and strangling food and medical imports.
This week, May appointed a minister to oversee the protection of food supplies as the government prepares for a no-deal scenario. The November 2017 budget promised an additional £3 billion ($3.9 billion) over the next two years to help prepare for Brexit.
A spokesperson for the Department for Exiting the European Union told Newsweek the department is confident the U.K. and EU will reach a deal. "But as a responsible government we are making plans for all possible outcomes."
"This comprehensive no deal preparation will ensure any risk of short-term disruption to individuals and businesses is minimised," the spokesperson added. "This includes planning and practical steps to ensure we are ready on the day we leave, under any scenario."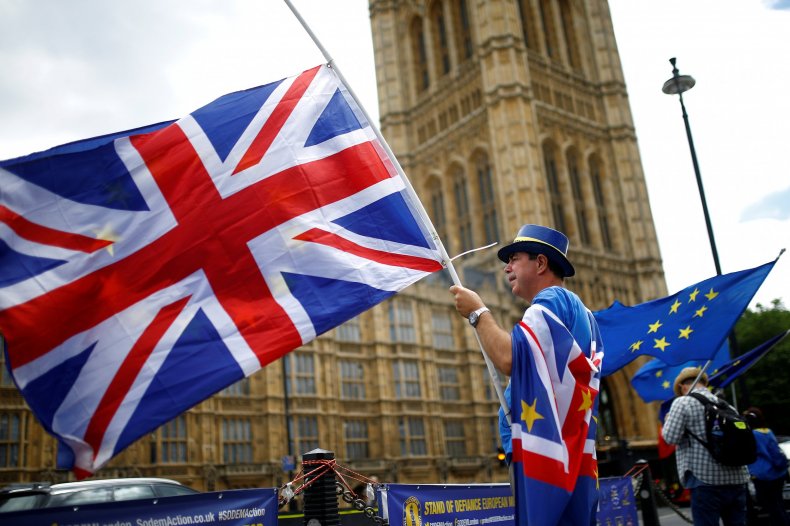 Industry in limbo
No-deal planning is well underway, but it appears that the required infrastructure will not be ready by Brexit Day. Nonetheless, May has suggested such a scenario would not be "the end of the world."
Her upbeat comments have given little comfort to British business. Firms of all sizes are already considering delaying major business decisions or are even cutting staff and expenditure to insulate themselves against the Brexit shock. Larger companies have begun setting up offices abroad and shifting personnel overseas.
Sonali Parekh, the head of policy at the Federation of Small Businesses (FSB), told Newsweek companies are waiting to see the shape of the final deal. She explained only 14 percent of small business surveyed by the FSB have started planning for a no-deal Brexit, even though as much as 41 percent believe they will be affected.
Recent FSB polling found that 48 of small business owners believe a no deal with no transition period would have a short-term negative impact on their companies. Combined, these statistics paint a "pretty sobering" picture, Parekh said.
In a bid to soothe worried Brits, the government has begun issuing a series of no-deal guidance documents—or technical papers. Parekh said that while this was welcome, the documents "are the first step in a long process, and there is not a lot of time left."
Though the FSB has not yet told businesses to start investing in no-deal preparations, Parekh said the October summit will be pivotal. If no deal becomes more likely after the meeting, Parekh said the organization would begin advising businesses to invest cash to insulate against disruption, while calling for government subsidies to alleviate the costs.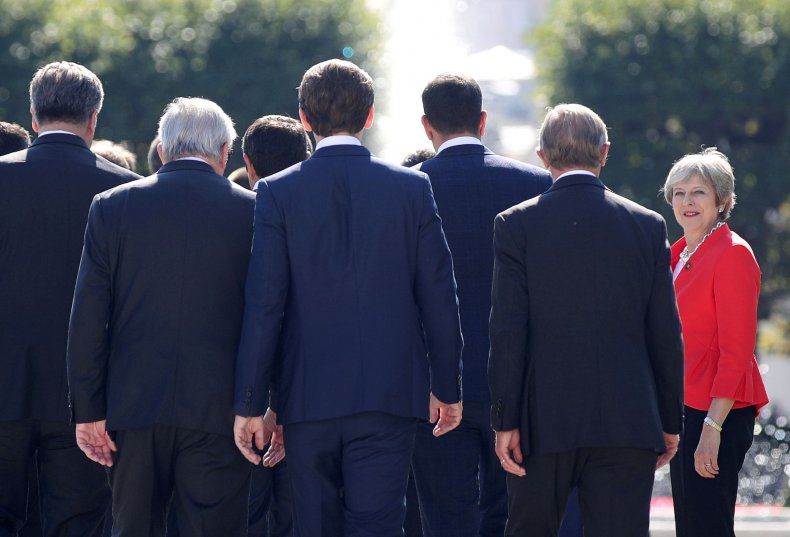 Chequers or bust?
May has formulated her own Brexit blueprint to try and avoid a cliff-edge Brexit—the so-called Chequers proposal. This sets out a soft Brexit in which the U.K. would remain largely aligned with a variety of European regulations. For the prime minister and her supporters, this is a practical solution that could gain support from Parliament and win the autumn vote on the final deal.
But for her critics, this would leave the U.K. a "vassal state", unable to control its own laws and subject to the whims of continental bureaucrats.
The hard Brexiteers are pitching a comprehensive free trade agreement without political entanglement with Brussels, similar to the relationship between Canada and the EU, for example. Such plans have failed to address several important issues such as the status of the border between Ireland and Northern Ireland.
But even if her party was invested in Chequers, the EU is not so keen. At a bloc summit in Salzburg last week, May was humiliated as the EU member states united in their rejection of her plan. What was supposed to be a trip to build support for the proposal left it in taters.
Matthew Goodwin, an associate fellow at the Chatham House think-tank, said that despite the apparent chaos, "I think the prospect of a no deal is actually very slim. There's not a majority in Parliament for a no deal, the U.K. doesnt want no deal and the EU doesnt want no deal."
Nonetheless, Goodwin told Newsweek he thinks May will need to move towards a free-trade style solution if she wants to stave off a Tory rebellion.
May has framed the debate as a choice between Chequers and no deal, which Goodwin suggested has been unhelpful. "It has closed down other avenues that might otherwise be open to her, like pivoting towards an [free trade]-type agreement," he said. "She has also boxed herself in in a way that is uniting a lot of Conservative rebels against her."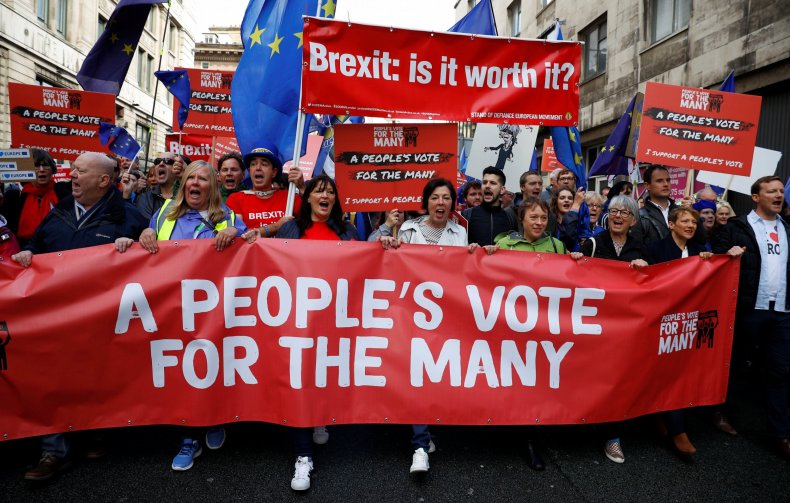 Rumors of a leadership challenge have abounded throughout May's tortuous premiership but so far Tories MPs have not pulled the trigger, though some have seemingly been positioning themselves for a run at the top job.
"Long term she may not have to worry too much as I suspect that, as we go into 2019, she will find herself under increasing pressure to stand down," Goodwin said.
With the Tories battling one another, opposition parties are looking to make their mark. But the second largest party—Jeremy Corbyn's Labour Party—is itself struggling to produce an approach that spans its dual support bases of largely pro-Brexit working class voters and pro-remain middle class supporters.
Corbyn and many of his colleagues have vowed to deliver Brexit in some form, though have offered a softer version than many Conservatives would accept. But there remain those within Labour who wish for a second referendum in the hope it will allow them to cancel Brexit.
For now, Goodwin said, the party doesn't need an effective and detailed strategy. But beyond October and into 2019, a toppled May would hand Britain its fourth general election in a decade. By then, voters will expect a full Labour Brexit blueprint.
"Everything ultimately hinges on whether Britain can get to the end of March 2019," he explained. "If Theresa May and the Conservative Party manage to get there, that really takes the air out of the calls for a leave or remain referendum."