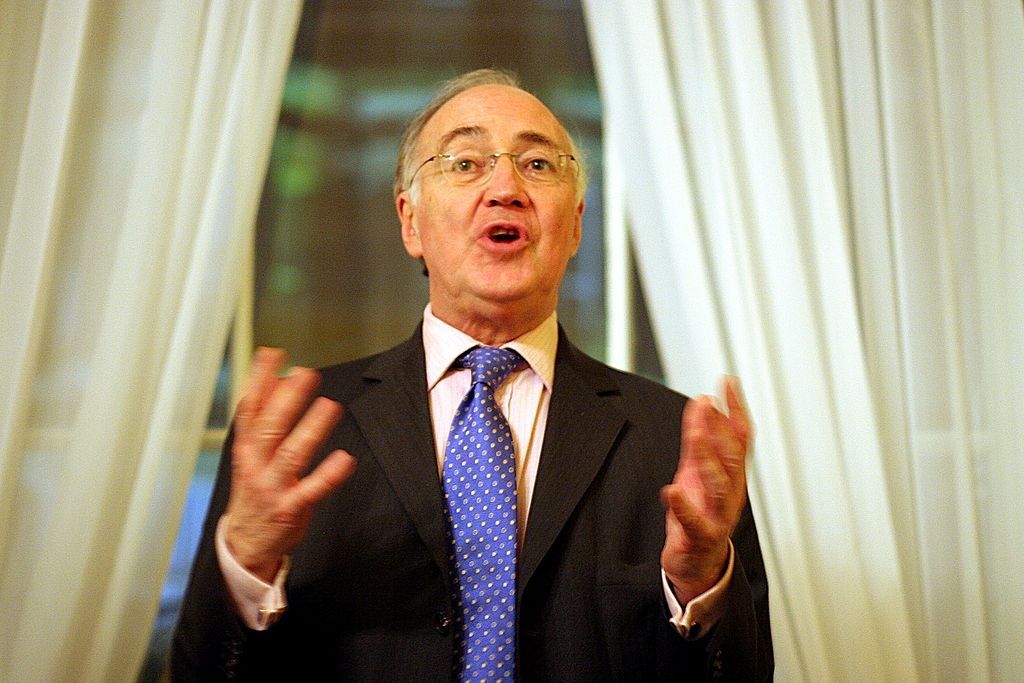 Interviewing Michael Howard is akin to spending time with a disapproving grandfather, one you respect and slightly fear. Tempted out of retirement to intervene in the EU referendum debate, the former Conservative Party leader who mentored David Cameron to the top now finds himself on the other side of the argument to his protégé. While the prime minister is spearheading the campaign for Britain to stay in the EU, Howard, now a member of the House of Lords, has decided to back a Brexit.
Their two-decade-long friendship is just one of many fractured during the bloody civil war that the EU referendum has sparked within the Conservative Party. Howard admits that he had to "think very hard" before making his decision and hopes Cameron doesn't see it as personal betrayal. He may have disappointed his old friend this time but he remains loyal, saying he "strongly supports" Cameron's intention to stay on regardless of the outcome of the referendum. Unlike others in the pro-Brexit camp, such as former London Mayor Boris Johnson, Howard avoids directly criticizing the prime minister. Instead, he lays the blame for Cameron's failure to achieve his promised "far-reaching and fundamental change" of Britain's relationship with the EU on the intransigence of the Brussels bureaucrats.
Howard is now 74 and his famously sharp features might have fleshed out slightly with age, but his energy for a political fight is ever present—especially when he's talking about immigration, which appears to be at the core of his particular Brexitian philosophy. He is not alone: A recent Ipsos Mori poll revealed that over 50 percent of Britons think the only way to curb immigration is for the U.K. to vote to leave the EU in the June 23 referendum. Many Leave campaigners think immigration is the trump card that might swing the undecided 11 percent of voters in their favor.
"It [Brexit] would give us the right to make important decisions for ourselves, including the right to decide who should come into the country," Howard tells Newsweek. "If we had achieved all of those things then I would probably be on the other side of the argument, but… I mean, nobody pretends anymore that what he [Cameron] achieved was real reform."
Whatever mixed emotions he might have harbored while wrestling with his conscience earlier this year, his position is now clear. Europe in its current form is on the path to destruction; its leaders such as Merkel and Hollande are leading the charge with their dated desire to build a "United States of Europe"; and even if Britain doesn't leave now, it's only a matter of time before the entire European project is toast.
"They [the Europeans] are doing terrible damage," Howard says. "People are poorer because of the euro, youth unemployment is at a terrible level in the eurozone, the Schengen area is making those countries much more dangerous because of their inability to take proper steps to safeguard themselves against terrorists.
"The European Union is fundamentally undemocratic—the President of the Commission, Mr. [Jean-Claude] Juncker, said only a few weeks ago that prime ministers should pay less attention to their electorate and more attention to the European idea… At some point in the future, the people who are being subjected to all this will rise up and say to their governments, 'We don't want anymore of this… I think this sort of thing is likely to happen whether the U.K. votes to leave or not. '"
Despite the government's continued protestations that a vote to leave the EU would be final, Howard is sticking to the idea that a second referendum is still a possibility. Back in February, when he first backed Brexit, the Conservative peer was adamant that if the U.K. did vote that way it would force EU leaders to offer further concessions leading to a second vote. While Cameron has repeatedly said that "no means no," Howard remains confident of the U.K.'s pulling power. "I think if [the EU] were faced with the prospect of losing us and our very substantial contribution to their budget, then I think there is quite a likelihood they would say, 'Let's talk some more,'" he says.
Throughout our encounter there is much lofty talk of "once-in-a-lifetime opportunities," and the need to do the "best for our country." But Howard's arguments are at times overly theoretical—intellectually engaging but lacking a clear vision of life outside the EU. Peering at me imperiously, he takes on the role of questioner, asking me, as someone writing for an American magazine, how long I thought a presidential candidate would survive in the race if they advocated for subordinating the U.S. congress to an unelected commission based in Ottawa? Before I have time to process an answer beyond "I don't know," he's off again, answering his own question. "No, you do know, they wouldn't last five seconds," he says, a bit irked. How does he equate that view with President Obama's vocal support for the Remain campaign then? "He [Obama] is asking us to accept things that no American would dream of accepting for five seconds," he says, and then snaps at me to lower my voice.
Does he feel more affinity, then, with the Brexit-backing Donald Trump? Howard refuses to be drawn on that, but he does see parallels between the anti-establishment mood of the Leave campaign and the movement that has propelled the tycoon to the Republican nomination. He points to globalization, an economic model he still favors, as the root cause of the growing resentment among voters who feel ignored by the "political elite."
"Globalization has led to the biggest reduction in poverty in the history of our planet—hundreds of millions of people in China, India and other countries are no longer poor, which is terrific," he says. "But the price for this has, to a large measure, been paid by people in developed countries, many of whom no longer have the jobs they used to have, who no longer look forward to a future in which their children will be better off than themselves, and who have been faced with a situation in which their real incomes haven't increased for decades. So, I think they feel ignored by the political elite, I think they feel resentful and as though they have lost control.
"That is what is behind [the rise of right-wing movements such as] Trump in the U.S., Marine Le Pen in France and the Alternative fuer Deutschland party in Germany. Mainstream politicians ignore this at their peril. That's why I think it's so important to give people as much control over their future as you can. It's incredibly dangerous to say to the people of our country that they can't decide on immigration because as many people as want to from the EU can come here. "
The divisions currently running deep in the Tory party are echoed around the breakfast table for Howard, as his wife Sandra, the author and former model, is in favor of staying in the EU. "We don't talk about it," he says, a smile creeping across his face. "If I ask her why she is on the other side, she says 'instinct' and since you can't argue against instinct there is no point in arguing." Does he think it will be as easy for his fellow Conservatives to kiss and make-up? "It would be silly to pretend it will be easy but it's got to be done and it will be done because the Conservative Party has got to continue to govern the country for at least the next four years and, given the current state of the Labour Party, probably for much longer."
With that final dig at his more long-standing political rivals, Howard is rushing off to another appointment. For someone who claims to be happily retired, he seems to be enjoying his return to public life even as he insists nothing could tempt him back full time. When I confess that my mother is a pro-Brexit admirer of his, his scolding demeanor briefly vanishes—a smile breaks through. Have I finally won over this Tory grand master? "Tell your mother that she is very sensible, and tell her that she needs to work on her daughter," he says, giving me a final disapproving glance.
Michael Howard will be speaking at HowTheLightGetsIn festival in Hay on Wye, on Monday May 30. Click here to buy tickets for "Being Certain and Being Right" with Michael Howard, Angela Eagle and Owen Jones.