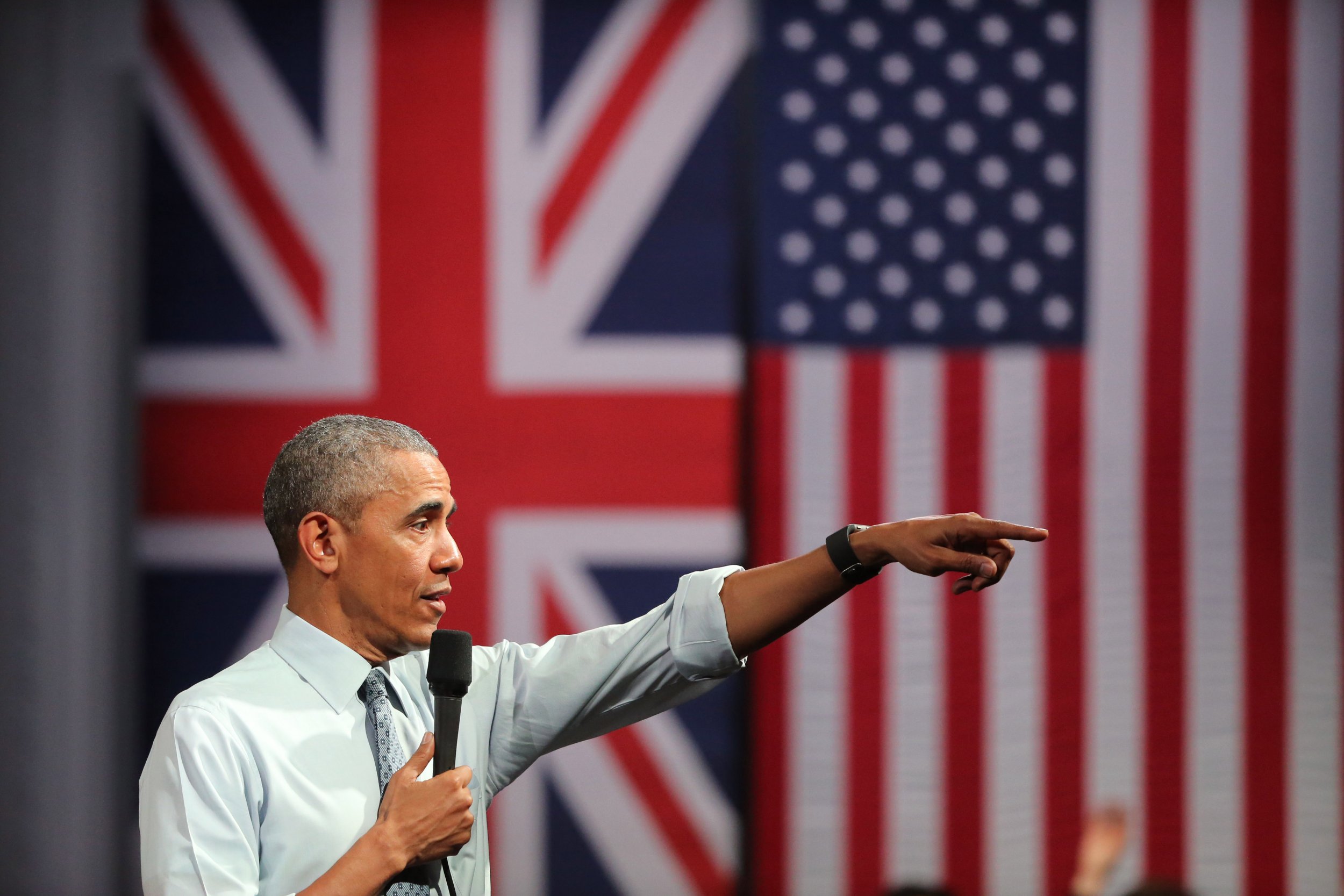 U.S. President Barack Obama reiterated his call for Britain to remain in the European Union on Saturday on the second day of his U.K. visit, asking British voters to reject calls for the country to "pull back" from the world in the upcoming EU membership referendum in June.
After paying an early-morning visit to the famous Globe Theatre to commemorate the 400th anniversary of William Shakespeare's death, the American leader used a "town hall" meeting at the Royal Horticultural Halls in Westminster to take questions from the British public, with many young Brits, as well as celebrities such as Benedict Cumberbatch and Annie Lennox, in attendance.
But he began the meeting with a brief speech in which he outlined his key message to the British people: The world is safer and better together, not apart, and that includes Britain's role in the political bloc.
"We have seen new calls for isolationism and xenophobia, we see those who would call for a rolling back of the rights of people. People hunkering down in their own point of view and unwilling to engage in a democratic debate," he said, in what appeared to be veiled comments aimed at the British politicians campaigning to withdraw from the European Union.
"Those impulses I think we can understand, they are reactions to changing times and uncertainty," he added, imploring young people to reject calls to retreat from the world and into a bubble of isolation.
He continued: "I ask you to reject the notion that we are gripped by forces that we can't control. I want you to take a longer and more optimistic view of history and the part that you can play in it."
'Prosperous peace'
In a relaxed performance, jacket off and sleeves rolled up, Obama pleased the packed crowd with humor about British and American history while entwining his message throughout. He recalled that the British had "burnt" his house down but that the pair had ultimately worked together to create beneficial institutions such as the European Union.
"We have had our quarrels. There was that whole tea incident. The British burnt my house down," he said to laughter from the crowd.
"But we made up and ended up spilling blood on the battlefield together side-by-side against fascism, against tyranny, for democracy and, from the ashes of war, we led the charge to create the institutions and initiatives that sustained a prosperous peace."
The town hall, an American-style event at odds with its London setting, came a day after the American leader intervened in the EU referendum debate on the side of British Prime Minister David Cameron's "remain" campaign, providing it with a vital boost as the contest continues to polarize both the British political elite and the British public.
Speaking at a joint press conference alongside Cameron at the Foreign Office on Friday, Obama said that Britain would find itself pushed to the "back of the queue" for any future bilateral trade deal if it departed the EU as Washington's primary focus was to negotiate with the wider European bloc. He also published an article in The Daily Telegraph on Thursday urging Brits to back membership of the EU.
His decision to dive head-first into the debate on June's referendum stirred many of Britain's malcontent politicians on the "leave" side of the campaign, with London Mayor Boris Johnson accusing Obama of "hypocrisy" and referencing his "part-Kenyan" heritage when suggesting that Obama has a dislike for Britain because of its colonial history. British Justice Minister Dominic Raab, who campaigns for Britain to leave the EU, said that the British public would not be "blackmailed by anyone" in the run-up to the vote.
'I have been true to myself'
While Saturday's question and answer session with young British members of the public took in issues such as LGBT rights, the Islamic State militant group (ISIS), trade, climate change and his legacy with just months left in the oval office, no question was asked about the European Union and Britain's role in the bloc.
Katja Bego, a 23-year-old Dutch researcher working in London, and Lou-Davina Stouffs, a 27-year-old Belgian programme manager, who were able to acquire the hottest ticket in town through the U.S. Embassy's young leaders programme, said they were surprised as they had "hoped there would be more conversation about the referendum or Britain's role in Europe."
Still, he had much advice for young people on shaping a better world. He said that they should not "succumb to cynicism" if issues are not solved in the short term but that progress is fought for in the long term.
"Progress is not inevitable, it requires struggle and discipline and faith. That's the story of how we won women's rights, civil rights and gay rights," he said.
When asked about his legacy, the outgoing American leader spoke candidly about his achievements, saying that "saving the world economy from a great depression, that was pretty good." He also mentioned Obamacare, the Iranian nuclear deal and the response to the Ebola crisis as highlights of his tenure. But he said his presidency could only be judged retrospectively in 10 years time. "I'll look at a scorecard at the end…I think that I have been true to myself."
On Friday, Obama had lunch with the Queen and dinner with the Duke and Duchess of Cambridge. He described Prince George as "adorable" and said of the Queen that he hoped to be "such an engaging lunch partner when I am 90." Next on Obama's agenda during his London visit is a meeting with the British opposition leader of the Labour Party, Jeremy Corbyn, who opposes military intervention in Syria against ISIS.