Brian Laundrie's Sister Says She Doesn't Know if Her Parents Are Involved
Brian Laundrie's sister, Cassie Laundrie, has said that she did not know whether her brother had killed his fiancee, Gabby Petito and suggested there was a considerable rift within her family regarding the case.
During an exchange with protesters outside her house about the death of Laundrie's former fiancee, Gabby Petito, and the disappearance of her brother, Cassie Laundrie also replied, "I don't know," when asked directly if she thought her parents were involved.
Cassie Laundrie said she felt compelled to address the small group demanding answers outside her home in Lakewood Ranch, 40 miles from Fort Port, Florida, where her parents lived, to end the harassment that she, her children, and the neighborhood had faced over the case.
In a video obtained by NewsNation Now which showed her with her husband James Luycx next to her, she told the protesters, "I am losing my parents, and my brother and my children's aunt and my future sister-in-law on top of this, and you are not helping."
"This is not how we want the world to find out when we're angry and upset. But I can't have my kids crying for three days in a row."
When asked why she felt she was losing her parents, she replied, "because they are not talking to us either," adding that she did not understand why there was no contact between them, "If I knew, I would say. I don't know."
Brian Laundrie is a person of interest in the death of Petito whose remains were found in Wyoming after she had been reported missing following a road trip that the couple had undertaken.
There is an active warrant out for his arrest on fraud charges for allegedly using someone's bank card and PIN around the time Petito disappeared.
Laundrie's parents said they last saw their son on September 14 before he went to a camping reserve, making them the last people to have seen him. Cassie Laundrie said she was "baffled" by her parents' public silence, which has been widely criticized.
When asked directly if she thought her parents "were involved," she replied, "I don't know."
She also said that she was unaware anything was wrong until police began questioning her family on September 11. She had seen her brother on September 1 as well as a Fort De Soto Park Campground on September 6. where they socialized for six hours. However, the last time she saw him, she had no reason to suspect anything was amiss. "We had our kids there, nothing came up," she said, adding that he said nothing about Petito.
When asked directly if she thought her brother had killed Petito, she said, "I don't know," before adding, "silence was not guilt, silence was the FBI telling us not to (speak)."
She also said she had been spoken to by FBI officers "multiple times," had not been asked to take a polygraph test and added that she had never seen her brother hit Petito.
"The sooner he is found, the sooner this is over for us" her husband, James Luycx, told the protesters, who according to NewsNation said they would leave their neighborhood.
Cassie Laundrie said that she was in the situation "where I'm getting ignored by my family and thrown under the bus by my family's attorney," referring to Steven Bertolino.
In a statement to Newsweek, and shared with other media outlets, Bertolino said, "I do not represent Cassie Laundrie.
"Cassie's comments can only be attributed to the press twisting my words and hers, which were only given to clarify prior mischaracterizations by the press, with the hopes of further sensationalizing this tragic story.
"Cassie was unhappy with my choice of words when I indicated that Brian had 'stopped by' Cassie's house on September 1 in a previous statement."
On Monday, the Haywood County Sheriff's Office in North Carolina released a 911 call from Dennis Davis, who said he spoke with Brian Laundrie along the border of Tennessee and North Carolina on the Appalachian Trail.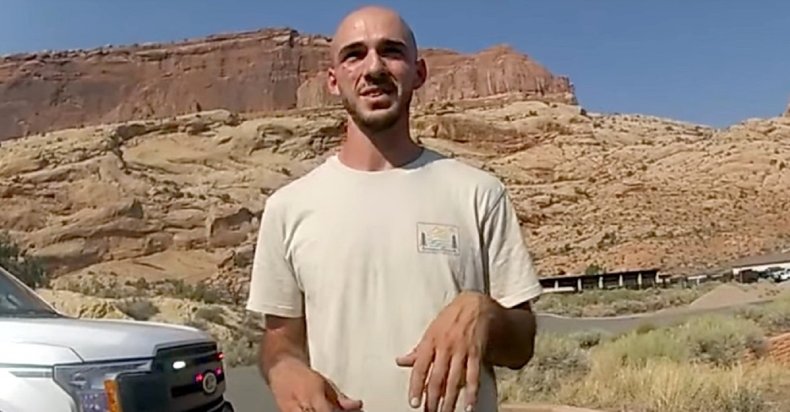 Update 10/06/21, 10:33 a.m. ET: This article was updated to include a response to Newsweek by Steven Bertolino.