Anchor Brian Williams, a 28-year veteran of NBC News and MSNBC, has received an outpouring of support after announcing he is set to leave the company.
It was revealed on Tuesday that the host of MSNBC's The 11th Hour will be making his departure from the company when his contract expires at the end of the year.
"This is the end of a chapter and the beginning of another," Williams said in a farewell statement to his colleagues. "There are many things I want to do, and I'll pop up again somewhere."
Williams revealed that his late-night news show would continue without him, as he added that "The 11th Hour will remain in good hands, produced by the best team in cable news."
He also boiled down his time under the news banner, writing: "28 years, 38 countries, 8 Olympic games, 7 Presidential elections, half a dozen Presidents, a few wars, and one SNL."
MSNBC President Rashida Jones said a staff memo that Williams would "take the coming months to spend time with his family."
As news of his departure circulated, a number of Williams' fans and former colleagues took to Twitter to praise the news personality.
Reacting to the news, MSNBC Live anchor and NBC News correspondent Katy Tur revealed how Williams had a hand in shaping her media career.
"Brian Williams gave me my first break at NBC News and then championed me for years," she tweeted. "Yes he's a great broadcaster but more importantly he's a good dude. He's also very funny. I hope whatever is next includes golden technical miscues like this one."
Longtime MSNBC contributor Sam Stein wrote in reaction to the announcement: "well damn. I remember the first time going on Brian's show and feeling intensely nervous to be sitting there, next to him.
"He was kind, professional, and totally easy going. His show has been a place to have a conversation about news, not an argument. I'm gonna miss him."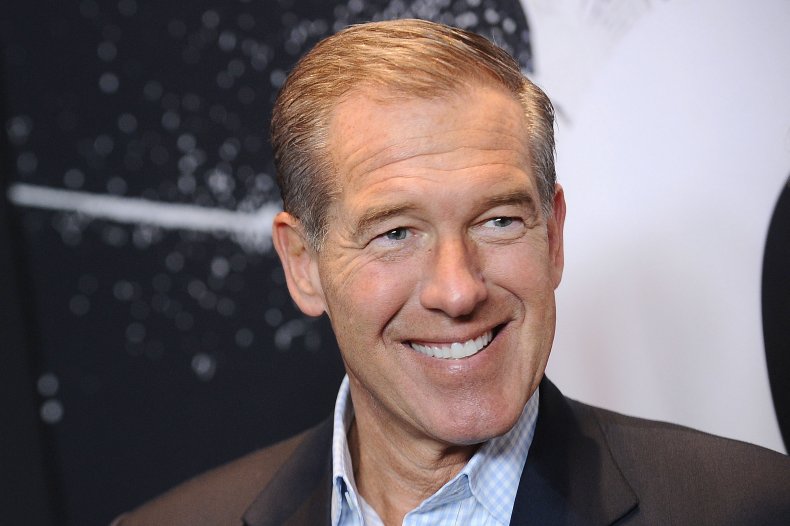 NBC News contributor Frank Figliuzzi, formerly of the FBI, described Williams as a "smart, witty, and kind gentleman who shakes your hand at the anchor desk and asks about your family during commercials."
MSNBC and NBC News legal analyst Barbara McQuade added her voice to the chorus of praise for Williams on the micro-blogging platform.
She wrote: "Much appreciation to Brian Williams for tremendous professionalism, strong work ethic, and gentle wit. Thank you for your work to keep us informed and engaged. All the best to you and your family."
Another colleague, MSNBC legal analyst Jill Wine-Banks, said that she was "saddened" by the news, while stating that she was "honored" to have worked alongside him.
"Just listened to @BWilliams announce he's leaving NBC and am saddened by his news," said Wine-Banks. "I made my first TV appearance as a legal analyst on @11thHour and for a while his question to me 'Can you make an obstruction case against Pres Trump?' and my 'Yes' was an ad for the show..."
She added in a follow-up tweet: "I am honored to have been part of his career and his insightful end of the day news analysis. Whatever @BWilliams does next, he will be a star and will be missed every night."
Musician and actor Steven Van Zandt said that he will be now "going to bed earlier" following Williams' departure from his late-night news show.
"Brian Williams has been the consistent, comforting voice of reason we needed through one of the most turbulent and frustrating eras in history, providing insight with a welcome sense of humor," Van Zandt shared. "We wish him the best of adventures. He's earned it. And I'll be going to bed earlier."
The Washington Post reporter Robert Costa commented: "I'll always appreciate the countless late-night chats with Brian Williams on @11thHour. He amplified reporting and gave us room to dig into our stories. He had fun, too. Wishing him only good things."
Writer Don Winslow also chimed in on the news, tweeting: "I am very sorry to see Brian Williams leave @MSNBC and @11thHour. Brian did a lot of really important work for a very long time."
Williams was a key figure in the launch of MSNBC back in 1996. He then went on to helm the NBC Nightly News from 2004 until 2015, when he was suspended by the network for six months after being found to have exaggerated stories about his experience in Iraq.
After his suspension, he moved to MSNBC, launching his show The 11th Hour on the network in September 2016.
As he show drew to a close on Tuesday night, Williams addressed his departure, telling viewers: "Before we go tonight, as the old song says, 'We got a thing going on.' Think about it. We've been meeting this way at this same time, this same place for an awful long while, five years give or take.
"Next year is my 40th year in the business. The earth was still cooling, in fact, when I started as a reporter. And so that got me to thinking and that led me to write something that we made public earlier tonight. And in case you missed it or demanded a dramatic reading, here it is..."
He then read out the statement announcing his departure from the network, that had been released earlier in the day.
"Good friends were in great supply at NBC," he said. "I was fortunate that every one I worked with made me better at my job. I have had the best colleagues imaginable. That includes great bosses."