Brian Williams Returns to TV, But Not as an NBC News Host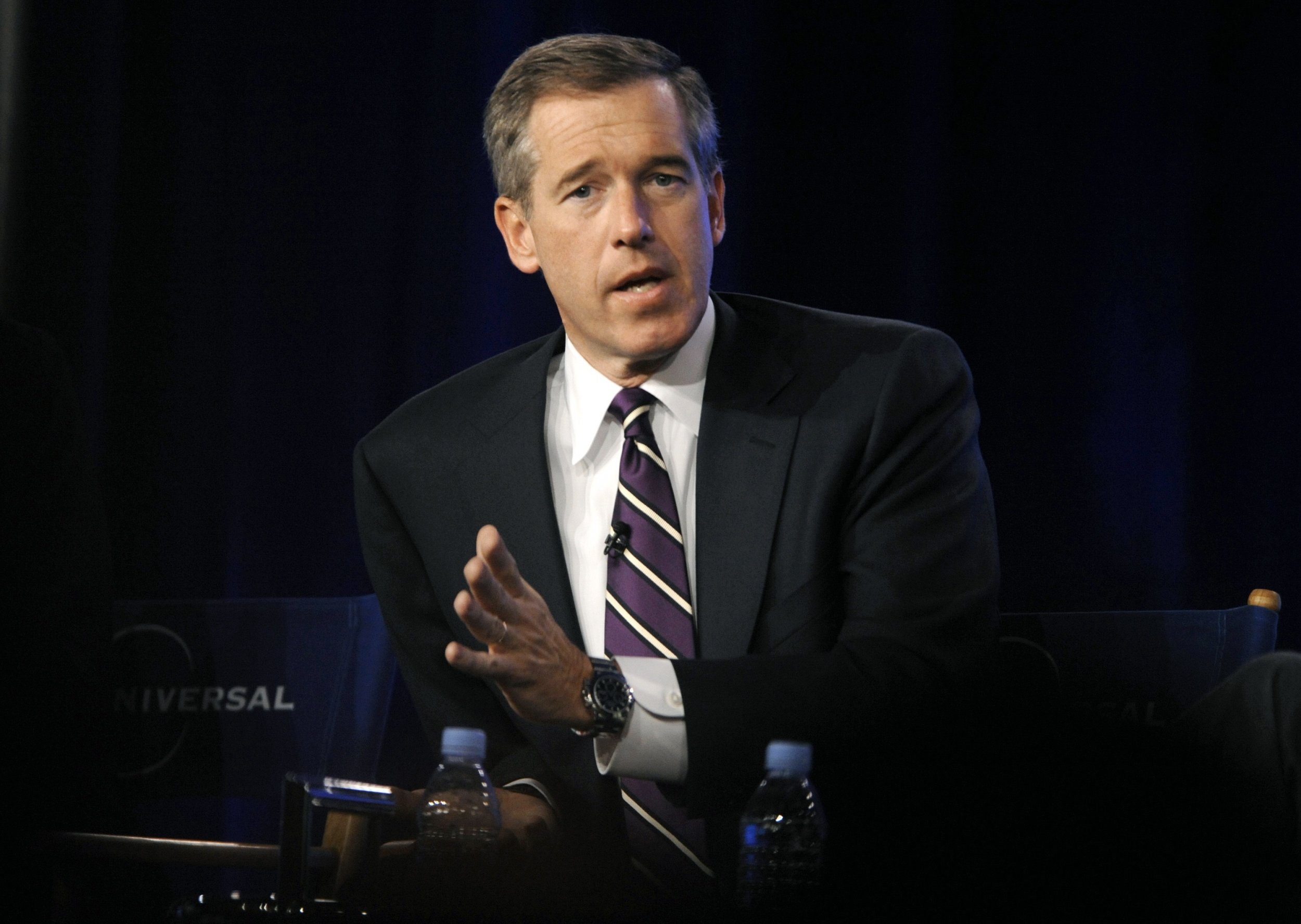 Updated | Brian Williams, the embattled NBC News host who was suspended without pay in February after reports surfaced that he exaggerated a story, returned to work on Tuesday afternoon.
Instead of returning to the set of NBC Nightly News, though, Williams joined the network's cable side, MSNBC, as anchor of breaking news. Some people in the media have said his new role is a demotion from working for NBC.
Williams, 56, was the host and chief anchor of Nightly News when he was suspended for fabricating a story from his time covering the invasion of Iraq. He apologized on air for his false claims that he was on a U.S. Army helicopter that was shot down in 2003. Instead of traveling in an aircraft that was hit by rocket-propelled grenade fire, he said, he was following the aircraft.
But he had recounted his story for several years. The story surfaced when a crew member questioned Williams's narrative in a Nightly News Facebook comment.
NBC launched an internal investigation into his alleged misstatements and almost a dozen other instances of unverifiable stories. Williams then announced that he would remove himself from the air. He is a 22-year veteran of the network, and had anchored Nightly News for 11 years.
In June, four months into Williams's suspension, newsman Lester Holt was named the permanent host on NBC's flagship evening news program. Holt had filled in for Williams during his time off the air. Williams will fill in as anchor of special reports when Holt isn't available.
In his first public appearance since his suspension, Williams in June told his colleague, the Today show's Matt Lauer, that he blamed his ego for telling faulty stories on multiple occasions. "What happened is clearly part of my ego getting the better of me, to put myself in a better light, to appear better than I was," Williams had said.
The newsman originally was suspended for half a year, but his return Tuesday marked seven months since he left TV. His first assignment began at 3 p.m. ET, during coverage of Pope Francis's first visit to the U.S.
Williams's boss, NBC News Chairman Andrew Lack, told The Washington Post on Monday that the broadcaster spent part of his exile driving alone around the country and reflecting on his behavior. Lack said Williams has earned the right to return to TV.
This story has been updated to include Williams's broadcast at 3 p.m. ET.