From kidnapping cats to demanding bridesmaids lose weight for the big day, it's shocking how far some couples will go for their dream wedding.
One woman has caused outrage online after asking her sister with dwarfism to be the flower girl at her wedding. To make matters worse, she also asked her sister's partner, who also has the condition, to be the ring bearer.
The story was shared by the women's other sister, Reddit user u/throwaway-account216, in a post to the r/TrueOffMyChest forum on June 22. The user explained that her "stupid and ignorant sister" saw no problem with the request, causing a rift in her family.
"I wish I was kidding," she wrote. "We're all over 30, not kids.
"Neither of them have developmental delays (my sister is a medical coder at a hospital and her boyfriend is an insurance underwriter). They are regular adults who happen to be under 4 feet tall."
The sister and her partner were blind-sided by the request, as they believed they were being asked to feature as a bridesmaid and groomsman—not "in roles that children do."
"There are children invited to the wedding but they are taller than my sister and her boyfriend so they were asked instead because my (bridal) sister thinks it would be cute," said u/throwaway-account216.
"I was stunned when she told me she picked these roles for them and didn't see a problem. I can't believe her ignorance and both my sister and her boyfriend are obviously upset."
In less than 24 hours, the post has received 12,000 upvotes and over 900 comments from horrified Reddit users shocked by the bride's decision.
"What, and I cannot stress this enough, the f***," said PettyCrocker.
"I saw your title and all I could think was f***** yikes. Like…like yikes," wrote N_Who.
"My jaw can not close!!" commented nudeonhorseback. "It's so insulting!!!! And it's family!"
A recent study by Spanish academics analyzed how people with dwarfism have been, and are still being used, as a form of entertainment. Using cartoons, particularly the TV show Family Guy, as examples, the study explored how media representations of people with dwarfism and other physical disabilities can normalize discrimination.
The study claims to have found a link between media representations of people with dwarfism—such as the Oompa Loompas in the 1971 film Charlie and the Chocolate Factory and the "dwarfs" in Disney's Snow White the Seven Dwarfs—and how people with the condition are treated in real-life. However, it is not the only study to draw such a conclusion. Research conducted in 2017 by Erin Pritchard of Liverpool Hope University in the U.K. found that negative cultural representations of people with dwarfism can leave many with the condition feeling unsafe in public spaces.
"Flower girls" date back to ancient times, with upper-class Greeks, and later Romans, including little girls in their wedding processions. The flower girl carried wheat and herbs rather than flowers, and walked ahead of the bride down the aisle. As the youngest member of the wedding party, she represented fertility and the hope that the couple would have lots of children of their own.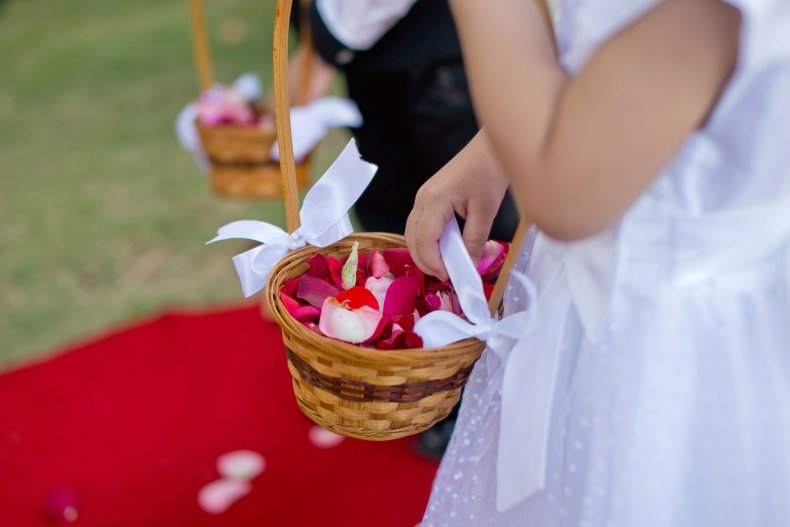 One user compared the bride to P.T. Barnum, the American showman and circus owner known for exploiting people of color and those with disabilities in his shows, displaying them as "human curiosities."
"Asking two dwarves to be flower girl and ring bearer for her own entertainment?" said Under_TheBed. "Sounds like your sister is P.T. Barnum."
User adiosaudio agreed, referencing a scene in Game of Thrones. As part of his wedding feast in season four, teenage King Joffrey stages an embarrassing play performed by people with dwarfism to upset his Uncle Tyrion, played by Peter Dinklage.
"Dude! It's like that scene from game of thrones that Joffrey puts on!" he wrote. "And we all know he's the biggest a****** of all!"
In the comments, throwaway-account216 explained she had decided not to attend the wedding, and neither would her sister and partner.
Fellow Redditors supported her decision, with spaceyjacey writing: "I'm glad you all decided to skip the wedding, the bride and groom suck."
ZombieBaitandTackle agreed, commenting: "She can be ignorant by herself."
Newsweek has reached out to u/throwaway-account216.