Bride Blasted for Threatening To Call Cops on Teen Waitress 'Over Nothing'
A bride who threatened to call the police if a waitress, who was allegedly "super distracting" because of the way she was dressed, didn't leave her wedding has been slammed by users on Reddit.
In a viral post shared on Reddit's Am I The A**hole (AITA) subforum under the username Present-Ad-3934, the 25-year-old bride said: "It's my wedding and I don't want someone over-shining me and the server should know she's at work and not dress up so much.
"It was super distracting. She was walking around serving drinks and talking to my guests," the user said.
The bride later told the waitress' boss that she would be "calling the cops" if the worker didn't leave. "Am I the a**," the user asked.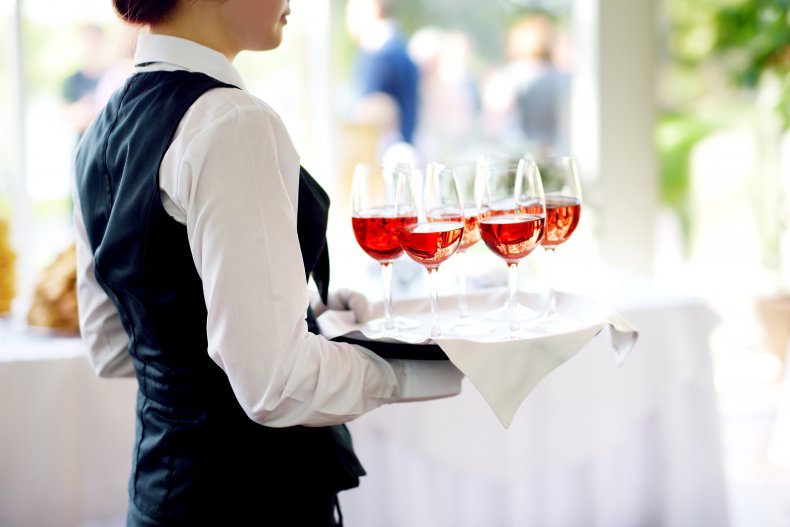 According to an October 2020 survey of 2,223 couples, conducted by the wedding planning website Zola, those who got married between March and September 2020 described their wedding days as stressful. However, they also said it was "absolutely the best," "perfect and intimate," "happy and loving," "calm," and "very meaningful."
Event designer and wedding planner Michelle Leo Cousins told Brides magazine in January 2022 that "if you're going to nitpick every single detail" about your wedding, "you're going to be unhappy." However, "[i]f you've got a great attitude about your wedding, you're going to have a great day."
A survey of more than 15,000 couples who got married in 2021 conducted by The Knot, another wedding planning website, found that for the majority of couples (73 percent), ensuring that their wedding guests were well taken care of was the priority, from food and drinks to health and safety.
The user in the latest Reddit post said: "The server (19ish [female]) had on clearly too much eyeliner. She also had diamond studs in her ears, a flashy ring, and one of those ugly nose studs. The staff's uniform was a black long-sleeved shirt but on her, it was too low cut and her pants were far too tight."
The bride said her wedding guests were all told to "wear dark colors so my husband and I stood out," as well as "minimal makeup" and "assumed that applied to the staff too."
When the original poster asked the server's boss that "she be dealt with cause she was super distracting," the bride said the "boss apologized and called the server back into the kitchen."
However, "not even an hour later the server was back out serving food for dinner" and "after a couple of hours of not seeing her, I saw the server again behind the bar," the user said.
The boss, who told the bride they were short-staffed, "finally relented and told the girl to go home" after the bride said she'd be "calling the cops" if the server didn't leave.
The user said: "My husband and mother-in-law said I was acting crazy and that I probably got a poor college kid fired over nothing. My mother and MOH [maid of honor] said it's my wedding so I can do as I please."
Several Redditors criticized the original poster and accused her of being "insecure" and "obsessing" over a server.
In a comment that received 26,600 upvotes, user yappledapple said: "YTA [you're the a**hole]—You are so insecure that you asked your guests to dress down for the wedding, and you harassed a server..."
In a comment that got 8,900 upvotes, user MsJamieFast said: "Yta, too bad you didn't get to enjoy your wedding reception because you couldn't stop obsessing over a college aged server...This was entirely your choice to not enjoy yourself."
In a comment that got 4,300 upvotes, user Iknowwhatisaw said: "She threatened to call the police! Because a person turned up for and did their job. Could you imagine that conversation!! In what universe would the police turn up to arrest a person for doing their job while wearing jewellery and...having boobs...."
In a comment that got 4,300 upvotes, user pixiep48 said: "...she threatened to call the police because one of the servers was...wearing jewelry and a low cut top? I'm sick of people using the old 'it's my day' line to justify treating people like sh*t at their wedding."
In a comment that got 2,700 upvotes, user ErnestBatchelder said: "OP [original poster] spent her own wedding freaking out that a young server in a uniform may have outshined her. What a waste of energy."
Newsweek has contacted the original poster for comment.
Do you have a wedding dilemma? Let us know via life@newsweek.com. We can ask experts for advice, and your story could be featured on Newsweek.