Bride Demanding Her Parents Pay for $45,000 Wedding Praised: 'To Show Off'
Online commenters have dragged a couple who want to force their daughter to have a "massive church wedding" so they can brag to their friends about it but refuse to foot the bill.
In a post shared last Thursday on Reddit, the soon-to-be bride, under the username u/Relevant-Ostrich-352, said she and her future husband are well off financially but were thinking of having an intimate wedding ceremony in Jamaica rather than a big, expensive one.
The average cost of a wedding in 2022 was around $27,000, according to market research firm the Wedding Report. Wedding vendors are passing on to couples increased costs resulting from inflation and supply chain problems, the firm said.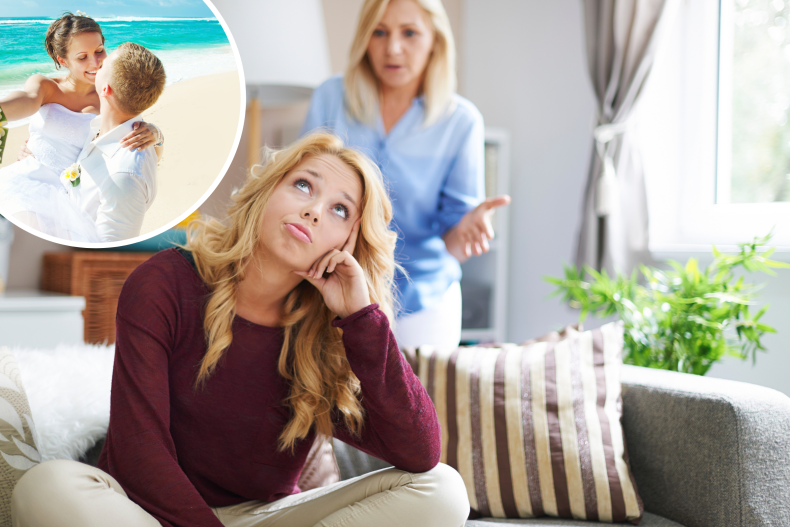 The Reddit poster said that she's willing to make her parents happy if they agree to pay for the wedding, but they are insisting that she pay because she can afford it, even though they are very wealthy too.
She wrote: "We are willing to do what my parents want but I am unwilling to foot the bill. My mom and I met with a wedding planner for an estimate. $35-$45 thousand dollars. If we go to the resort we have picked out it will cost like $10,000. And that includes paying for his parents and nephew to join us.
She continued: "My parents know how much money I earn and are insisting that I pay for the wedding myself. We have been very clear. If they want to show off to their friends they can pay for it. We even volunteered to throw in the money we would have spent on my in-laws for the destination wedding we want."
Her mom is now calling her names, saying she is "denying her the chance to see her only daughter married in front of friends and family." But the bride-to-be says she's just not willing to pay for their big dream wedding so they can impress their friends.
Life coach Marni Goldman told Newsweek the bride should enjoy her wedding the way she wants it to be and not have to please anyone else.
She said: "This is your magical time, living happily while preparing for a lifetime of wedded bliss. You will never get this special time back, so cherish every moment and do not allow anyone to burst your bridal bubble. It sounds like your [parents] have always been egotistical, toxic, narcissistic and self-centered. [Saying] 'they insist' you do this for them shows you right there how selfish.
According to Goldman, if there ever was a time for the woman to put up boundaries and stand her ground. She doesn't have to be a people pleaser to keep harmony and peace within the family, the life coach added.
Addressing the poster, Goldman continued: "Your parents should support any choice that makes your heart happy. If you wanted to get married at a 7-Eleven in front of a Slurpee machine, it's your marriage, your decision. I applaud you for wanting to go to a tropical destination. You are committed to your marriage and not the hype of the wedding.
"It's bad enough having a Momzilla, especially for a wedding you didn't want to throw in the first place. You would be so miserable giving in on something that's supposed to be the most important day of your life. It sounds like your parents want to use your wedding as an excuse, to throw a party for their friends on your dime. It's insane and completely wrong on so many levels. Stay true to yourself. Remember to be happy, to be grateful and to love each other well."
The post was originally shared on the r/AmItheA****** subreddit, where users discuss their actions with online strangers. It has gone viral, receiving over 8,900 upvotes and 1,300 comments so far.
One user, KronkLaSworda, commented: "[Not the A******]. If they want the $40k wedding, then they pay for it. Otherwise, stick to your $10k plan. In fact, do that anyway. That's what you and your partner want, and this is YOUR wedding."
Wandering_Scholar6 said: "Paying for someone's wedding means you get a say. By rights that means NOT paying for the wedding means you don't get a say. Fair is fair."
Reasonable_Cricket29 wrote: "I never understood that mentality. As a parent, I would want to help pay for my child's wedding simply because I love them and want them to be happy. I would not use it as leverage to force my desires or ideas on a wedding that's not even mine... That's super controlling, in my opinion."
Newsweek could not verify the details of the case and reached out to u/Relevant-Ostrich-352 for comment.
Do you have funny and adorable videos or pictures of your pet you want to share? Send them to life@newsweek.com with some details about your best friend and they could appear in our Pet of the Week lineup.