Bride Demanding Stepdaughter Cut Hair Before Wedding Sparks Fury: 'Petty'
A bride-to-be has been blasted online after she demanded her soon-to-be stepdaughter cut her hair before the wedding amid concerns she may upstage her.
It's a situation that has left many calling on her fiancé, the young girl's father, to "reconsider the marriage," with many viewing her actions as a major "red flag" for their future.
In the past, demanding brides have often been labeled "bridezillas" over what is perceived to be a rude, clumsy and occasionally confrontational approach to dealing with problems. However, in reality the situation is more complicated than that. For one thing, weddings are extremely stressful situations, with tempers prone to flare.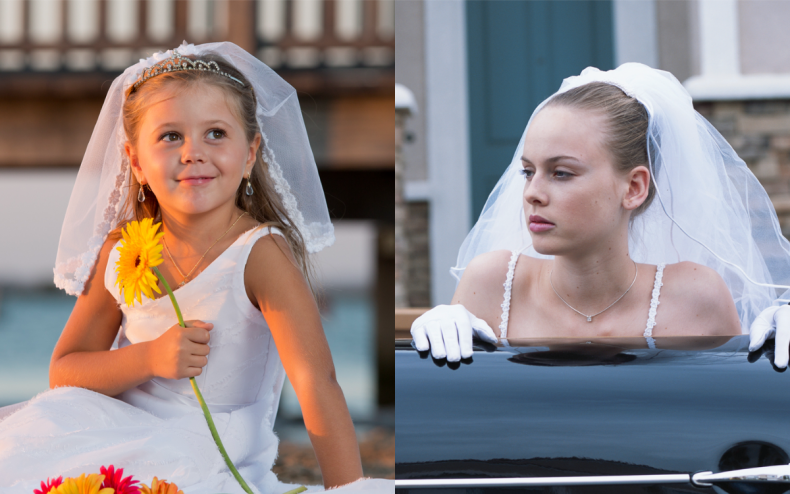 More significantly though, women who express anger are seen more negatively than their male counterparts. A 2008 Yale University study found that women expressing emotions like anger were viewed negatively because such behavior was in violation of feminine norms.
By contrast, men expressing anger were seen as more competent and often given more status in the workplace. Women who expressed anger at work, by contrast, were more likely to be seen as being angry by nature rather than reacting to external circumstances.
Tensions certainly appear to be running high for one man and his bride-to-be, though in this case, his concerns may be valid. Writing in a post shared to Reddit under the handle Throwra-379734, the 39-year-old prospective groom said that while things had been "going great" with planning for their upcoming nuptials, things have hit a snag recently over his 14-year-old daughter's hair.
"My daughter has long hair, and my fiancée had suggested she get it cut before the wedding even though my daughter isn't taking any part," the man explained in the post, which has been upvoted over 10,000 times.
However, despite the bride-to-be's best efforts, his daughter has "made it obvious she has no plans on having a haircut." In spite of asking his bride to "leave it alone," however, she has "kept pushing" his daughter to the point where the teenager has been left "feeling uncomfortable."
Matters came to a head during breakfast recently, when his fiancée once again raised the prospect of his daughter getting her hair cut. The man said he decided enough was enough and, after sending his daughter to her room, "blew up" at his fiancée for "pressuring" his daughter to try and do something "she doesn't want to do."
According to the post, his outburst left his fiancée "shocked." She refused to back down though, and instead tried to explain that she was "just trying to make sure that the focus will be on her and her bridesmaids."
She also accused his daughter of "purposely trying to stand out especially with the dress she picked and her continual refusal to get a new haircut." The bride-to-be went on to accuse him of "undermining her as a future stepmom" and subsequently went to stay with her family while things calmed down.
Wondering whether he had been the one to speak out of line, the man turned to social media for support and advice. He got plenty of both, with the majority siding with him and hitting out at his future wife's actions.
Mamage_fightme was stunned, writing: "Seriously, she is worried she is going to be upstaged by a 14 year old girl. This literally sounds like the evil Queen in Snow White."
Jlhill, meanwhile, branded the bride-to-be "immature" and "petty," with mdthomas warning the man he "may seriously want to reconsider this marriage."
That sentiment was echoed by moew4974, who wrote: "When someone shows you who they are, believe them the first time. Cancel this wedding and this relationship."
Blueeyedwolff added: "She sounds unhinged to think that way about her 14-year-old stepdaughter, and I am afraid she will just mow down your and your daughter's boundaries to get what she wants."
Elsewhere, w84itagain urged the groom to call things off or face a difficult future together. "Her 'parenting' is going to be bullying your daughter until she gets what she wants," they said. "She is telling you exactly this by behaving this way before she even becomes a stepparent."
Newsweek has contacted Throwra-379734 for comment.
Has a wedding come between your relationship with a loved one? Let us know via mail to:life@newsweek.com. We can ask experts for advice, and your story could be featured on Newsweek.